Universe BLOGs

Happy Halloween! Today we've dug up the Halloween Horrorcons, the one and only attempt Hasbro ever made to make Halloween-themed Transformers toys. Who were they, what were they, where were they supposed to be available... and why don't you have any? We'll take a look at that after the jump.
---
So we've looked at the three basic forms that toy articulation takes: hinges, swivels, and ball joints. But there's one last feature that pops up frequently on Transformers: ratchets. That pleasant clicking sound. The satisfying resistance when you tug on a hip or an elbow. The ability to hold the weight of a weapon or for larger toys to hold poses. How is that accomplished? And what are the pros and cons for the ratchets on our `Bots and `Cons? Keep reading to find out!
---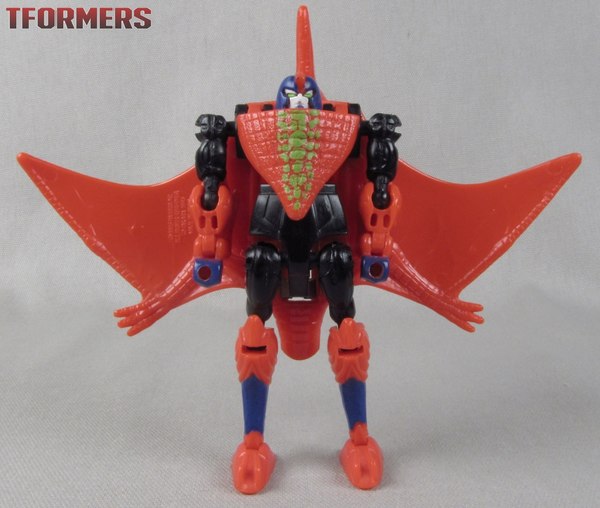 Today RAC rounds out the basic forms of toy articulation with a look at ball joints! (Pun entirely intended, and offered with no apologies.) Ball joints were, in the 1990s, the salvation of the Transformers brand to a certain degree, as they allowed more complex and articulated Transformers figures to be made while passing US toy safety tests. But beyond that, they're just a really great and versatile part of modern toy design. Keep reading to find out why!
---
We continue our look at the basic workings of action figures today with swivels! A basic bore at the neck, shoulder, and hip but a welcome helper at the bicep, waist, and thigh, swivels are everywhere on a Transformer. How do they work and what can go wrong? Keep reading to find out!
---
Today RAC takes a look at the first of the three primary forms that toy articulation can take: the hinge. Probably the most-used joint on Transformers figures due to their utility in transformation mechanisms, hinges still do a lot of heavy lifting for the humanoid form as well - especially if you do it properly and lift from the knees. Keep reading for more!
---
To close out Combaticon Awareness week, we look at Onslaught! While there are a couple toys we'll be discussing, the one we're mainly talking about is one that, while not a combiner, deserves not to be forgotten in the way or newer, more Bruticus-ready Onslaughts.
Keep reading
to learn of the Onslaught in the forgotten size class!
---
As yet another year passes us by, we take the time to reflect the many happenings of 2010. In the world of Transformers, it has proven to be a year of transition. As one movie quiets down, another movie takes shape and gets set to explode onto the scene next summer. The same can be said for the animated world, as the torch gets passed not only from one series to another, but from one network to another.
Click here for the full review.
---