War for Cybertron BLOGs
So we've looked at the three basic forms that toy articulation takes: hinges, swivels, and ball joints. But there's one last feature that pops up frequently on Transformers: ratchets. That pleasant clicking sound. The satisfying resistance when you tug on a hip or an elbow. The ability to hold the weight of a weapon or for larger toys to hold poses. How is that accomplished? And what are the pros and cons for the ratchets on our `Bots and `Cons? Keep reading to find out!
---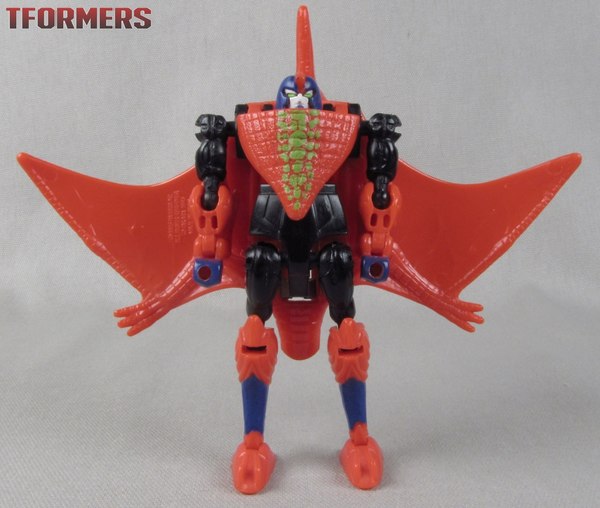 Today RAC rounds out the basic forms of toy articulation with a look at ball joints! (Pun entirely intended, and offered with no apologies.) Ball joints were, in the 1990s, the salvation of the Transformers brand to a certain degree, as they allowed more complex and articulated Transformers figures to be made while passing US toy safety tests. But beyond that, they're just a really great and versatile part of modern toy design. Keep reading to find out why!
---
We continue our look at the basic workings of action figures today with swivels! A basic bore at the neck, shoulder, and hip but a welcome helper at the bicep, waist, and thigh, swivels are everywhere on a Transformer. How do they work and what can go wrong? Keep reading to find out!
---
Today RAC takes a look at the first of the three primary forms that toy articulation can take: the hinge. Probably the most-used joint on Transformers figures due to their utility in transformation mechanisms, hinges still do a lot of heavy lifting for the humanoid form as well - especially if you do it properly and lift from the knees. Keep reading for more!
---
At the recent London MCM expo Tformers' ShafikLight was among the fans to get a first hand taste of
War for Cybertron
. "I seriously started acting like a fan boy and scared a few people with all the giggles sounds I would make at certain aspects of the game, but I wasn't alone, there were people of all ages doing the same from kids of about 8 years old to those that grew up with G1." Check out his in depth report
here
.
---
Recently, Tformers.com joined other media outlets to get a sneak peek at Activision's and High Moon Studio's upcoming "Transformers: War for Cybertron" video game. We had the opportunity to play several multiplayer modes on both the XBox 360 and PlayStation 3, as well as the Nintendo DS version. We were encouraged to try out all four character classes and customize our fighters as much as possible. What did we think?
Click here to find out!
---