Prime Beast Hunters BLOGs
So we now know that the next series will be named
Transformers: Cyberverse.
But what else do we know about it? And what suppositions are going around that are maybe not as solid as people think? We cover all of that - and a little bit more, such as the origins of the
Cyberverse
name - in the popular Q&A format. Keep reading to see!
---
So we've looked at the three basic forms that toy articulation takes: hinges, swivels, and ball joints. But there's one last feature that pops up frequently on Transformers: ratchets. That pleasant clicking sound. The satisfying resistance when you tug on a hip or an elbow. The ability to hold the weight of a weapon or for larger toys to hold poses. How is that accomplished? And what are the pros and cons for the ratchets on our `Bots and `Cons? Keep reading to find out!
---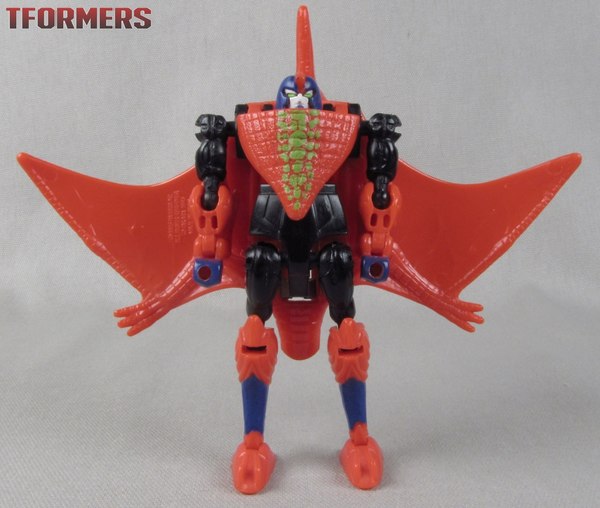 Today RAC rounds out the basic forms of toy articulation with a look at ball joints! (Pun entirely intended, and offered with no apologies.) Ball joints were, in the 1990s, the salvation of the Transformers brand to a certain degree, as they allowed more complex and articulated Transformers figures to be made while passing US toy safety tests. But beyond that, they're just a really great and versatile part of modern toy design. Keep reading to find out why!
---
We continue our look at the basic workings of action figures today with swivels! A basic bore at the neck, shoulder, and hip but a welcome helper at the bicep, waist, and thigh, swivels are everywhere on a Transformer. How do they work and what can go wrong? Keep reading to find out!
---
Today RAC takes a look at the first of the three primary forms that toy articulation can take: the hinge. Probably the most-used joint on Transformers figures due to their utility in transformation mechanisms, hinges still do a lot of heavy lifting for the humanoid form as well - especially if you do it properly and lift from the knees. Keep reading for more!
---
Editor's Note: The following is an editorial and the opinions expressed are solely those of Peter Van and do not represent the ideas of Tformers.com or Entertainment News International as a whole.
Every year, there are certain things that take place within the Transformers community. Last year was the meteoric rise of the third party shops. What originally began as add-ons and kits has now become full-blown homages, like TFC Toys Hercules and iGear's continued homage figures. As this year is just beginning, I have listed five things that I want from the franchise this year.
Let's get started!
---
The time of reckoning is almost upon us. Discovery and Hasbro's new channel, The Hub, is set to debut the new "Transformers: Prime" animated series on Monday, November 29th at 6:30pm EST. Tformers.com was lucky enough to score an advance 'screener' copy of the first two episodes, which are part of the opening 5-episode miniseries that kicks off the show. After review of the show, we're ready to offer our first take.
Click here to read on.
BE WARNED. SPOILERS FOLLOW!!
---