A new backer every two minutes until the campaign ends. Based on math done by John DeLuna of Radio Free Cybertron, that's what it will take to get Unicron made. An infusion of backers from affiliated retail partners around the world was added to the HasLab counter Monday evening, boosting Unicron from just under 3,300 backers to nearly 5,000. This evidently spurred some additional activity, as the number grew by over a hundred more soon after. Overall, Monday night saw about 1,650 new backers added, with 1,500 coming from sources other than Hasbro Pulse. It's possible there's still more backers to be counted from these sources, but this still may not have been the good news many were hoping for.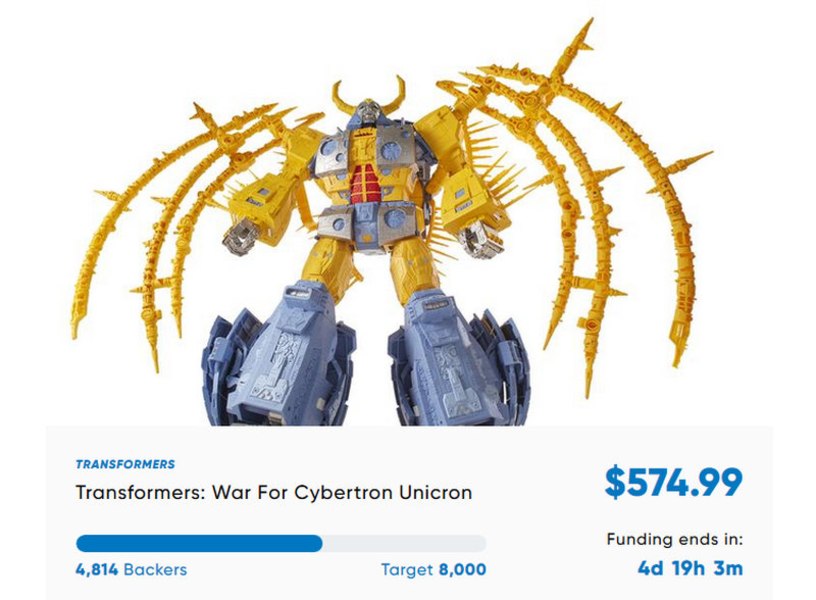 The tallied worldwide backers only amounted to about half the number gathered from Hasbro Pulse's direct backer total from the United States and Canada, where many certainly expected the global backing to eclipse the North American numbers and make up a great deal of the needed difference. Currently, we can't know how up to date or how complete the count of added backers was. Some of the retail partners may not be reporting until the campaign period is nearly closed, and if so that might see at least a few hundred more added. What we do know is the number added is the same as what was cited in an Instagram post three days ago, and while it's possible Hasbro checked with every partner store and site involved in this effort before updating the counter, it's just as possible that they moved with numbers gathered late last week - or earlier.
Would a few days make a big difference? Maybe so, but probably not enough to secure Unicron's future. However, now that a big burst of new backers have been added and a significant milestone - the halfway point - has been reached, it might be motivator for more people who've been on the fence to decide to commit. We saw a small preview of that effect with the hundred-and-change additional backers after Monday's update. if the effect continues, and is matched around the world from retail outlets still accepting backers, we could see some impressive gains in these final few days. But no matter what, it's going to be an anxious few days waiting for the final outcome.