Southern Hobby has updated with new product listings for Transformers Generations giving us our first signs of what's coming our way in the second year of the War For Cybertron Trilogy!
Several of the listings seem to be partly hidden, requiring some slight tricks to get any information to display - viewed directly they report "product not found", but then on viewing subsequent pages, show full product titles in a "recently viewed" column to the side.
One that is directly viewable right now is Deluxe Wheeljack, who you may remember as having been among the fan vote choices from the poll run prior to the launch of Siege. With Runamuck having won the most recent fan vote, some of us had been expecting that Wheeljack (and a few others) might not be far behind thanks to the high probability of sharing engineering between characters. Wheeljack is noted with a release date of March 1, 2020.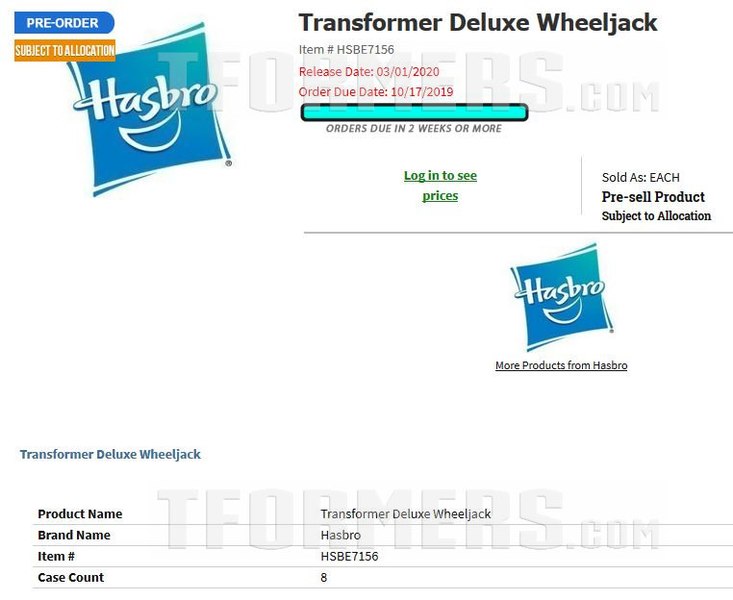 For the other upcoming toys, we only have "recently viewed" titles to go by for right now, but we can presume that all of these would be planned to be released around the same time as Wave 1 for the 2020 lineup. This includes:
•  Micromaster Hot Rod Patrol
•  Micromaster Military Patrol
•  Deluxe Cliffjumper
•  Deluxe Hoist
•  Deluxe Ironworks
•  Voyager Grapple
•  Voyager Starscream (Earth)
•  Leader Optimus Prime (Trailer)


A couple interesting bits stand out here. Ironworks perhaps most of all since that's a Micromaster, and one we already got a representation of in the exclusive Micromaster 10-pack from Target just recently. This may then be a Micromaster Battle Station being sold at the Deluxe price point, in this case the Construction Station being named as Ironworks. Whether this would include the Micromaster as well is unclear.
We're apparently getting an Earth form Starscream, which quite possibly means starting all over on the seeker collecting after the flood of tetrajets this year. On the plus side, a new Starscream toy based on the F-15 design opens up a stronger possibility to finally see the coneheads updated off of the extremely aged Classics seeker mold.
Leader class Optimus with a trailer meanwhile could plausibly be a retool of the Siege Voyager to look a bit less sci-fi while adding a trailer unit. It would be a comparable move to Studio Series DOTM Optimus which recycled an existing Voyager Optimus with its trailer accessory platform boosting the price point - and that overall philosophy fits in perfectly with how Generations Leaders have been handled so far.
We could also see some similar concept played out with the Deluxe Cliffjumper, where a small-for-its-class robot has larger or more accessories to balance out the value while maintaining scale.
As for the others there's nothing too curious. Hoist means probably Trailbreaker before very long, and likewise Grapple will probably lead to Inferno - unless this is the worst outcome possible and this Grapple is another retool of Combiner Wars Hot Spot as Power of The Primes Inferno was. But we don't actually think that'll be the case.
New York Comic Con - and particularly Hasbro's presentations - are now just about a week away. If these listings do represent the first wave of WFC Part 2, we're very likely to see most of these then. So make sure to be right here with us for your first look at all the new reveals Hasbro has in store for us at NYCC!