Hasbro held their quarterly earnings call today reporting on their performance for the first 3 months of 2020, and plans for the future. A lot of the focus was on the current pandemic and how Hasbro is prepared to deal with this. Their report says they are "in good shape" and have been organizing their employees and talking about their efforts to produce PPE supplies for local hospitals, Hasbro CEO Brian Goldner states:
We are making decisions to protect our employees and stakeholders but also help where we can through this challenging time. I am so proud of the amazing work our teams have accomplished including to supply much-needed PPE for front-line medical workers, by producing 50,000 face shields per week that we'll be donating to local hospitals in Massachusetts and Rhode Island.
Hasbro also gave an outlook on their current and future plans for the many licensed products, and their new purchase of the eONE Network. They are planning to integrate their many properties with eONE on the TV and Film side of the entertainment network with just a single mention of working with Paramount on new projects:
Active development pipeline includes projects with Paramount and 21st Century Fox, with the combined Hasbro and eOne slates now managed through a single team.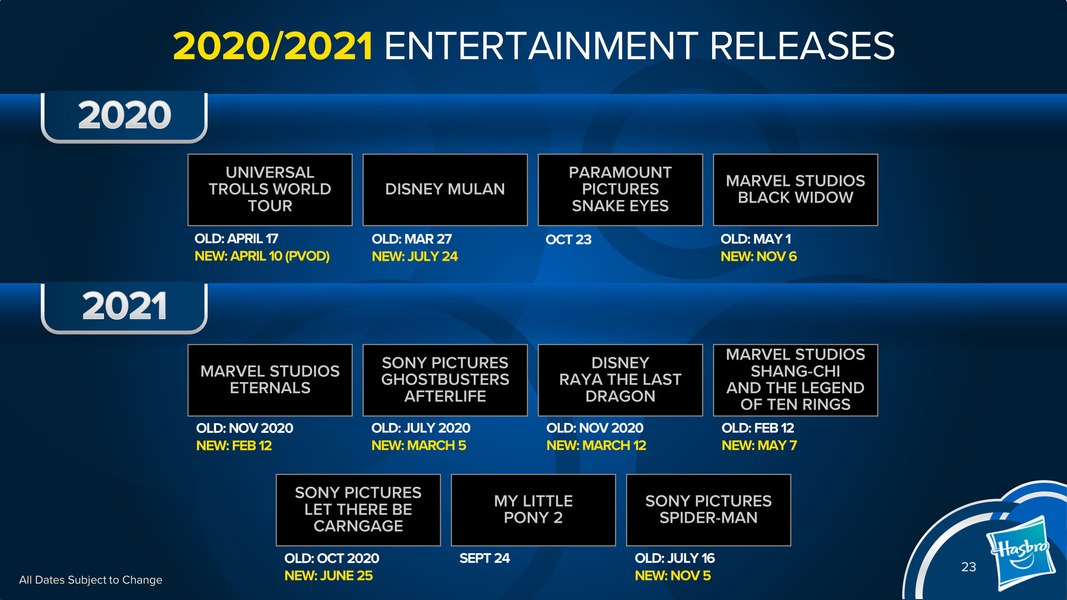 Unfortunately, despite the announcement of writers for new Transformers film initiatives last January. The roadmap they shared for the rest of 2020 and into 2021 shows no plans for Transformers films till at least 2022, we hope. Nor was the Netflix War For Cybertron series mentioned at all. Hopefully, we'll hear more about the plans for Netflix series soon, which was likely going to debut at the now-canceled SDCC 2020. Check out the full presentation and more for the full Q1 2020 details at Hasbro Corporate