The Transformers Pepsi promotion (see can below) to get an original Generation Optimus Prime toy with extra stickers for sweetening his trailer is, or was, a sort of grail piece for many collectors. Until G1 based versions were reissued first in 2005 from Takara as "Pepsi Convoy" in Japan. Then again, as a "Pepsi Optimus Prime" prize for the PepsiCo "Transform Your Summer" sweepstakes as well as a Hasbro Toy Shop / BotCon 2007 exclusive in America.
1985 Transformers Pepsi Optimus Prime can courtesy of @sportswolf3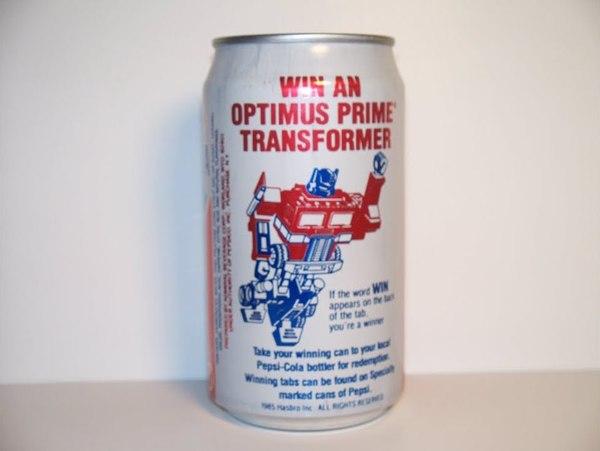 The reissued figures are much more than just stickers. They have a totally new trailer outfitted for carrying liters, cans, or bottle-caps. The Prime toy was also updated with sparkle blue plastic for head, hands, and legs, Pepsi logos replacing the Autobot symbols, and Pepsi color waves added to the arms and legs. Takara even gave the Pepsi Convoy a catchy slogan - "Pepsi-powered CONVOY rolls into action to quench the thirst of all sentient beings". Where the American Pepsi Optimus Prime got an updated bio that follows below with our shot of all three 1985, 2005, and 2007 Pepsi releases.
It is of paramount importance to OPTIMUS PRIME that his mission and the presence of the AUTOBOTS on Earth remain a secret. Part of maintaining that secret is changing his disguise from time to time, though never so drastically that he has to get used to a whole new vehicle mode. This new disguise helps keep him incognito, hiding his presence from the DECEPTICONS and allowing him to plan their defeat without interruption. As an added bonus, this disguise, like some of his past ones, lets him hook up his fellow AUTOBOTS with some free Earth delicacies they rarely get to enjoy.