Today's Daily Prime takes us to the workshop to make our very own Transformers Kingdom Air Assault Core Optimus Prime figure for only ONE DOLLAR! No kidding, all you need is one of the Final Faction Air Assault Mech Weapons Packs sold at Dollar Tree stores. It is Just Prime they happen to use 3mm pegs that fit the Core class ports to upgrade little Optimus with double-barreled guns, a jet pack, side armor, swords, or jet wings! After a lot of fiddling, I found they work great with two options to use them on the figure as-is, or drilling some holes for all the weapons to be placed.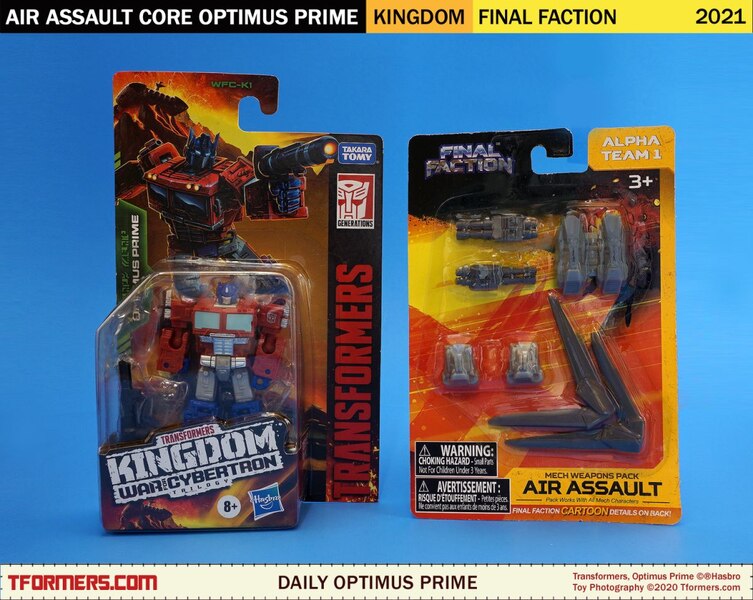 The as-is approach is pretty straight-forwards with attaching the various weapons to Core Optimus Prime's hands and or side-arm ports. In this case, you can optionally use the wings as swords and put the armor on his arms. Luckily, The jet pack simply wedges under Prime's back hinge and straddles the two wheels. Be careful as it comes off easily, but works well for no modifications needed.
To modify the Core figure, you'll need a drill and 7/16" bit to add holes behind the shoulders to mount the wings and to the leg shins for the armor pieces. Be careful where you drill. The shoulder ports need to be drilled below the ball-joints deep enough to hold the wing shaft securely (see pic). For the legs, drill the holes to position the armor just above the feet (see pic). Fortunately, the added shoulder holes are not visible in truck mode. For the leg holes, the jet pack or armor can be put on the back to cover them up (see pic),
Overall, this upgrade adds a new dimension to a simple legends figure. You can change things up even more than I have shown with painting the parts, putting them in different places, or finding other places to add ports. I also added holes between the wheels, but the pegs are too short to reach. Even if you don't like the wings or armor, the two guns and jet pack are well worth a buck. Check out the images below showing the as-is and modified versions as well as different angles on the Kingdom Core Optimus Prime Air Assault figure below.