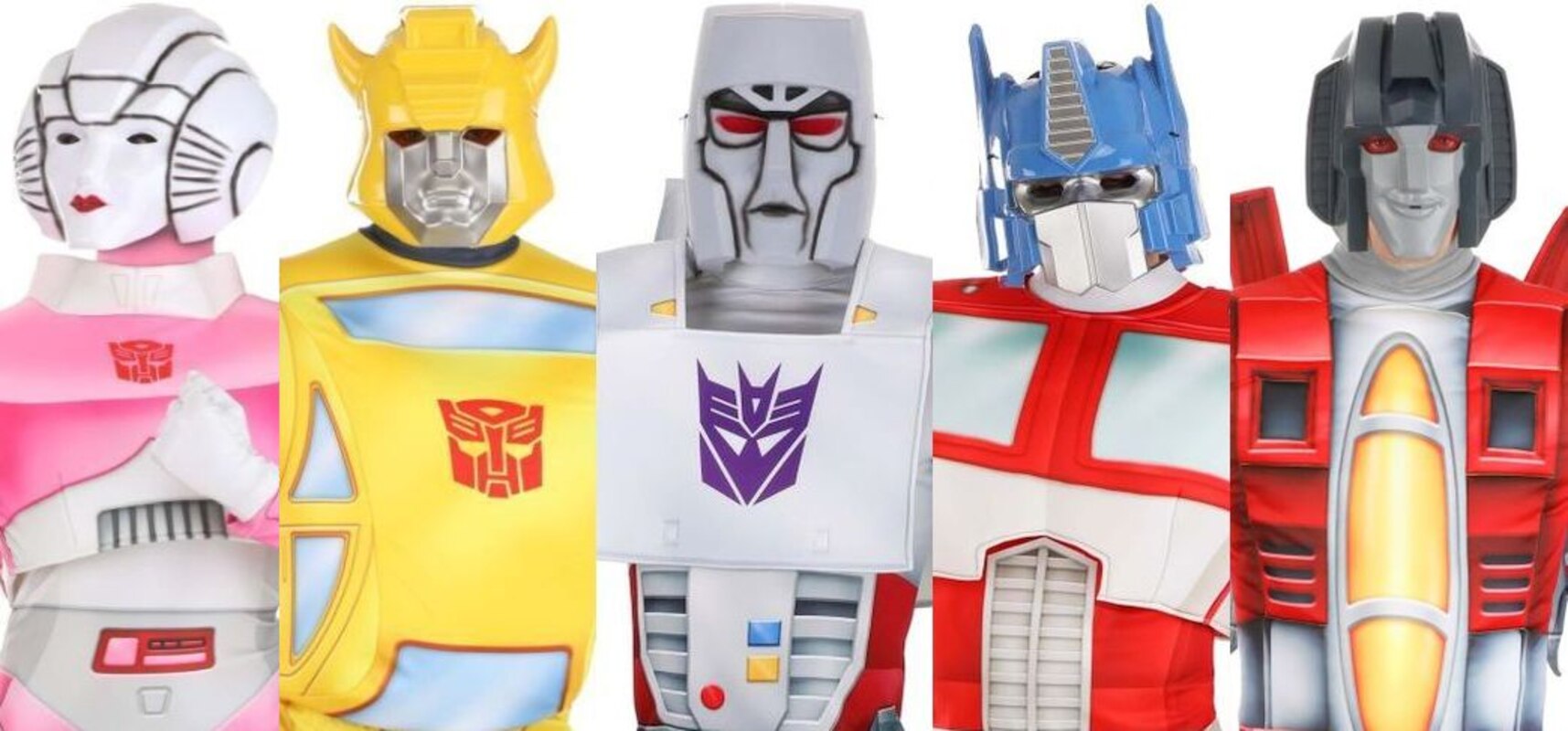 This year's Halloween just got a whole lot more G1 with these exclusive new Transformers costumes from HalloweeenCostumes.com
They are all geared up for kids and adults to be a robot in disguise character including Arcee, Bumblebee, Megatron, Optimus Prime, or Starstarscream. The images show these are higher quality outfits accessorized with gloves, and more that you can read about for each of the characters.
Transformers Deluxe Retro Megatron Costume for Adults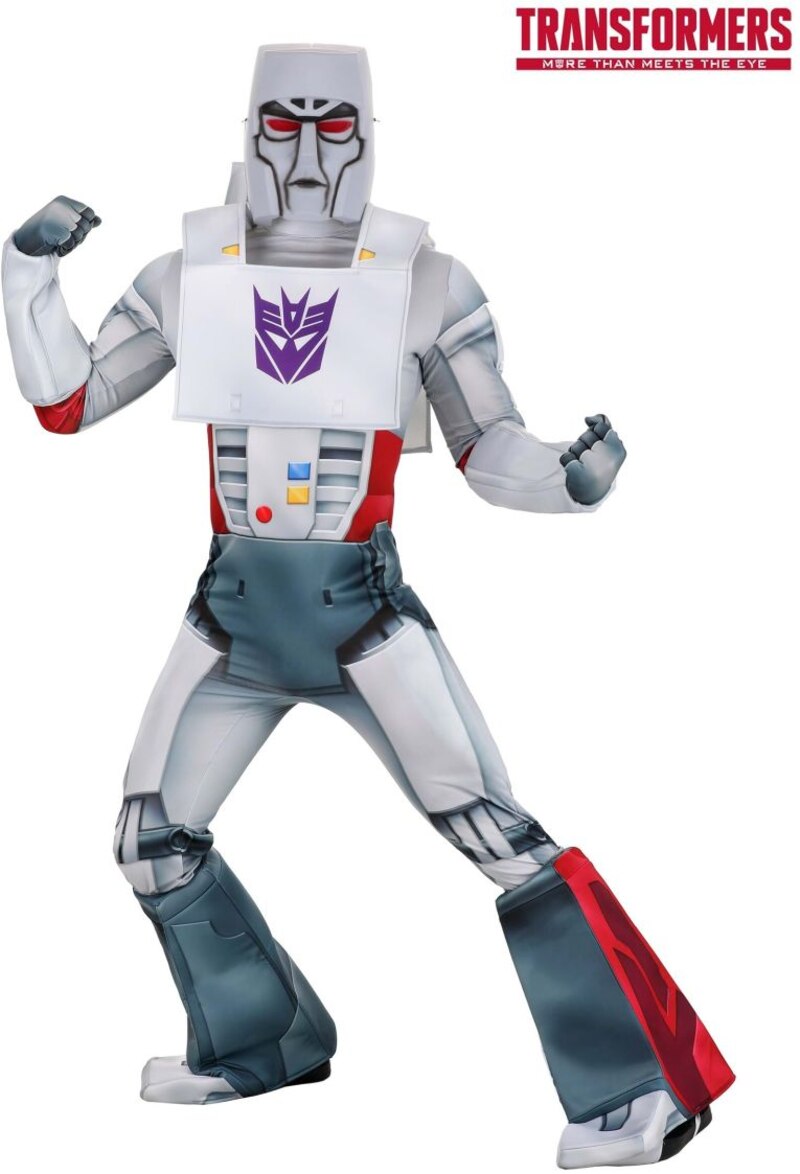 Retail Price: $79.99 USD
Release Date: August 30, 2023
Items Included
• Jumpsuit
• Pair of Gloves
• Pair of Boot Covers
• Vest
• Hood
It Aint Easy Being Evil
Taking over the world isn't easy. There's all of the planning and organizing to deal with, and it doesn't end there. On top of all that hard work, you have to deal with the "good guys" busting in and mucking up your plots for world domination. In the case of the mighty Megatron, it's those darn Autobots and their annoying leader Optimus Prime that's always foiling his well-laid plans. However, with your help, this villainous Transformer just might see his evil plot work!
When you grab this exclusive Transformers Adult Deluxe Retro Megatron Costume for Halloween and join the Decepticons, Megatron can finally claim our planet as his own. All you need to do is distract the Autobots. If they think that Megatron is simply out enjoying the Halloween festivities, they will let their guard down. Then Megatron and his Decepticons can defeat the Autobots with a surprise attack. After that, taking over the world will be a piece of cake!
Fresh Off The Assembly Line
Our best costume mechanics have engineered this amazing retro-styled Transformers costume just for you. The jumpsuit is covered in all-over print graphics from the classic cartoon. Every moving piston and flashing light has been printed on this full-on bodysuit.
Along with the main costume, there are plenty of accessories that will make your transformation complete. A pair of gloves and boot covers will give you a blocky and more robotic appearance. The vest will have the same effect and it also features the Decepticon's sigil at the front and center. Finally, toss the hood over your face and you'll have Megatron's classic good looks!
Adult Transformers Starscream Costume for Men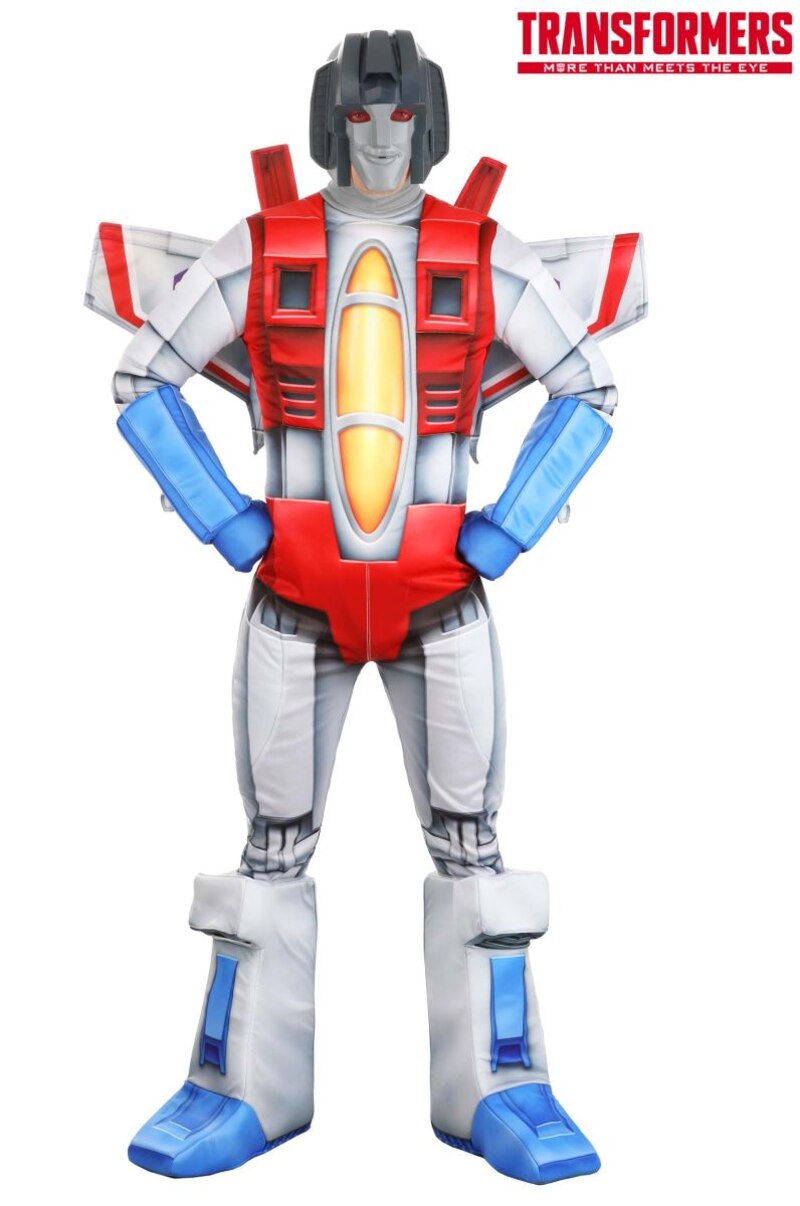 Retail Price: $79.99 USD
Release Date: August 30, 2023
Items Included
• Jumpsuit
• Mask
• Wings
• Pair of Gloves
• Pair of Boot Covers
Time To Choose
The battle between the two sides of the Transformer species has been going on for eons now. We think that it's finally time for you to decide which side you'll be joining this Halloween. You could always go with the Autobots, a lot of people do since they are the hErOes. However, we think you'd be better off taking the path less traveled. That's right, we're suggesting that you team up with the Decepticons and help them finally take over Planet Earth!
Grab this Adult Transformers Starscream Costume and you won't just be another bot on the frontline of this everlasting war. When you become the malicious Starscream, you will be the commander of the Decepticon sub-group known as the Seekers. You will lead all of the elite jet Decepticons on the battlefield. We know that sounds like a lot of hard work, but just keep in mind "What Would Starscream Do?" It may be evil and cowardly, but it's got him this far, so it works!
Design & Details
We put our best costume designers on the job and they created this perfect product. It comes with a full bodysuit as well as a handful of accessories. The bodysuit is covered in an all-over print that brings the mechanical menace, Starscream, out of the animated series and into the real world.
A set of jet wings can be attached to the back of the costume. Along with the wings, you will also receive a pair of elbow-length gloves and boot covers. These accessories will give you a boxier robotic appearance. Lastly, toss on the molded plastic Starscream mask and this transformation is complete!
Retro Bumblebee Costume for Adults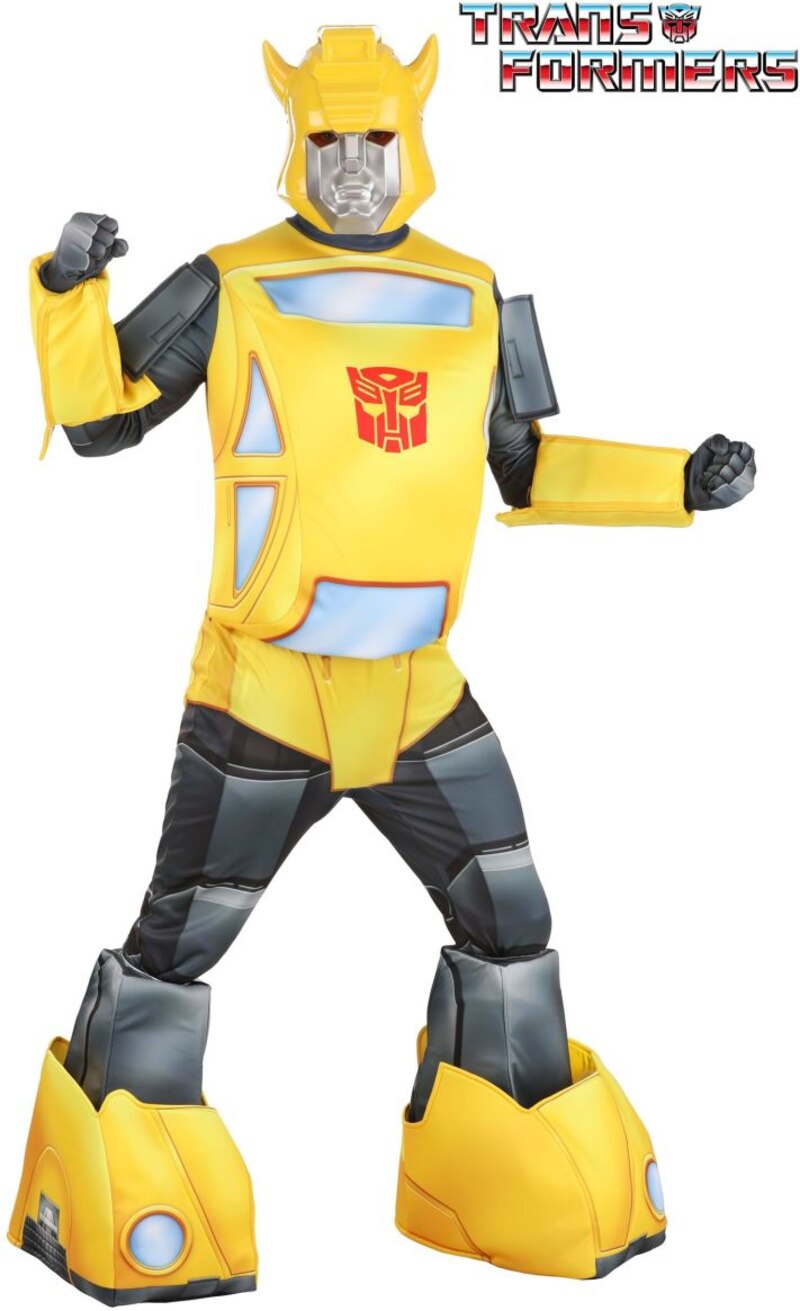 Retail Price: $79.99 USD
Release Date: NOW
Items Included
• Jumpsuit
• Hood
• Pair of Shoulder Guards
• Mask
• Pair of Gloves w/ Attached Forearm Guards
• Pair of Boot Covers
Hailing All the Way From Cybertron
Bumblebee is by far one of the most recognizable Autobots from the universe of Transformers. If your birth year starts with "19" this rendition of the fearless fighter may be the one you most recognize and adore. Long time fans of the series, or younger fans that have the means to watch the 80's show will appreciate you rolling out in the fray as Retro Bumblebee. Don't let the times get you down, everyone loves seeing the nostalgia set in! Even though Bumblebee is one of the smaller Autobots, the bright yellow paint job is a surefire way to make sure you don't get lost in the crowd. You'll be able to patrol around, making sure no Decepticons are out causing mayhem. Or maybe you'll find other citizens of Cybertron to talk about the good old days and show off the retro look.
Product Details
You'll find yourself enjoying suiting up, leaving behind your earthling body and becoming one with the machine! Once you're in the jumpsuit you'll get to armor up. You'll don the shoulder guards, the pair of boot covers and gloves with attached forearm guards, and then, finally, find yourself looking through the mask of an Autobot hero, ready to take on anything the world can throw at you.
Old School Autobot
If you're looking to make a flashy yellow statement and show off your love for the olden days of Transformers, this is easily the costume of choice to do it in!
Transformers Arcee Costume for Women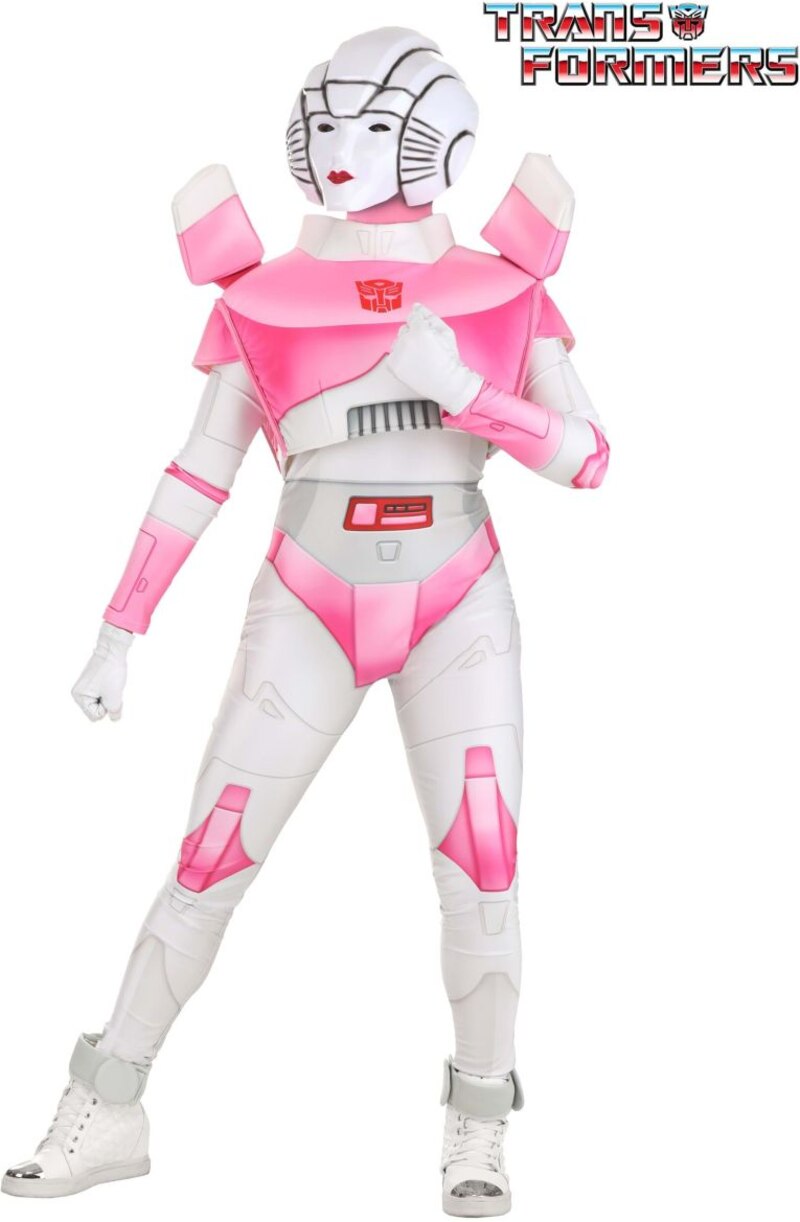 Retail Price: $69.99 USD
Release Date: NOW
Items Included
• Jumpsuit
• Hood
• Vest
• Mask
• Pair of Ankle Cuffs
• Pair of Gloves
The Autobots are Recruiting!
The Autobots are always looking for brave new members to join the team! After all, you never know when those evil Decepticons are going to strike! Are you ready to become a real Robot in Disguise? Well then, you're absolutely ready for this Transformers Arcee Costume for women, which is a Made By Us design that stays true to the iconic Hasbro character!
Design & Details
Get ready to defend the world against the Decepticons! When you suit up in this Transformers Arcee Costume, you get to roleplay as one of the most skilled Autobots on the team. The officially licensed costume comes with a jumpsuit, hood, mask, chest piece, and a pair of ankle cuffs and gloves. Each piece has printed details that are inspired by the real Arcee, so you'll get to look ready for battle as a Robot in Disguise!
The jumpsuit features printed armor details and has pink accents to match her style in classic cartoons. The chest piece fits over top, and has foam armor pieces attached to it for an authentic look. The hood and mask fit on the head, fully turning you into your favorite Transformers character! Finally, the ankle cuffs fit around the ankles, so you can wear your favorite pair of white shoes to complete this look!
Assemble the Autobots
No Autobot can do it alone! Make sure you check out our full selection of costumes inspired by the Transformers series. You can wear this Arcee costume with Optimus Prime, Bumblebee, and more! It's the perfect way to relive the episodes of your favorite cartoon series from your childhood!
Retro Optimus Prime Costume for Adults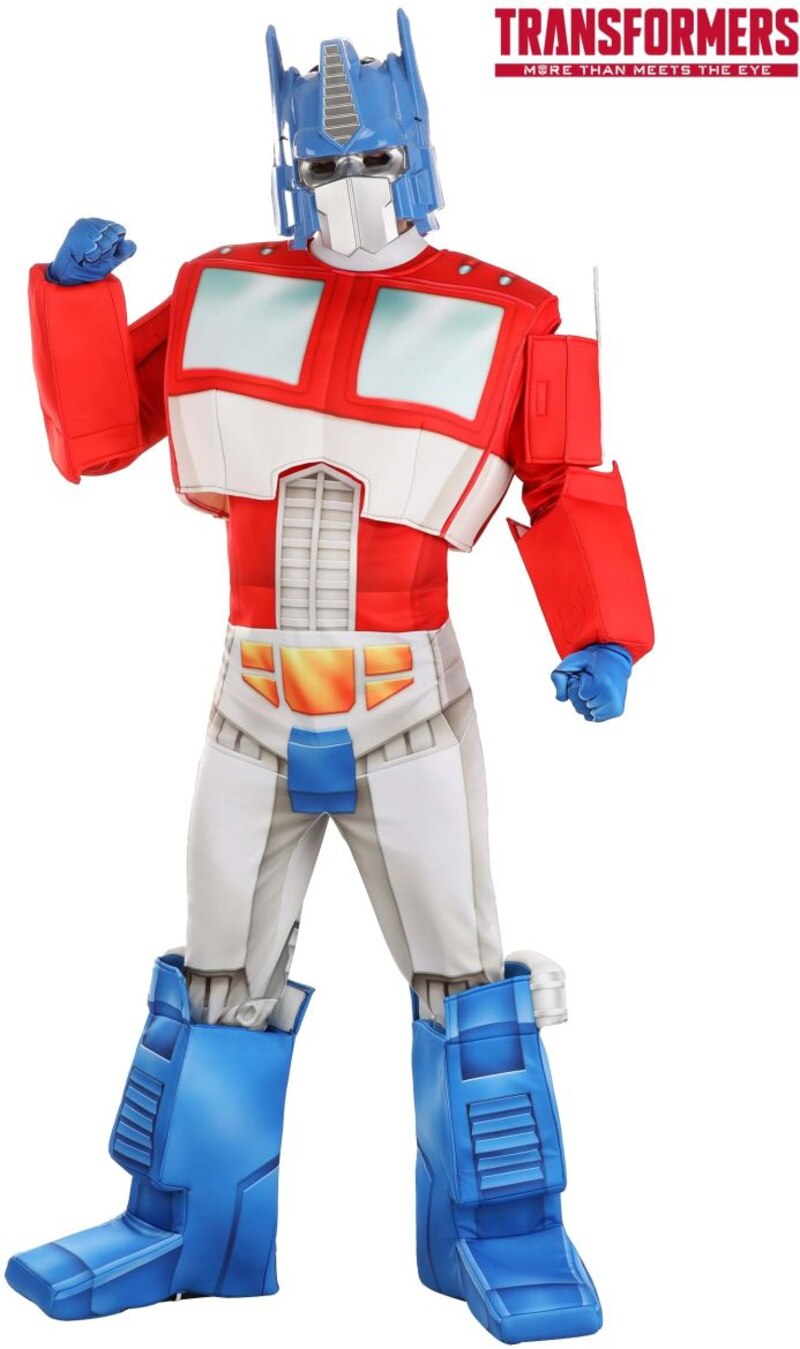 Retail Price: $79.99 USD
Release Date: NOW
Items Included
• Jumpsuit
• Vest
• Hood
• Mask
• Pair of Shoulder Guards
• Pair of Gloves w/ Attached Forearm Guards
• Pair of Boot Covers
Become the Leader of the Autobots
Optimus Prime is amongst some of the greatest heroes to grace pop culture. He's an inspiring leader, a charismatic persuader, and a noble fighter. And he's been doing all of that for a very long time. So long in fact that his look has changed up dramatically from films and tv series. Now you can take on all his great qualities and go back to his original roots, suiting up in the Retro Optimus Prime Adult Costume. This classic look is sure to garner attention and bring the masses to your call, ready to follow your commands following an inspiring speech. Decepticons aren't going to stand a chance with you around to lead the way!
Product Features
You'll be getting ready to roll out in no time as you transform into Optimus Prime. Once you're in the jumpsuit, you'll get to take up his vehicular armaments. The boxy shoulder and forearm guards make up a striking silhouette and will give you an inspiring physique true to Optimus' original look. The mask makes for a complete transformation as you get into Optimus' head, and will even add a bit of height to you with the ornamental crowning. Everyone, especially Autobots, will be looking up to you!
Built like a Truck
If you're looking to make an appearance as a strongly built action hero, there's none better than Optimus Prime. Bring the classic back to the modern day and let the nostalgia inspire all who look at you!