Today RAC takes a look at the first of the three primary forms that toy articulation can take: the hinge. Probably the most-used joint on Transformers figures due to their utility in transformation mechanisms, hinges still do a lot of heavy lifting for the humanoid form as well - especially if you do it properly and lift from the knees. Keep reading for more!

In action figure terms, hinges allow a straight piece to double over onto itself to some degree by adding a break in the form and an axis for one of the two halves to turn on. That usually takes the form of a metal or plastic pin. The most obvious and common application of these are for elbows and knees. And a lot of figures leave it at that. But this is where we run into the conundrum of Squishy vs. Solid. The human elbow generally allows an able-bodied person to touch their hand to their shoulder. This is possible due to the ability of the flesh to compress and move based on its position, otherwise you couldn't get the arm to fold up nearly as tightly. And your PVCs and your ABSes do not generally do that.

There's a couple ways to address that. You can put the hinge on the very edge of the piece, as with Henkei Dinobot, but that's not always aesthetically pleasing. (Though, let's be fair: It's been done better. Henkei Dinobot is among the most awkward such joints on a modern Transformer.)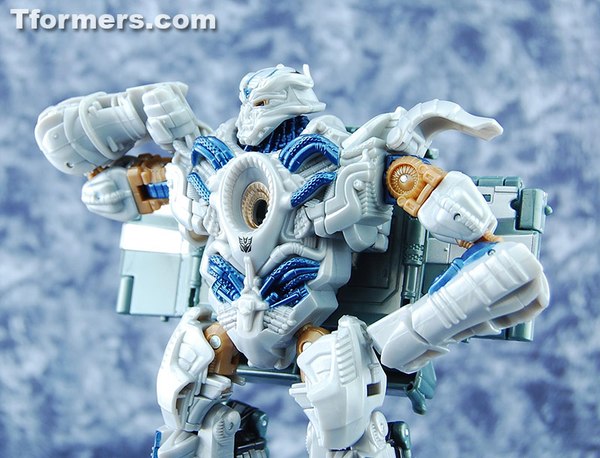 The other solution to achieving human range with these materials is to use two hinges, as seen here with
Age of Extinction
Galvatron. Doubling up in a way that human joints
don't
can allow you to double your limbs over in the ways that humans
do.
...well, ideally. The specifics of individual designs may still prevent it, but there's only so far you can take things. Some designs also include a slide to get one or more hinges clear of interference, but honestly even on a robot that can look pretty wonky.
The drawback to a hinge is mainly in its limitations. It has one axis of movement and cannot turn a complete circle along that axis. Also, because of their linear motion but need for frequent handling, hinges can fall victim to torque and be broken if designer, plastic formulator, factory, and owner have not all been careful enough.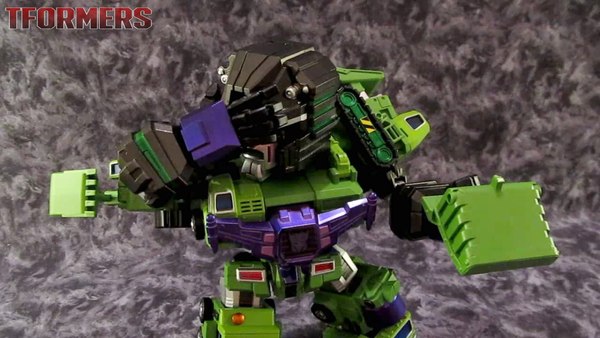 (Pictured above: Kids Logic Devastator's dump truck bed falls victim to stress on a very thin and very fragile hinged strut.)
This is often a problem where thin hinges are used between large masses to minimize the aesthetic damage the joint causes. Also, since an axis is required, the pin itself or its housing can be a weak point. Thin metal pins can tear through the plastic of the joint; thicker plastic pins can break if the plastic encounters too much stress. There are no perfect joints, and even the best designers can occasionally misjudge the amount of pressure a joint can take. It happens - but knowing that makes breaking your favorite figure no less frustrating.
Next time, we'll look at the second of the three basic joint types: the swivel.