Today RAC rounds out the basic forms of toy articulation with a look at ball joints! (Pun entirely intended, and offered with no apologies.) Ball joints were, in the 1990s, the salvation of the Transformers brand to a certain degree, as they allowed more complex and articulated Transformers figures to be made while passing US toy safety tests. But beyond that, they're just a really great and versatile part of modern toy design. Keep reading to find out why!

Most joints in the human body have more than just a linear axis of movement. The shoulder, the hip, the neck... How to best emulate that range?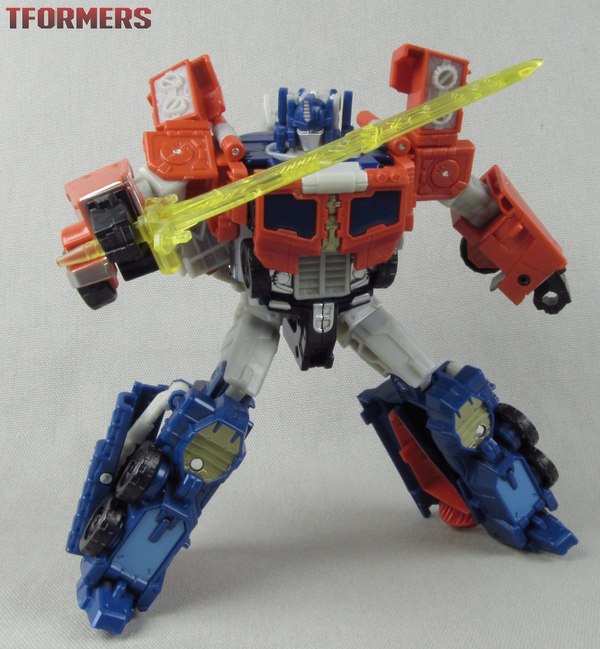 There is one compound solution frequently used on toys - Transformers especially, but not exclusively - that combines a hinge and a swivel. Voyager Titans Return Optimus Prime(above) is sporting an arrangement like that in his shoulders and hips.
I've tended to refer to that combination as "universal joints," but that's not the official name, if there even is one. The version used frequently on Hasbro's Star Wars and Marvel lines are referred to internally as "insert joints," and the specific ridged peg/hinge configuration used there is as old as action figures themselves, dating back to the 1964 GI Joe.) It's a good solution in some locations - wrists and ankles in particular - but it can sometimes be awkward and feel wrong in some others. It also requires more parts than some smaller, cheaper toys can commit to one point of articulation. So what do you do there?
Enter the ball joint. In terms of components it's as simple as a swivel joint, requiring only two parts: a ball and a socket. It functions more or less as an improved swivel joint as well, generally allowing for 360-degree rotation along one axis and tilt in other directions. It can be used very well as a shoulder joint, as Combiner Wars Rook does above. But it's the most common and natural connector for a hip joint, because your hips are, in fact, giant ball joints. Toy ball joints tend to be laid out in reverse of human hips, with balls in the hip that socket into the leg. I've seen toys that do it the way we do... but the ball joints tended to be more fragile, limited, and prone to breakage. Go figure.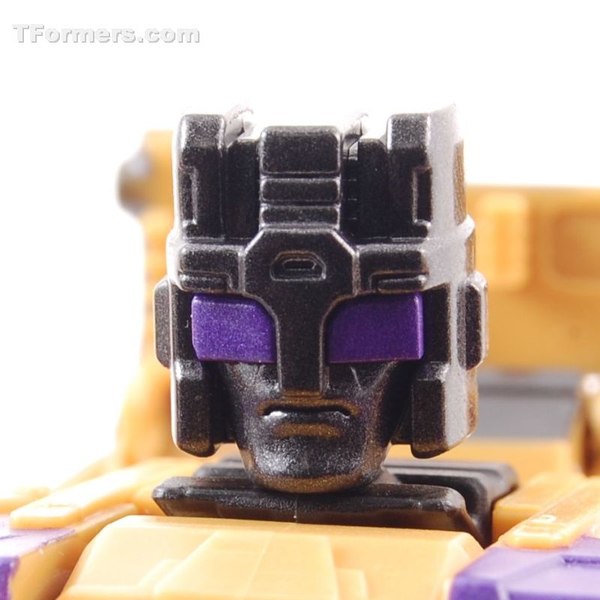 Necks are a very common use as well, as with Combiner Wars Swindle, but the range you get out of that depends intensely on the shape of the head and of the neck. In fact, a ball joint's range is as almost entirely dependent on the socket: the more open a socket can be, the more movement you can get out of the parts. But also, the more prone the ball joint is to popping off. The U-shaped pieces used in Lego's figural construction kits like Bionicle are some of the best in terms of overall range, and even manage to be pretty solid and stable for as open as they are. But they're not very pretty to look at.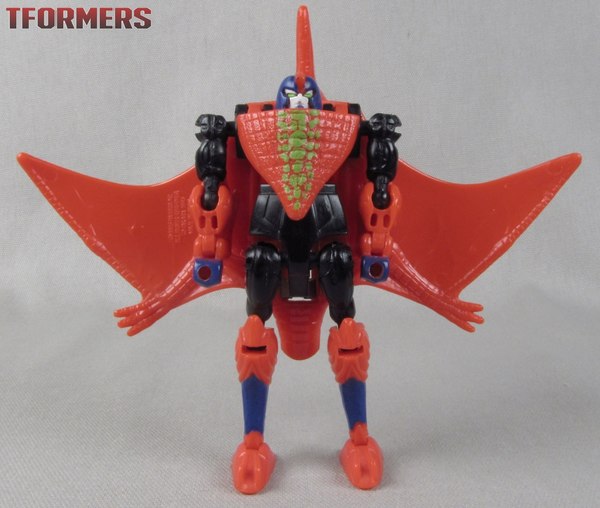 Shaped ball joint sockets can also be used to emulate hinged knees or elbows more cheaply (again, no need for a third axial piece), and may even outperform a single hinge on some figures. Beast Wars Basic figures did this a lot, and it still happens frequently on Legends-class figures and similarly-sized toys. Doubling up on hinges tends to be the argument ender in terms of range along one axis, but it all depends on the size and needs of the toy. (In fact, some action figures in the Mobile Suit Gundam Mobile Suits In Action!! toyline were known to go nuts and put a ball joint in the thigh, leading to a double-hinged knee block, leading to another ball-joint in the lower leg! But to be fair, some of the more baroque leg designs needed all that where another design could do nearly as much with a simpler joint arrangement.)
Besides leverage, which will get a ball out of its socket pretty quickly, the ball joint's enemy is tension. But not always in the way that it is for swivels and hinges: a ball jointed hip needs tension in order to keep a figure standing. Too much plastic-on-plastic friction over time - a thing which is absolutely inevitable in the day-to-day operation of such a joint - and the ball joint lacks the tension you need, and things get very floppy. Luckily, it's easier to build up than file down, and tension problems on ball joints have a variety of end-user solutions. Clear acrylic floor polish is popular, and clear nail polish can sometimes be used as well, but be very careful that the substance you're using won't react poorly with the plastics in your toy. This was a very prominent issue with Titans Return Wave 1's Deluxe Skullsmasher last year, who could barely stand in some cases.
This isn't to say that excess tension can't be detrimental to ball joints as well, but the problem tends not to be with the joint itself: the weak point in your average ball joint is the strut that the ball part attaches to in order to get far enough out from the figure's body to be useful. Too much friction on the joint or pressure in the wrong direction, and the shaft can snap. Ouch.
So, that's the basics, the three basic forms that toy articulation takes, especially on Transformers. But there's one other thing we often look for in joints on large robots and it's worth discussing on its own. Can't think of what it is? Check out the next installment and I'm sure things will click for you.