RAC continues his look back at 2017 with his three favorite comics of the year - plus a couple of runners-up! It's been a good year for Transformers comics overall, and there've been some pleasant surprises for us. Including - and RAC was very skeptical about the possibility of this at the beginning of last year - some Shared Hasbro Universe books that turned out truly excellent. Keep reading to see the list! ...well, it's more of an article. We need a word that combines those two things...
3. First Strike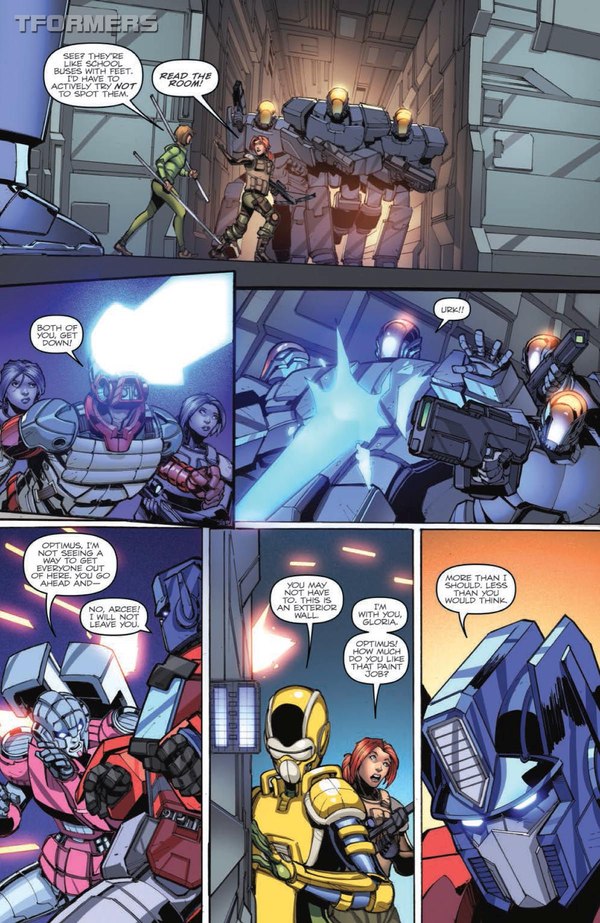 As with a lot of the IDW Hasbroverse comics, this was as much a GI Joe comic as it was anything else. But it's the first of the crossovers that worked well for me, with Mairghread Scott and David A. Rodriguez managing to take the one element of
Revolution
I disliked above all others - GI Joe leader Scarlett - and make her into an actual character. Not just a character, but the cornerstone of the story. Exploring the relationship between Scarlett and her mentor, GI Joe founder Joe Colton as one seeks to save Cybertron and the other to destroy it, the series culminates in an extremely personal and well-choreographed one-on-one fight between the two drawn by Max Dunbar and Ander Zarate.
The only stumbling point of the series in my opinion is when, at the very last moment, the fight and the chase are rendered moot as one of the characters does what the
business
point of this mini-series was the entire time, and brings the Visionaries into existence in the IDW continuity. It can't help but feel like a bait and switch for the people who don't have any great affection for Visionaries, but were instead invested in the comic they were actually reading. (That's an effect that will be less pronounced when reading
First Strike
in trade paperback form, as it was hinted at in a prologue chapter that was not particularly easy to come by and not well-promoted originally.) And then we end on a tease of the next big event, and they mean
big
: Unicron. Who it seems may be bringing IDW the gift of a reboot this year, which surely will please and unite a reader base already of different minds on the changes brought by the Hasbroverse!
But forget all that, as much as the comic will let you. Taken on its own (again, as much as it will let you do so)
First Strike
is excellent.
2. ROM vs. Transformers: Shining Armor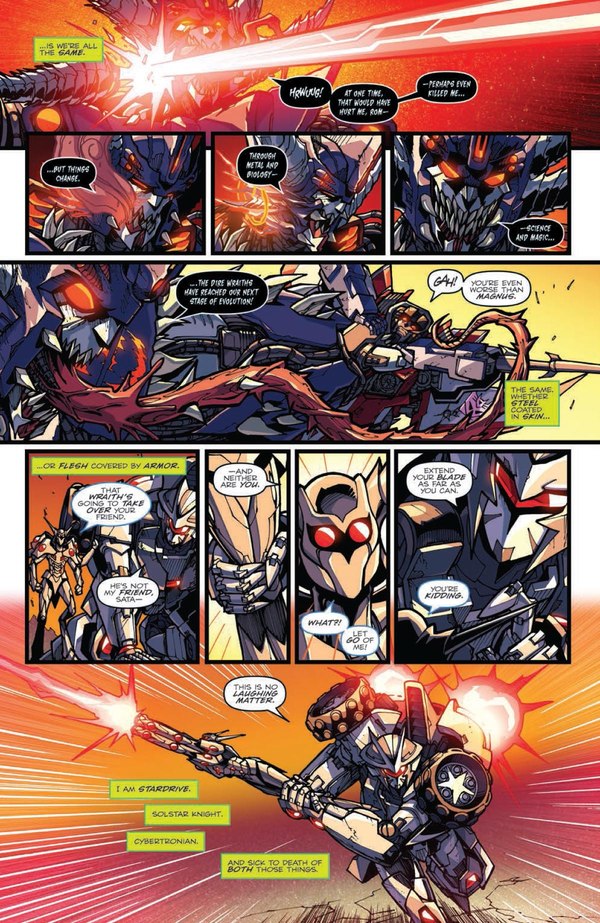 If you had told me this time last year that two of my three favorite Transformers comics this year would be crossovers, I would not have believed you. But much like
First Strike, ROM vs. Transformers
was pretty much my ideal way of experiencing these crossovers: in a limited format that spent most of its time dealing with Transformers and Transformers concepts. In terms of striking a balance between the two worlds however, introducing a Cybertronian Spaceknight in the form of Stardrive was a great idea. And her journey to decide if she belonged to one world, both, or neither (while trying to save a planet from an infestation of Dire Wraiths as Starscream plotted to steal her personal food supply) was one that held my interest. I have some hopes for her presence in the current
Optimus Prime
plotline - though she's working with Prowl, and I'd have preferred to see her avoid such bad influences...
But as good as the writing by John Barber was, what really made this was Alex Milne and Josh Perez on art and colors.
ROM Vs.
was Milne's first interior work since
More Than Meets The Eye
folded. And John Barber gave him a ton of fun stuff to draw. Aliens! Robots! Monsters! Alien Robot Monster Hybrids! Milne said that he had a great time working on this book, and it shows. The Ultra Magnus Dire Wraith design is great, keeping the basic shape of the character while twisting it into something truly frightening. Josh Perez's colors make everything incredibly vivid and downright beautiful. The appearance of Dire Magnus, silhouetted against a sunset, clearly Ultra Magnus but also not
quite
Ultra Magnus, is spectacular. One day I'll need to ask Alex and Josh directly if that's a riff on a similar scene in
Evangelion
or just a happy coincidence.
1. Transformers: Till All Are One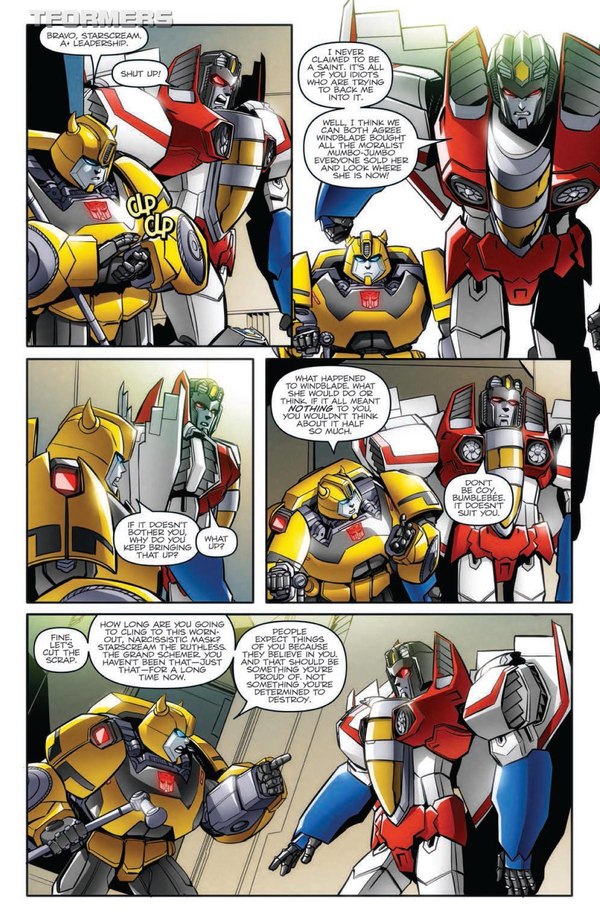 Was there any doubt? Hands down the best Transformers comic of the last several years,
Till All Are One
completed its run, and with it Mairghread's Scott's three-year telling of the story of Windblade's life on Cybertron and her conflicts and collaborations with the Starscream administration. Both Windblade and Starscream grew significantly during that time, as did their expanding supporting cast. I'm going to miss those folks - even if they're still there and written by other people, I'm going to miss this version of these characters.
The insight into Starscream in the final issue and Annual was a high point, which is unsurprising since Scott's two takes on Starscream (here and in
Transformers Prime
) are ExVee and my favorites. Being confronted with who you
could
have been had life not intervened, and being given occasion to live up to that person, is a powerful concept and one that took Starscream to new places. In the end, Starscream displayed the hidden decency that was represented as a part of him by both his "true" self as well as his conscience in the form of (Maybe) Ghost Bumblebee. And Windblade, who had herself come to embrace new aspects of herself over the years, accepted a new role as First Delegate of the Cybertronian Council of Worlds.
Sara Pitre-Durocher's artwork was perfect for this story. Her art has both the technical and emotional range that is key to a great Transformers comic and she gave every character personality and life. She's become one of my favorite Transformers artists in just the last couple of years. She's guesting on
Lost Light
soon, and I hope IDW keeps her busy. Her and Mairghread Scott both, in fact!
Till All Are One
's annual presents me with a problem as a reviewer, because it's my favorite book, and now it's gone, and its ending was so satisfying that it's going to be difficult for me to go on reading these characters as written by other people. It feels, as much as I hate to say this, like A Great Jumping-Off Point For Old Readers. Maybe, hopefully, 2018 will turn me around on that - after all,
First Strike
and
ROM vs. Transformers
were both surprises to me!
Honorable Mention: Transformers Vs. GI Joe: The Movie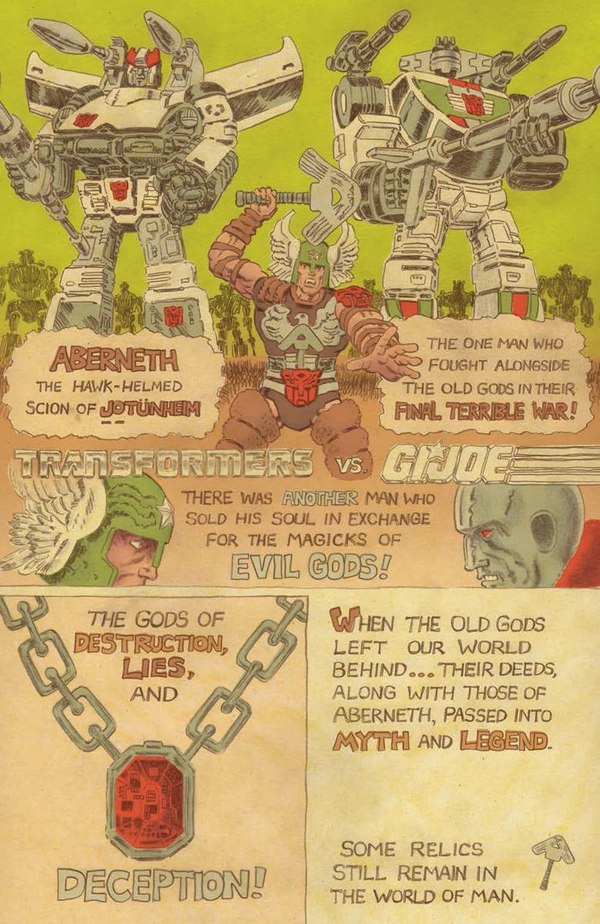 John Barber & Tom Scioli's
Transformers vs. GI Joe
was a highlight of previous years for me, a rare moment of pure creativity unhampered by marketing needs in the history of a merchandise-driven comic line. Earlier this year Scioli followed that up with
Transformers vs. GI Joe: The Movie,
a single-issue version of the comic's story that presented Scioli's original proposal for the series alongside a series of "interviews" with the imaginary actors playing the imaginary characters. While I can't help but prefer the fleshed-out version of the story, this was a great way to get his initial ideas out there in a unique wrapper, and it's well worth reading.
Honorable Mention 2: Kei Zama & Josh Burcham's Issues Of Optimus Prime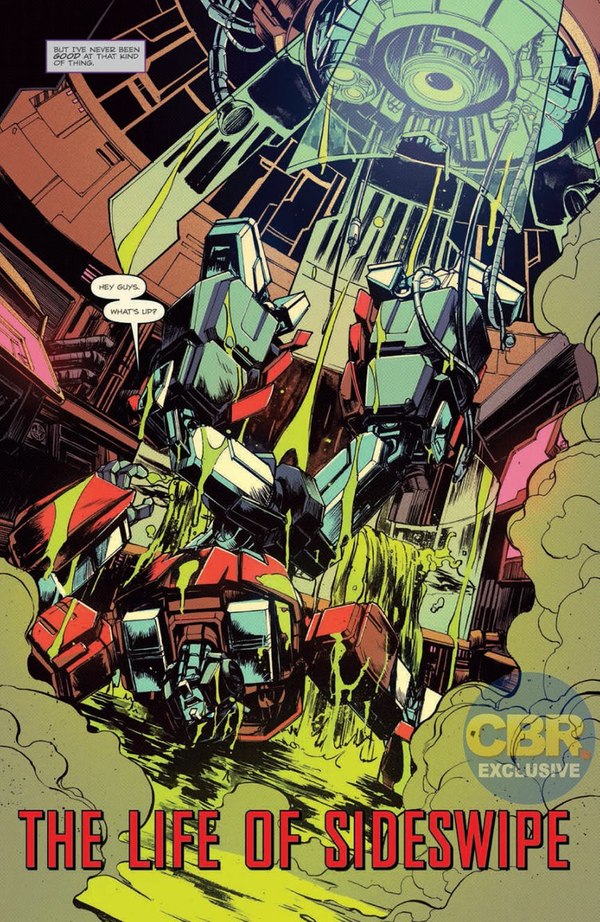 We are blessed in the current Transformers comics to a degree that I believe is without precedent. There are
so many
truly skilled artists on Transformers comics right now that they don't have enough books to put them all on. Even my least favored of the current IDW roster would have been a revelation in the old Marvel days. That said, there's a couple of artists who keep a bit of the Marvel flavor in their repertoire, and Kei Zama is one of them. Her art has a certain roughness to it - in spirit more than in technique - that nobody else has right now. Josh Burcham took the G2ish flavor of Zama's lines and put bold colors to them in a way that gives their issues of
Optimus Prime
an incredibly strong visual identity that I've enjoyed a lot over the past year. They're the highlight of IDW's Transformers schedule for me for the foreseeable future.