2017 is over - perhaps mercifully, depending on how your 2017 went. But whatever your year was like, one constant remains: there were some good Transformers figures this year! RAC has compiled a list of his five favorites - and two honorary mentions. Keep reading to see his favorites as he switches from third- to first-person writing!
5. Primitive Skateboarding Optimus Prime
I've sung the praises of this toy before, so I'll keep it short - and I put it at the top of the list since it's a recolor of a 2016 toy. The Powermaster Optimus Prime mold is good. It looks really cool in standard "Black and gold repaint" colors. It comes with a super-versatile new set of accessories which can become a railgun or a variety of skatepark accessories. And its Titan Master is named Shreddicus Maximus. And, for all of this, it cost only $5 more than retail. The only downside to it is that it wasn't particularly easy to get, appearing at San Diego Comic-Con and then HasCon, with only a brief window of online availability. If you wanted one, I hope you got it!
4. Titans Return Voyager Class Megatron
Most people probably only got this mold as Blitzwing, and that's a real shame.
Titans Return
Voyager Megatron is probably the best Generations Megatron since the 2006 Nerf Gun-styled Voyager. The headsculpt is great, the accessories would be perfect if the rear gun in the Fusion Cannon assembly was painted black, and it looks fantastic as a jet and pretty nice as a tank!
The one thing that holds it back? Stickers. Hasbro has brought back foil stickers to bring up visual interest while also keeping the deco budget down a bit. But the stickers have vacillated between "too much paper, not enough foil" and "too much foil, not enough paper" on just about all the toys they've been used on. Megatron, like most, errs on the foily side, with thin stickers that like to peel and roll up. It's not as bad as on his wave-mate Optimus Prime, but it's still kind of sad and frustrating. Doubly sad that the only version of this Megatron to be released in Japan, where they don't have this sticker problem, will be as M.Bison.
3. Titans Return Leader Class Overlord
The long-awaited update to the G1 Europe and Japan-exclusive toy was teased at BotCon 2016, where I (accidentally posting under ExVee's name from the convention floor) promptly mistook it for a Duocon. The Titans Return version of Overlord is quite good! Simple but poseable, and satisfyingly hefty, Overlord continues the trend of being able to ignore the Headmastery of the Leader class figures, allowing for transformation without removing the Titan Master figure. As it was in ancient times, he separates into a jet and tank, and can become a base that is a reasonable approximation of the G1 figure's base mode within a Leader budget. And unlike a lot of Hasbro releases of recent years, you can't accuse him of skimping on paint.
Most of the few things Overlord loses compared to his G1 self can be regained if you spend a little. His other Powermaster was made available as Sky Shadow's Titan Master, and if you want a pair of Powermaster engines for his chest compartment, there's some G1-accurate third-party backpack options out there to slap onto Ominus and Dreadnaut, AKA Mega and Giga. Or you can just plug a couple of Prime Masters in there for around $10. (Nothing you do will allow the doors to close, but this is in fact G1 accurate.
2. Titans Return Deluxe Class Topspin
The one that surprised everybody. Topspin takes the engineering tricks of Triggerhappy, whose transformation was a standout already, and adds some of his own to make (of all things) the original one-step changer, a Jumpstarter, the owner of the best and most interesting Deluxe transformation of 2017. Plus, he looks good as a robot and has pretty excellent articulation - and the way the arms close up makes them among the least hollow-feeling of the line. On top of which, he's pretty tall and bulky for a modern Deluxe. The size of those have been creeping back up a little bit since a modern low point in 2013, but Topspin just
feels
big in a very pleasant way.
1. Legends Series LG46 Targetmaster Kup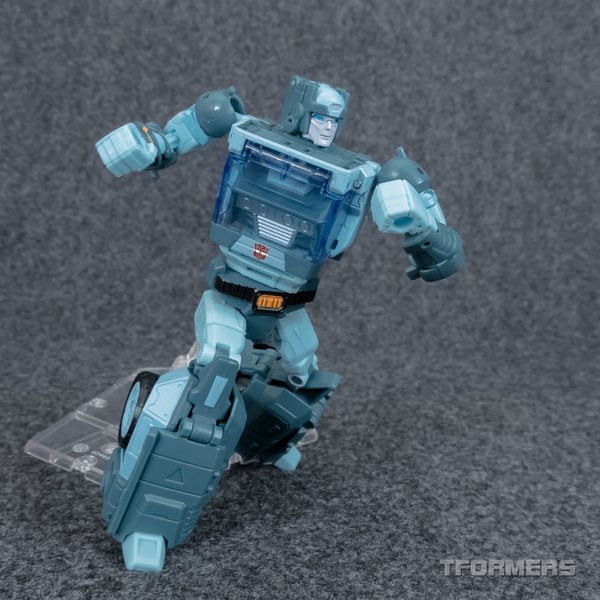 I really liked the previous Generations Kup, even if he did look like Freddy Krueger from some angles and his truck mode, though excellent, wasn't what I was looking for. For me, the less a character looks like a real-world object the happier I am when the update favors the original design. Titans Return Kup was... halfway there. His face and head design skewed a little bit more towards IDW - one of the few times I'd rather it didn't - and his color scheme skewed towards the G1 toy.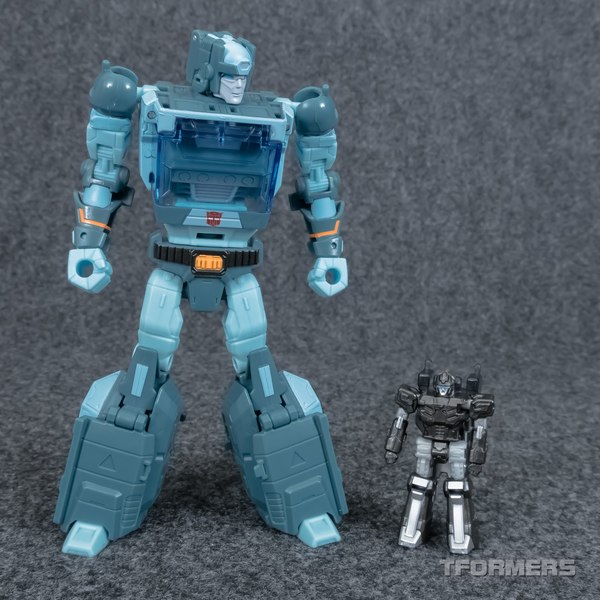 So then, TakaraTomy worked their magic. With a new, more animation-flavored face and almost entirely new arms, Legends Series Kup also had enough paint to make for a pretty convincing match to the animation model. Also, did we mention that his official name is Targetmaster Kup? Recoil is a pretty great bonus here, taking the place of the Titan Master vehicles that shipped along with the last year or so of Legends Deluxes. He looks good and is just poseable enough to do some fun things with when he's not a gun.
LG46 has pretty much everything you might want in a modern Kup figure. The only problem with it was that it seemed to carry a bit of bad mojo: my first one got lost in shipping and I had to request a replacement from Amazon Japan, and poor ExVee spent a lot of time color-correcting his gallery to get close to the colors of the actual figure, which defy digital photography. So, please: go check out his gallery and see all the hard work he put in!
(And if you wanted both versions of the mold without duplicating characters, the Amazon-exclusive Optimus Prime Evolutions 2-pack had an Orion Pax from the Hasbro version of the Kup mold!)

Honorary Mention: Titans Return Siege On Velocitron Deluxe Nautica
I like the Blurr mold, just to begin with. (Especially - since I don't have the
Legends
version - when it's not Blurr!) There's kind of a lot going against this Nautica figure, which is why I didn't include it in my list proper. It was part of a $100 boxset, for one. (And the aftermarket prices are
bonkers.
I like this figure, but it's not worth $60!) For another, it's not a great match to the IDW character's design. It's definitely a case of "Here's as close as we can get within our budget with an existing mold," which isn't as close as they tend to get with these kinds of repaint/remolds anymore when planning them in advance. It felt like a throwback to the early 2000s in that sense. But here's a relatively new female character - about three years old as of the time of this writing - getting a figure with no fan vote needed. If you're a fan of that character, which I am, this is the only way to get her at present. And if you're a fan of the Blurr mold family, you'll find a lot here to like overall.
Bonus Honorary Mention: Titans Return Deluxe Arcee With Leinad & Ultra Magnus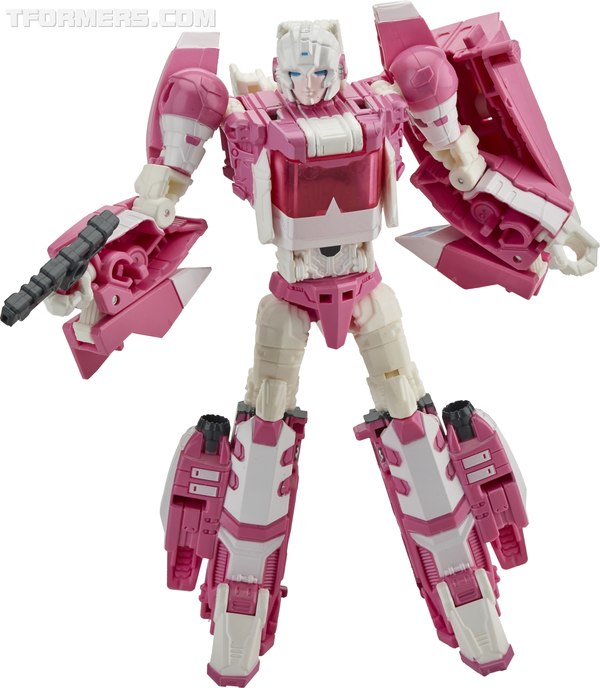 Because it finally happened.