They say truth is stranger than fiction, and when word comes down the pipe from Variety that the "Bumblebee" movie will be going head to head with "Aquaman" in the theaters, it is not hard to hear the echo from Big Bang Theory: "Aquaman Sucks!"
Sure, good for a laugh. But there's a certain irony here that is more than Meets the Eye. Arguably, these franchise characters both share a sort of disdain from the fandom, followed by an intense puzzlement as to why they are being forced into the spotlight, regardless of the uproar from fans.
The film will open on Dec. 21, 2018, putting it up against some heavy competition in the form of DC Comics' "Aquaman." There's also an untitled film from Fox and James Cameron's Lightstorm Entertainment slated to open on that date. It's a busy time of year, with an animated "Spider-Man" movie debuting the previous week and "Mary Poppins Returns" sailing into theaters five days after "Bumblebee" premieres.
With so many other characters that fans are dying to see. It is impossible to understand who and why these lame ducks are chosen to be taking up the screens at all on December 21, 2018. The Writer's Room is turning out to be a bigger disappointment than the Bayhem. Oh yeah, and some WWE guy is in the movie too. Almost feels like the writers are trying to piss off the remaining fans. At this rate, it is highly likely "Bumblebee" will crumble against "Aquaman" in December. An event that will never be lived down.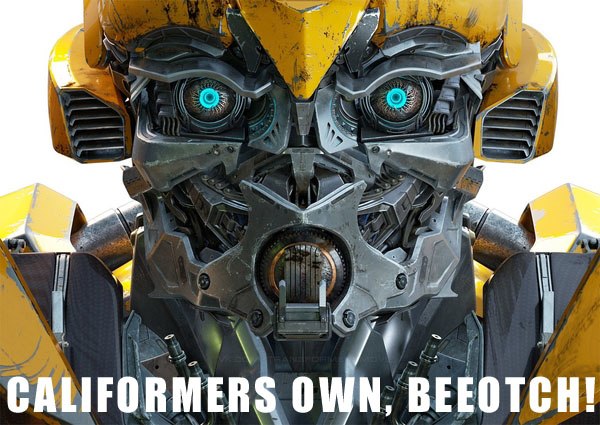 On the run in the year 1987, Bumblebee finds refuge in a junkyard in a small Californian beach town. Charlie (Steinfeld), on the cusp of turning 18 and trying to find her place in the world, discovers Bumblebee, battle-scarred and broken. When Charlie revives him, she quickly learns this is no ordinary, yellow VW bug.
In Theaters: Dec. 21, 2018
Directed by: Travis Knight
Starring:
• Hailee Steinfeld
• John Cena
• Pamela Aldon
• Stephen Schenider
• Jorge Lendeborg Jr.
• Jason Drucker
• Kenneth Choi
• Ricardo Hoyos
• Abby Quinn
• Rachel Crow
• Grace Dzienny