Ever since Toy Fair, Hasbro has been letting us know to look forward to April 24th, as that would be the launch day for Transformers The Last Knight toys. Also that we could expect merchandise from the other lines to hit shelves at about the same time. But as many of you probably know, while the major online toy retailers have gone live with listings for wave 1, more likely than not you were presented with a lot of nothing if you went looking at your local brick and mortar. What happened, and why aren't the toys out in stores for the launch day? Keep reading to find out more!
The answer seemingly comes from Instagram. The official Transformers account made a post this morning referencing the movie line launch today, but they included one interesting detail that until now nobody had mentioned in reference to this. "Now available online! In stores Friday!"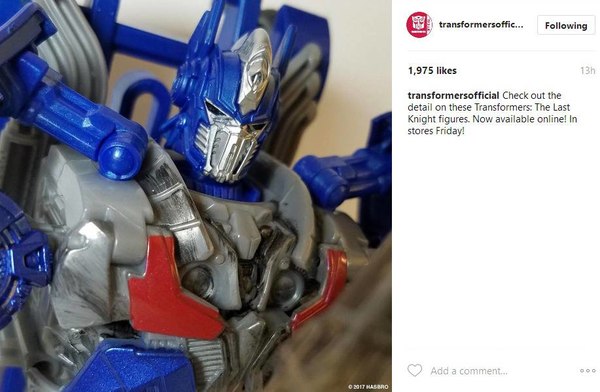 You can see it right there in the screenshot from Instagram too. For reasons known only to Hasbro's marketing department, the launch for the movie toyline has been bizarrely staggered, holding back retail locations for the rest of the week, despite many reports of stores having inventory and being ready to go - but often still finding the merchandise locked out of the registers because the apparent
in-store
street date is still awaiting.
If you prefer to try to find these locally, and there's little reason not to, especially with Walmart reportedly having the Premier Deluxes in their system at just over $15, versus to $19.99 SRP, you probably will be waiting until at least Friday for the inventory to be stocked out. Unfortunately, this probably means also if you're waiting for newer Titans Return or even Robots in Disguise that's supposed to join the movie figures in the merchandise push, those will be held back as well.
By the end of this week, all shoppers should be on equal footing for the new toys, but it's hard to deny that this is a very strange approach to what ought to be considered the brand's most important product push of the year.