TakaraTomy is making no secret of an aim to "perfect" as much as they can the Combiner Wars toys for their iteration of the toyline. Groove is joining their Defensor as a full limb, raising the bar just a bit from restoring classic team lineups with recolors as they're doing with Superion and Menasor. It doesn't seem much of a leap that they could make an original Blast Off figure for when they get to Bruticus, but what are the chances of seeing these made available through Hasbro? Keep reading...
Similar to what we noted when looking at Devastator options recently, the pricing gap between Unite Warriors box sets and assembling a full set of Combiner Wars figures is not that significant, especially with today's very favorable exchange rate. So going in on a TakaraTomy combiner is not altogether prohibitive. I have a Unite Warriors Defensor on preorder, as it happens. But while the price might be manageable, it's not the only concern. I personally feel the Hasbro versions of the Protectobots have better decos in general than what we've seen of the Unite Warriors editions so far. It's a kind of tradeoff to make based on wanting that new figure, whether to have the most accurate combiner possible, or just wanting more unique toys to add to the pool. But if you can't quite justify that to yourself versus the cost and what you may see as an underwhelming paint job, are you stuck missing out on Groove or a hypothetical Blast Off?
Different Circumstances
It's easy - and entirely too common right now - to see people point to Brake-Neck and Quickslinger as a basis for Hasbro importing Groove, or any other new figures TakaraTomy may develop. But we have to recognize that these things aren't exactly equivalent. One reason that we got Slingshot and Wildrider, and so quickly, was because they were head swaps and recolors of figures that Hasbro had already released. It's likely enough that putting the head sculpts for those characters in the mold sets was by TakaraTomy's request, but they're still toys co-developed by both companies. And I think this is a very important point.
There's no indication that Hasbro has anything to do with the design of Groove, and actually a couple of things tend to point the other way. An obvious one is just in Hasbro producing Legends Groove. Groove hasn't been a case of substituting the character's presence for better shelf diversity, but only in changing the way Groove interacts with the rest of the team. From their view there probably isn't a gap to be filled here, because the modern Defensor still includes the classic character while introducing a new one. Moving from there, you have to look at the design of Unite Warriors Groove. A big sign of who was primarily behind it falls in the extensive use of clear plastic. Going by one of the most recent teaser images shown, there's a large quantity of colorless clear plastic going in that figure. Now, look at Combiner Wars, and try to find clear plastic anywhere. This is a major distinction in design choices between Hasbro right now and TakaraTomy. While the tree of parts currently in clear could be cast with opaque instead, the layout of those parts to fall where they do shows the intent. The other side of that is the paint needed to incorporate the clear parts to the surrounding plastics. Groove's guns are fully painted clear plastic, and it's likely that the front of the motorcycle carries a lot of paint to support the transparent windshield. Running opaque white plastic to these parts might solve a little bit of problem, but it wouldn't fully relieve the paint requirements.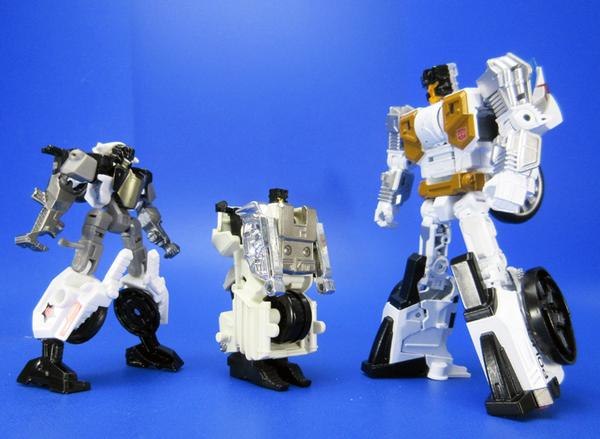 Then we get to the smaller things. Groove has two handguns, which is also out of sorts for Deluxe Combiner Wars. They seem to be somewhat necessary as well, since the police lights are on them - just tossing out one gun to lower the parts count would have minor consequences. But then there's another sticking point: Groove may not have its own combiner hand/foot part. TakaraTomy's philosophy is to use matched pairs of the hand/foot pieces. As a result Groove gets the helicopter mold's twin miniguns, which just on its own merits is kind of awesome. But when you look at Combiner Wars, every mold type has an associated combiner piece design, and we have no evidence at all that this would be true of Groove. TakaraTomy may have had the tooling for those pieces duplicated for independent production, but more likely the relevant parts of the larger molds have been gated off to produce these parts without additional waste.
Individually, none of these things would be prohibitive to work around to make a Hasbro release work, but they kind of start to stack up and show how different the situation would be in getting these new molds ready for Hasbro's markets. There's also a more simple issue that may exist. A great example is Breakdown from the Prime Arms Micron series, which was basically Voyager size, but TakaraTomy built it to their specs, not Hasbro's, which prevented it from working at Hasbro's pricepoints. Groove might prove to be the same case, although that wouldn't necessarily be the final nail in the coffin.
The Right Place In The Right Time
I think Brake-Neck and Quickslinger proved that the timed, online-exclusive delivery system is viable for select items that Hasbro might not want to try to push out through the "normal" distribution channels. That's setting aside that from a collector standpoint, online sales are becoming by far the normal situation, but that's a topic for its own article. If this distribution channel can be maintained and permit sales of toys that don't rely on the specific wave/assortment model required for typical brick and mortar retail in Hasbro's markets, things start to feel like they can be a bit more flexible. And that's really the concept that the entire idea of Unite Warriors Groove and probably Blast Off in Combiner Wars packaging hinges around. Visible indications are that the experiment in May was successful, so there's little reason to think we couldn't see that tried again. If our wayward Stunticon and Aerialbot sold as quickly as they seemed to, I'd bet at least some of the retailers involved are eager to jump on board for another spin. The flipside of this could be that someone with a lot of purchasing power like Amazon or Toys R Us might want to make sure they're the only ones to benefit and try to purchase an entire run as an exclusive, but ultimately the result is the same: a channel which bypasses the requirements of fitting a set pricepoint that could preclude TakaraTomy-original molds from being possible to sell. Yes, it might mean that the figures would get priced at $20, but if retailer confidence was strong enough, that probably wouldn't be an obstacle. So, that's one barrier worked out. What about the other?
Release timing is the other factor. For the purposes of the rest of the article, we're going to go ahead and assume a Unite Warriors-original Blast Off will exist - it seems pretty likely anyway. If these molds are fully TakaraTomy initiated as the speculation goes, it's a bit different to Brake-Neck and Quickslinger. TakaraTomy knows their major market is the collectors in Japan. And the collectors in Japan are not very different from those elsewhere in the world. They'll import out of market toys to get them sooner than the domestic releases. This is a knowledge the folks at TakaraTomy would have as well, and based on that I believe a Hasbro release of Groove would have to be delayed at least until Unite Warriors Defensor comes out. Because I think TakaraTomy isn't going to want an individual release of the mold they invested money and development time in to undercut the boxset they made it for. Since Unite Warriors Defensor is an online store exclusive which will presumably be made to match the number of preorders placed, this is a more priority concern than Superion and Menasor which are general retail products in Japan. There's also an issue of factory time, and it may not even be possible to arrange a run of Groove to Hasbro's specifications quickly enough to be able to bring it to market before UW-03 is released later this year. So, this presumed barrier cuts specifically to the Japanese side of things. The other cuts both ways.
Going by the above logic, Blast Off wouldn't be considered available before Unite Warriors Bruticus exists and has been released, and it also would not be made available by Hasbro at any point while it could still be seen as competitive to their own Blast Off, the Slingshot recolor. Taking a conservative guess that the on shelf life cycle of that wave would be between late December 2015 and March of 2016, you start to see the minimum timetable on that. Beyond which, I wouldn't expect to see an announcement by Hasbro until after the point where they no longer consider airplane Blast Off to be an active product. Assuming Unite Warriors Bruticus happens next up after Devastator, we'd probably be looking at February 2016 for that. That brings us to the perhaps unpleasant truth: If these molds were paired together for release, Groove would be stalled until Blast Off was ready to go. And it's not unreasonable at this point to think that it might be May of next year before these molds would see a Hasbro release.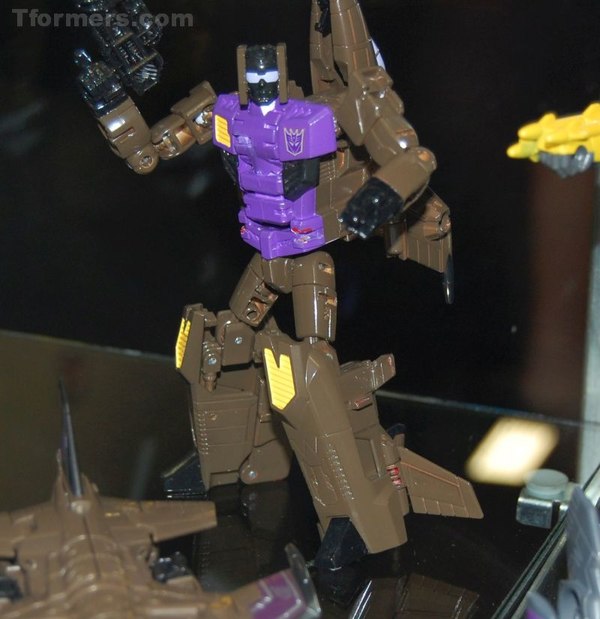 But Wait, Why Not Just Team Up And Put Unite Warriors Blast Off In The Regular Release Bruticus?
Okay, yeah. Groove was kind of an issue because the Hasbro folks probably didn't think Groove should be as big as a helicopter. By the same token, they didn't seem to think a tiny space shuttle made a lot of sense on a military unit when talking about the upcoming Blast Off at the Botcon panel. While I think that is a component of the choice, I think moreover it's a matter of costs. With Brawl's all new tooling and Swindle as a heavy reshell of Rook, there's probably a good chunk of cost built up in the wave and Blast off and Vortex were the easiest ones to trim down to balance the wave budget. In that case, even if they worked with TakaraTomy to come up with a design that suited both sides, fitting it in might have just been cost prohibitive from the outset. And if TakaraTomy's Blast Off goes without consideration of Hasbro's budget requirements, then just deciding after the fact to try to work it in would be even more hopeless.
Ultimately, Hasbro seems to have a distinct idea of what they want Combiner Wars and the characters represented it to be, within a framework of what meets the budget. TakaraTomy has the same thing, but their map is clearly pretty different and their cost requirements are not so inflexible in making that happen. From the outside perspective it seems to make a lot of sense to try to take advantage of what's getting done for Unite Warriors to make it be a little more "classic", but it's unfortunately not quite that simple.
Always A Chance
Everything here is super speculative. It could be that Hasbro will not even be interested in trying to bring over the Unite Warriors original molds because they feel like they've represented the characters in the way they most want to. But they're also pretty conscious of the fandom and understand a lot of what we want. Given that, I feel pretty confident that if the opportunity comes up and everything aligns well, they would try to make these toys available to us. But I see a lot where people are talking like it would be something that would take until maybe just this fall, at least for Groove. A situation where it would be announced at SDCC, even. I think that's not taking in to account everything involved. But I'm not going to say even that is impossible. There's lots of things that as a fandom we learned and came to understand as being possible and impossible, and in the last couple years more than a few of those rules have been broken. I personally think that any action this calendar year on anything original to Unite Warriors is highly improbable, but before Botcon 2014 I would have said an entire two year toyline of updated combiners was pretty much impossible too.
What this comes down to, I'm sorry to say, is that if you're really motivated to have a Groove limb, plan on getting Unite Warriors. Odds are an announcement on the domestic option is far off in the future, and there's a chance it may not come at all. If so, Unite Warriors Defensor is probably going to be pretty expensive to try to go back and pick up later on. We can hold out hope that if Hasbro has a plan for Groove, we find out before that Defensor boxset is released.