SIEGE has been just prime as fans have been scrambling to find these figures for all the great Cybertronian goodness they offer. Some fans have gone beyond by customizing these new toys into something else.
In this case, customizer Abyssmos, has built a really great looking Leader Class Nemesis Prime made from the Ultra Magus figure. This guy has got it all with a great paint job and the additions of his black cape, red sword, and axe weapons reminiscent of the Battle Sentinel. Abyssmos has even managed to convert Magnus' trailer into a cool battle station. Read the build notes and even buy it from the Ebay auction going on now: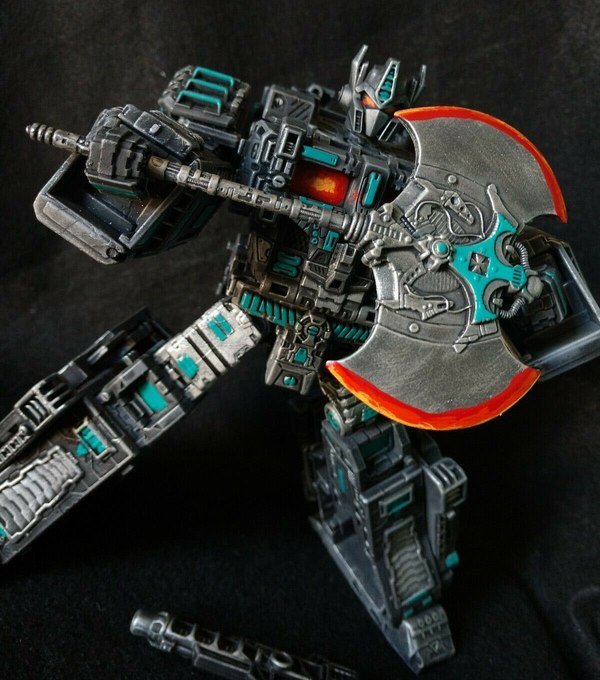 This is my own version of siege nemesis prime that was done using the ultra magnus mold. The figure has a leg modification that helps the figure have 1inch extra height. You can display it with the extra height or without it just like the original. The figure was heavenly repainted to resemble a weathered battle torn look that brings out details and creates more depth giving the figure a overall better look than the stock version. The figure can still transform but I haven't transform it because I only had it displayed like it is. Please keep in mind that since there has been a few modifications the transformation might also change. You can still transform it but the shoulder armor won't attach to the back of the legs in trailer mode but you can still transform it as a truck with trailer just like the stock version. The figure wasn't intended to be transformed since it was on my personal collection. Also the cape sword and axe are not part of the custom work. Even tho those parts are custom it originally wasn't included I just added those just for a different look and it will be included in the listing Please note that the joints and 5mm ports are tight due to the paint but they are still usable. I recommend to be careful when transforming.
Check out the Ebay Auction for Leader Class Nemesis Prime Transformers War For Cybertron Siege by Abyssmos now at the following link:
https://www.ebay.com/itm/303205391395