So we now know that the next series will be named Transformers: Cyberverse. But what else do we know about it? And what suppositions are going around that are maybe not as solid as people think? We cover all of that - and a little bit more, such as the origins of the Cyberverse name - in the popular Q&A format. Keep reading to see!
What is Cyberverse?
It's the name of the Transformers series that begins in 2018, after the end of Robots In Disguise.
That name sounds familiar...
It should! Cyberverse was the name of the smaller figure line begun with Transformers: Dark of the Moon and carrying over into Transformers Prime. It had two size classes, the tiny Legion and the Scout/Legend-esque Commander. the Legion size class has carried over into both Robots In Disguise and Transformers: The Last Knight, so it must be fairly successful.
So this show's toys will all be mini-figures? Don't know how I feel about that.
That's fine, because we don't know that for certain. Hasbro's not shy about repurposing names, and the Cyberverse name itself hasn't been in circulation since the end of Prime in 2013. So Transformers Cyberverse could be entirely focused on mini-figures and playsets... or not. It's super-early going here. We're hoping to find out more at HasCon, but there's enough buzz and rumors out there already that it seemed like taking a few minutes to talk about them was worthwhile.
So, what do we know, then?
We know everything about Cyberverse contained in these two slides from Hasbro Investor Day!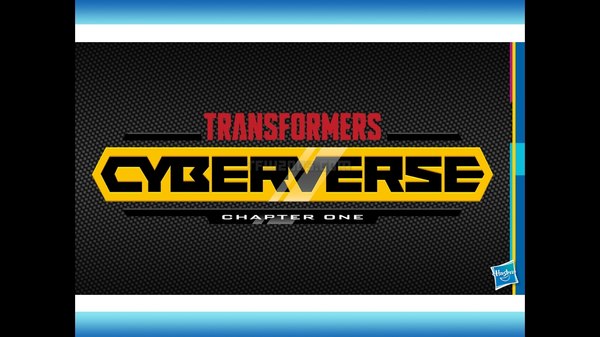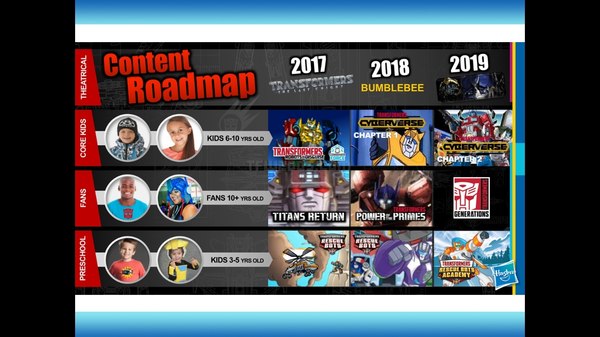 As we said,
Cyberverse
begins in 2018, and is aimed at kids ages 6-10, same as
Robots In Disguise
was. Apparently it was said that the series would "Focus more on the characters and their mythology." And each yearly season will be presented as a "chapter" of the story. That's literally everything we know for certain about the show.
Wait, those are G1 images! Does that mean-
-anything at all? It's entirely too early to say. Hasbro doesn't like things leaking out before they're ready, and what's a good placeholder for a Transformers image if you're not ready to show off your show? Especially if it's not set in the Prime/RID continuity?
...actually, that reminds us: there is one more thing we can say for certain: RID writer Adam Beechen was asked if he was working on Cyberverse, and replied: "I'm not working on the new series. Just like RID was a change from Prime, I think Hasbro wanted to try something new and wanted new voices for it." But that, again, doesn't necessarily mean that Cyberverse is not set in the Prime/RID/Aligned universe, because they changed staff between those two series as well. Likewise, Transformers: Rescue Bots is dumping its entire voice cast and who knows who else to become Rescue Bots Academy.
Wow, kind of a jerk move.
Yeah, really. But, to get back to the question "Is Cyberverse G1 Redux?" There's one other variable floating around that's led to some speculation. This Amazon listing for a kids' book with figurines, due to be published September 1st, shows G1-ish characters in a style never seen before with an all-new Bumblebee design front and center.
Gee, that's pretty telling.
Yes. This cannot possibly be what Cyberverse is.
Exactly. This has to be what... huh?
This listing's been up since at least the middle of July. The Hasbro Investor Day was less than two weeks ago. If this was Cyberverse, Hasbro probably would've asked the publisher to use placeholder images instead to not blow their reveal. And if this was the first Cyberverse product, you'd think it'd have that nice, bold Cyberverse logo on it somewhere, right?
Yeah, that is kind of a Thing.
Coming at it from the other side: if Hasbro was comfortable with Cyberverse art just being out there, wouldn't they have shown it off to the investors? Given them something more concrete than just a logo and some placeholder images?
Huh. Yeah. So, literally all we know for certain is: "Cyberverse is the 2018 Transformers media for ages 6-10, will be presented in chapters and have a focus on characters and mythology."
Now you've got it.
That's kind of a shame. It'd be nice to see a remake of G1.
This "G1 Redux" thing all ties back to Toy Fair 2017, where the same G1-themed placeholder images in the slides above were used to represent whatever was to follow RID. But we maintain that this is all they are: placeholders.
Even after the runaway success of the movies (which may be running down now, who knows?) G1 is the generic; within the brand it is the default state of Transformers. Which makes sense since very few series stray far from its basic format and premise. "G1 Redux"? Hah! Literally every new universe we've gotten in Transformers ever has been G1 Redux to some degree. They may not be exactly, precisely Your Warmed-Over Childhood With New Animation, but trust me: if Hasbro ever sets out specifically to replicate the G1 experience for a modern audience, it's still not going to be exactly that. Personally, we think that's a good thing, and we wish Hasbro might stray from the G1 framework a little more, but that's another article for another day, probably without a nonexistent rhetorical person asking us questions to propel things.
So what, I don't get my G1 remake with new art and I effectively cease to exist at the end of this article? That sucks! You suck!
Yeah, sorry about that. Both of those, actually. If it makes you feel any better we non-rhetorical humans get decades if we're lucky and we're not thrilled with the ceasing to exist thing either. But in the meantime: there are robots.
True. I like robots.
Us too!