Agora Models have sent me an update on their Transformers Optimus Prime Die-cast Metal Model Kit with new details and official images. This is the biggest scale model kit of Optimus Prime ever produced stands 78 cm / 2.5 foot tall is more than meets the premium edition with metallic paint finish, LED lights, sounds, weapons, huge smokestacks, and cartoon legs. Agora founder, Liam White, shares his words on this ambitious realization of the famous superhero:
Optimus Prime is a rather special project for all of us involved in the creation, and as such, we are going to great lengths to ensure this model is the most detailed, accurate, electronically functioning, and biggest model kit ever to be produced at an impressively detailed 78 cm (38") tall!. When standing on his base, the complete model display measures a whopping 1 metre tall.
The Home of Big Scale Modeling ® Spring 2023 Agora Models is delighted to announce a brand-new big-scale model kit of Optimus Prime. Based on the original TV series and movie character from Transformers: Generation 1 from 1984–1990. Launching 20th April 2023!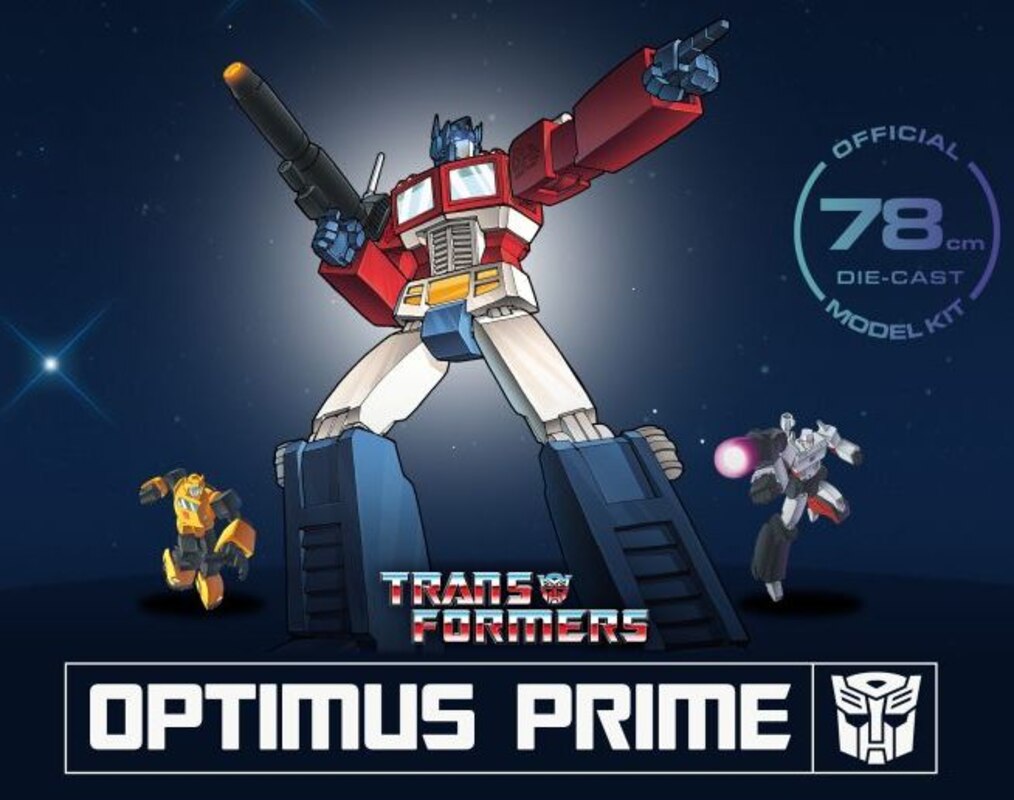 BIG-SCALE MODEL KIT
This is the biggest scale model kit of Optimus Prime ever produced at 78 cm (38") tall and over 600 pieces and weighs 11 kg (24 lbs) Available as a 12-month subscription box, allowing you to build and complete this museum-quality model within 12 months.
At the time of launch, customers will subscribe to a 12-month plan, receiving one box of model parts to build each month for 12 months. Pack 1 assembly complete: the eyes light up, the face plate moves up & down, and the chest doors are complete.
Later in 2023, customers will have the option to buy a full kit i.e. all 12 packs in one delivery.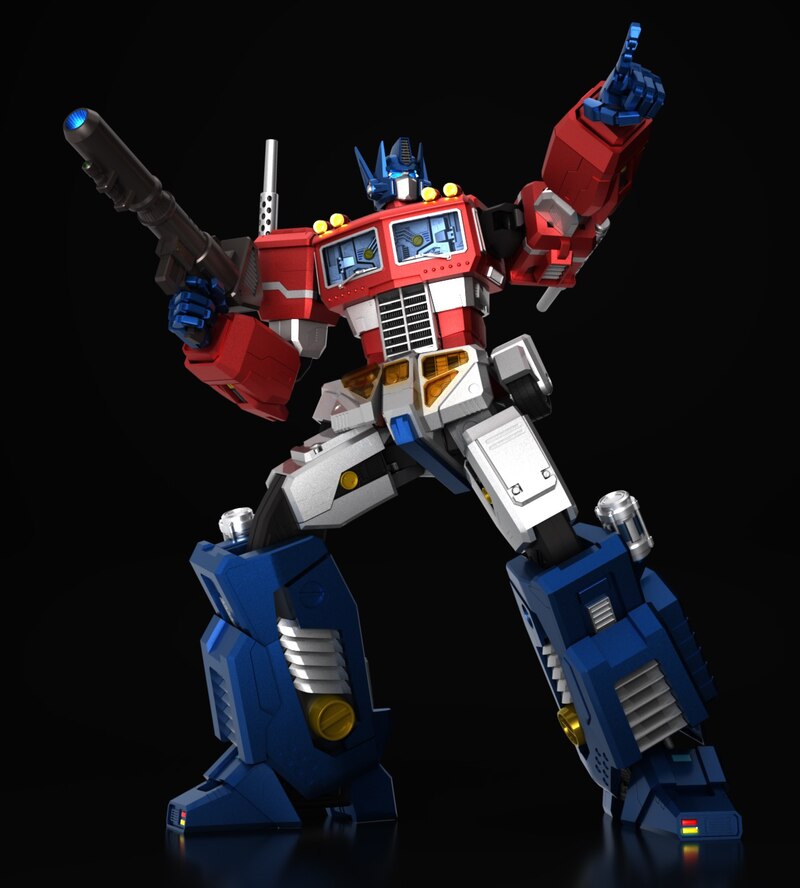 The Agora model of Optimus Prime includes many of the working features that you would expect in a big-scale model. Made from die-cast metal Pack 1 contains more than 85 pieces!
As ever, our model will be produced using the highest quality materials and includes a variety of features and electronic functions to bring Optimus Prime to life.
Fully articulated fingers allow the model to be posed with or without blaster in hand, and with fists clenched or fingers pointing to give a dramatic sense of action and movement.
This model will be a self-supporting structure with fully posable joints allowing Optimus Prime to be fixed in a myriad of action poses.
Optimus Prime comes with a blaster which customers will also assemble. The blaster will include moving parts and lighting effects. The illuminated battle axe will also be included which will work as a replacement for his hand.

The all-important illuminating matrix of leadership is hidden behind a matrix chamber door. The matrix will be a ball shape with a crystal-like inner appearance like the anime design. The matrix will be removable, but as the appropriate scale is different for the internal and external matrix, a separate matrix will be included for Optimus Prime to hold aloft in his most iconic pose.
Optimus Prime's stunning paint work is red and blue metallic, like modern car paints.
Display bases will be individually numbered to give them a unique, personal, and collectable quality, and will bring the final model to 1 m tall!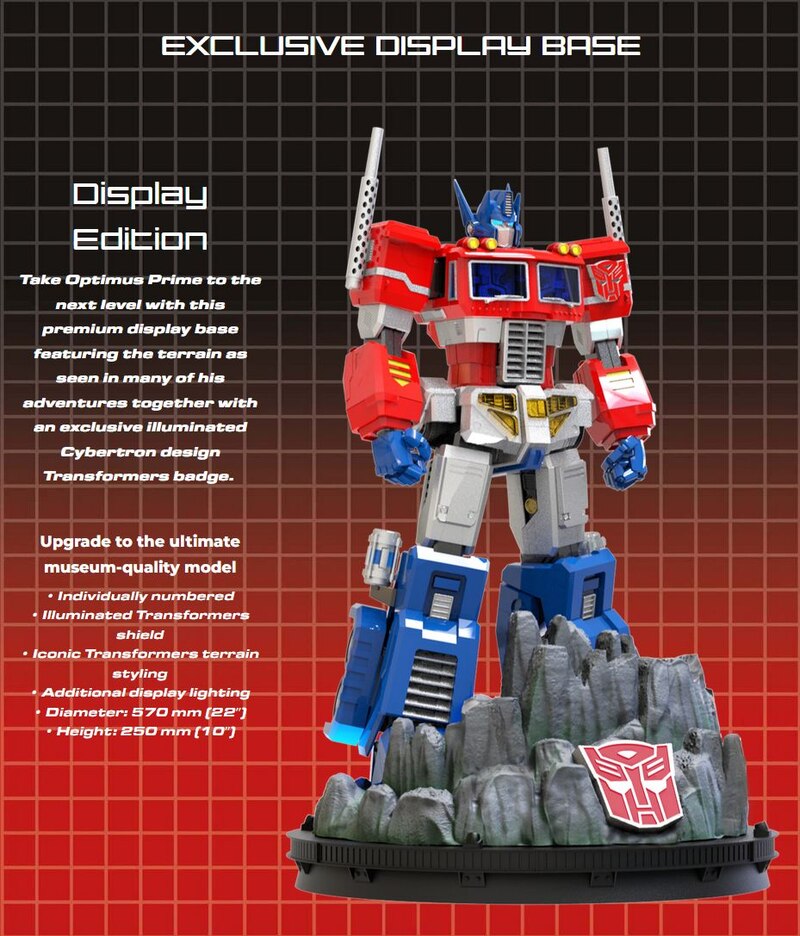 Favourite Phrases Optimus Prime's faceplate moves in sync with his speech:

"Greetings, people of Earth"
"Let's roll"
"Freedom is the right of all sentient beings"
"One shall stand, one shall fall"
... and many more.
Other sound effects and music clips are also included.
PRICING
Pack 1 $74.99/£59.99/€69.99
Pack 2+ $149.99/£119.99/€139.99
Shipping from our 4 distribution hubs in the UK, US, Europe & Australia (contract pending for China & JINSEAK region)
Preorders now at agoramodels.com