The Daily Prime looks at the sweeter side of the Transformers Beast Wars from Japan. I am one of those geeks who just love Candy Toys, Gachapon, and other small action figures. IMO, no one does them better than Japan's Kabaya who has been packing Takara's robot toys in with candy as early as the Microman and Diaclone lines.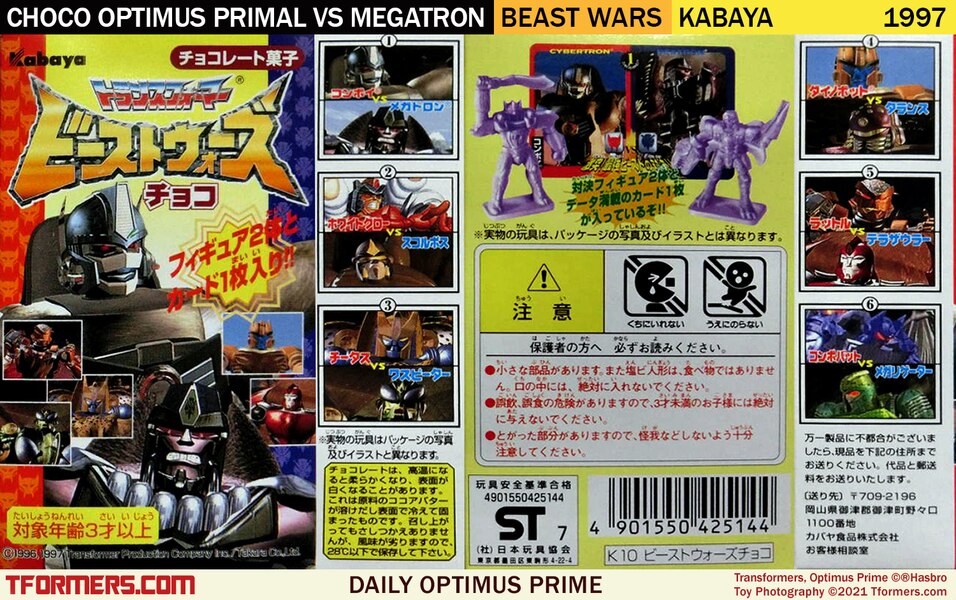 Today's shots look at the ultra-rare Transformers Beast Wars Choco Optimus Primal Vs Megatron sets from Kabaya (above). Released in 1997 for the Beast Wars debut in Japan, these Versus sets include 1.5-inch figures from each of the Cybertrons (Maximals) and Destrons (Predacons) factions with a VS Bio card and piece of chocolate candy inside.
Sold in blind-packed boxes, you may get one of six different VS set molds made in either clear purple or smoke black colors. The sets include the following pairs: #1 Convoy vs Megatron, #2 Whiteclaw (Polar Claw) vs Scorponok, #3 Cheetus (Cheetor) vs Waspeeter (Waspinator), #4 Dinobot vs Tarans (Tarantulas), #5 Rattrap vs Terrorsaurer, and #6 Convobat vs Megaligator. See the images of both colors of the #1 set as well as the Bio cards and box art featured below.