The Daily Prime takes a look at vintage ephemera for Takara's original 1985 Diaclone Powered Convoy that many will recognize as the original mold for Transformers Generation 1 Ultra Magnus. Takara created a lot of advertising for the classic car carrier truck set made to carry growing collections of Diaclone Car Robots toys. The media for this figure is so eye-catching with its bold mecha styling. As we can see prominently featured in the Diaclone Adventure World catalog and the advertisements below.

Upon closer inspection, the Powered Convoy was much like the Battle Convoy in that it was also designed by Ōno Kōjin originally as a transport vehicle. In fact, it was more than meets the Transformers Ultra Magnus going beyond the car carrier and powered-up modes.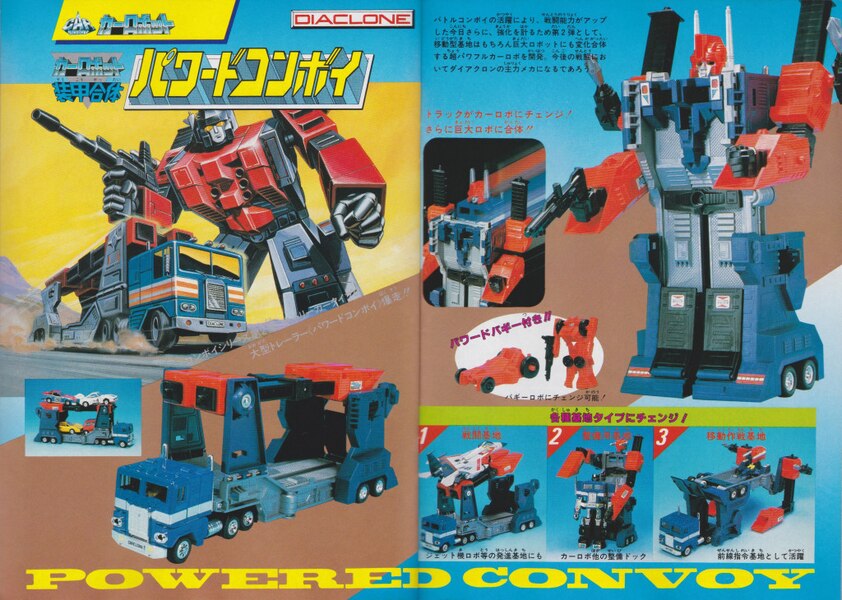 The bottom right catalog page (above) illustrates Powered Convoy's three additional base modes including the #1 Starting Base for Jet Robo, #2 Maintenance Base, and #3 Mobile Operation Base with the Powered head incorporated as a weapon. Powered Convoy also has a Powered Buggy robot drone similar to Roller. These extra modes may be undocumented but are technically still there in the G1 Ultra Magnus release.