Devastator has been a near constant presence in the Transformers' world for 30 years, and as the first combiner he paved the way for the teams who would come later - appropriate job for a sextet of construction vehicles! Where did Devastator come from, and what has he done? How many Devastators are there on paper, on film, and in plastic? Read on for a brief history of Devastator!
Origins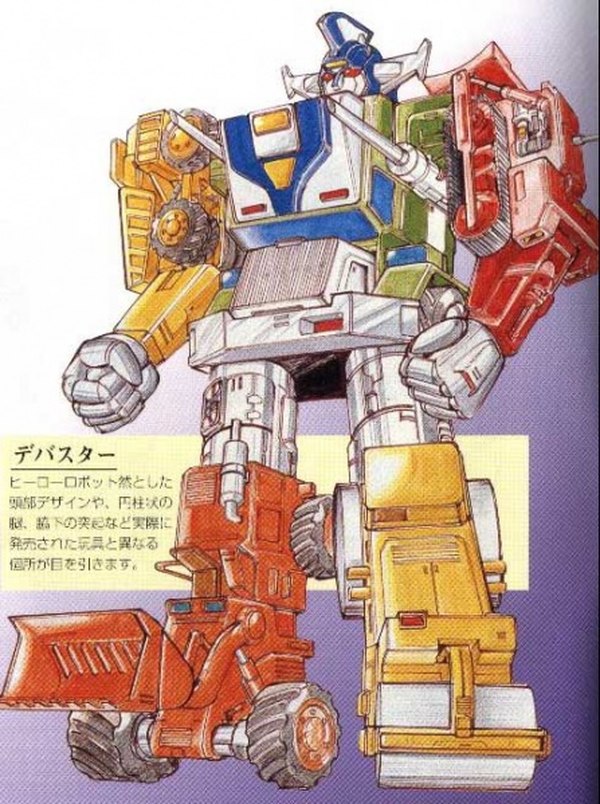 Source: TFWiki
As with many of the early G1 Transformers, Devastator began life as a Diaclone toy. A piece of preproduction art exists showing a very different version of the design which, prophetically, was made of only five members.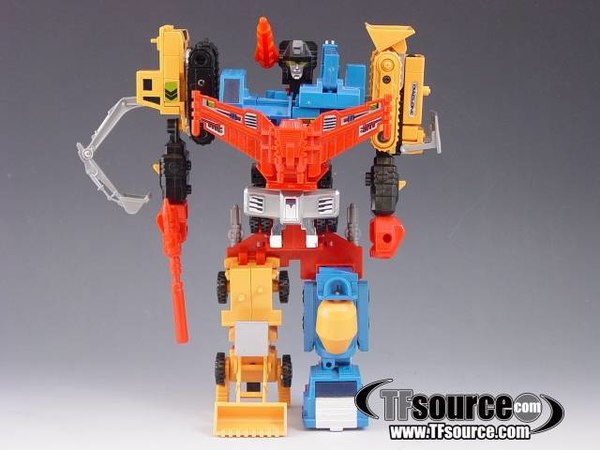 Source: TFSource
The finished Diaclone figure is pretty much what we got. Built to a smaller scale than the driver-equipped figures like the Autobot Cars and the Seekers, the Diaclone figures were available in two different color schemes, with half the team consistently being a yellow-orange that you'd see on real-life construction equipment. The vehicles were available combined to become the super creatively-named Build Robo, which was available as a gift set or individually. You've probably seen the color schemes - they've been used for KO Devastators on more than one occasion.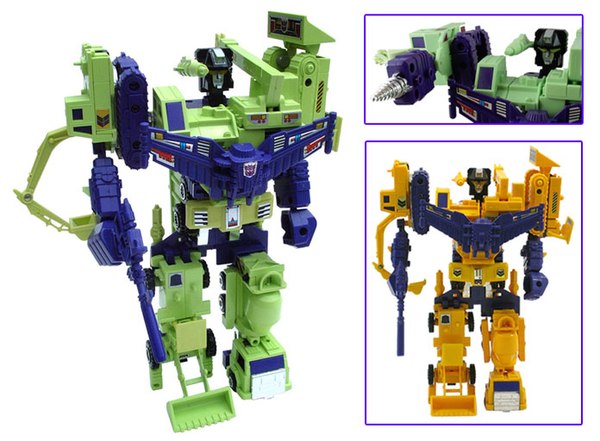 Source: TFWiki
Generation One
Build Robo was released in the US as part of the Transformers toyline in 1985 as the Devastator we all know. Available as the six individual Constructicons - Hook, Scrapper, Long Haul, Mixmaster, Scavenger, and Bonecrusher - or as a box set, Devastator was the first combiner to hit the US market and was was thus coveted. The new color scheme - a pale green plus Decepticon Purple - made for perhaps a less colorful robot, but one that made a cohesive whole in a way that few other combiners have ever equalled. (Common toy-selling wisdom has been that six toys that look nearly identical at a distance is a bad idea - hence why most other Devastators are either more colorful, or sold in boxsets exclusively.) The only physical change was the traditional weakening of the missile launchers in the forearm parts, meaning that only Japanese kids or collectors of Japanese toys ever got to have a Devastator with a serious Rocket Punch.
As the first combiner, Devastator features a variety of design choices that would become standard... and some that would not. As with the later "Scramble City" combiners, Devastator features external parts that would be added to form the fists, head, and chestplate. Unlike those figures, there is only one correct configuration to form Devastator. Beyond lacking the Scramble Power to change an arm into a leg and vice versa, the arms and legs cannot even be switched between sides, featuring drastically different connectors.
Devastator, Animated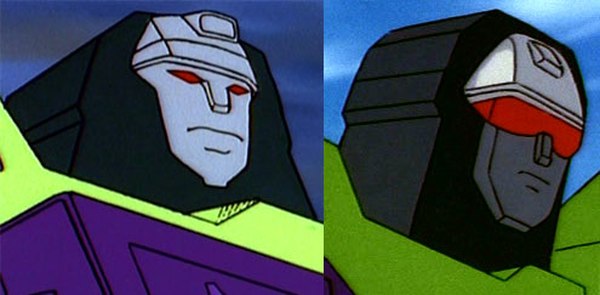 Source: TFWiki
Voiced by Arthur Burghardt, also the original voice of GI Joe's Destro, Devastator appeared in the G1 cartoon quite often. Often enough to be used in contradictory ways, in fact. The Constructicons are listed in the G1 series bible as having "no clear origin" ...which may be why they ultimately had three. In the third season, and at the earliest point in the G1 timeline, they were the Decepticons who built Megatron. In season 2's "The Secret Of Omega Supreme," they were peaceful non-Decepticons who were brainwashed by Megatron into destroying their own creation, Crystal City, and were modified to combine into Devastator to counter Omega's power. And then lastly in the official timeline but first in ours, the Constructicons were built on Earth by Megatron in the Season 1 episode "Heavy Metal War," as reinforcements to counter the threat that the Dinobots posed to the Decepticons.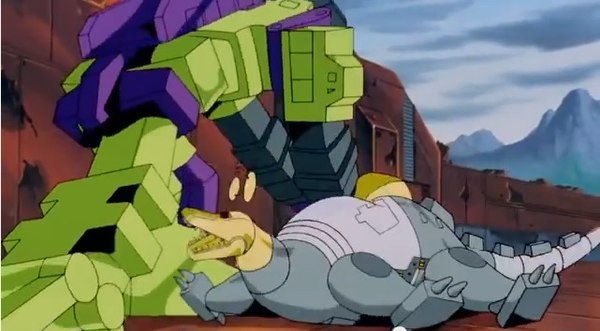 As with many G1 characters, the most fondly-remembered appearance of Devastator is in 1986's The Transformers: The Movie, which remained readily available even when most of the TV series was not. Devastator was Megatron's trump card in the siege of Autobot city, easily tearing through Autobot defenses until Optimus Prime arrived with the Dinobots. Devastator still put up a fine fight against them, though, hitting Sludge so hard it took his eyeballs a little extra time to figure out what'd happened(pictured).
Later in the movie, the Constructicons formed Devastator inside Astrotrain, proving that the Transformers fiction cared about scale every bit as much as the toyline ever has.
Devastator, Drawn
The comic version of Devastator didn't show up very often during G1- the Marvel comics rotated casts very rapidly to spotlight as many toys as possible. But Marvel G1 Devastator has the advantage of a clear origin! Created by Shockwave using the stolen Creation Matrix, the Constructicons combined to form Devastator to repel the Autobots while Soundwave attempted to contact Cybertron for the first time in four million years. Devastator proved to be too new and too dumb to successfully combat the Autobots, but even though Soundwave's communications device was destroyed his mission was successful. After that, Devastator only appeared twice more in the US: once when the Autobots engaged the combiner to learn how to apply that technlogy to their own Aerialbots, and once in GI Joe vs. Transformers. There were a handful of UK-exclusive appearances as well, one in which the Constructicons, unable to combine, tried to build a copy of Devastator so as to retain the giant's Herculean power for the Decepticon cause. But Ironhide and Bumblebee were able to stop the Constructicons before this copy could be pasted together.
Other Vintage Toys

Source: TFWiki
There were a few other Devastator toys in the G1 era. Devastator was one of the many Transformers sculpted as Decoys that were included with carded Transformers in 1987.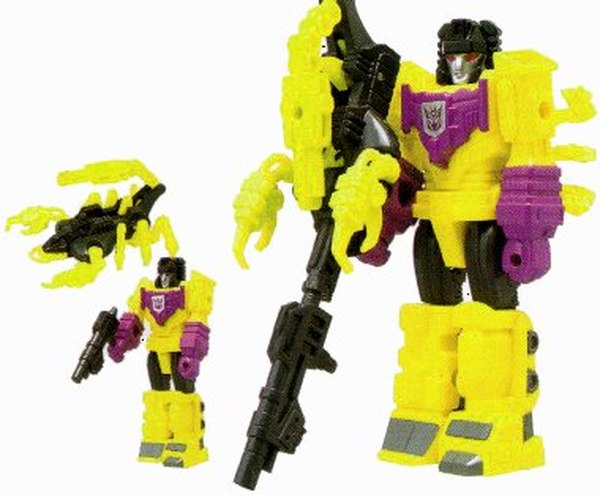 Source: TFWiki
Devastator also became an Action Master, shrinking down to the same 4" size as every other Transformer. And thus the Constructicons became stuck in limb modes as tiny non-entities. Perhaps they were faster and stronger, but we struggle to classify this as "more alive."

Source: TFWiki
And of course there's Generation 2! G2 featured the G1 Devastator toy (now with no springloaded fist launchers at all) in a more construction-accurate yellow color as well as a slightly more vivid, less bluish purple. A running change also added a really gorgeous orange Devastator to the mix, but it only really appeared at KB Toy stores... where it was conveniently put on clearance almost immediately! Unfortunately, like many toys that only ever appear at clearance prices, that was the last chance anyone probably ever had to get one cheap.
Other Devastators
After G1 ended, Devastator lay dormant as a character and concept throughout the Beast Wars & Machines era. A construction vehicle-based combiner appeared in Car Robots/Robots In Diguise (2001) that was known as Build King/Landfill. Given the toyline's homages to the early Diaclone-derived Transformers and Build King's overall color scheme, you could perhaps call him an homage to Build Robo. But not, of course, Devastator.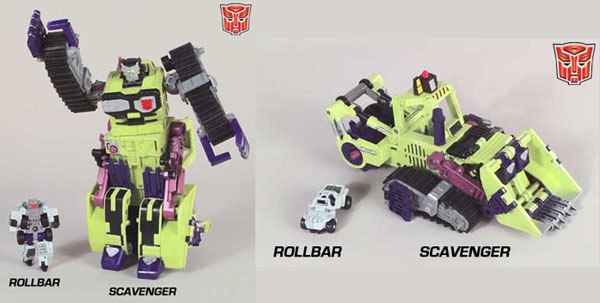 Source: TFWiki
The first homage to Devastator proper was Scavenger from Transformers Armada. Named after one of the Constructicons, the character defected from the Decepticons to join the Autobots. In the Japanese Micron Legend TV series, the character was even named "Devastor," the Japanese name for G1 Devastator.

Source: TFWiki
The following year's series, Transformers Energon, put an emphasis on combining as the central gimmick of the series. Near the tail end of the line, three classic Scramble-style combiners were introduced, of which one is Constructicon Maximus (pictured). Unlike the classic Devastator, this is a five-part combiner with limbs fully interchangeable between both itself and the other two of its kind, Superion Maximus and Bruticus Maximus. Bet you can't guess who those two are patterned after!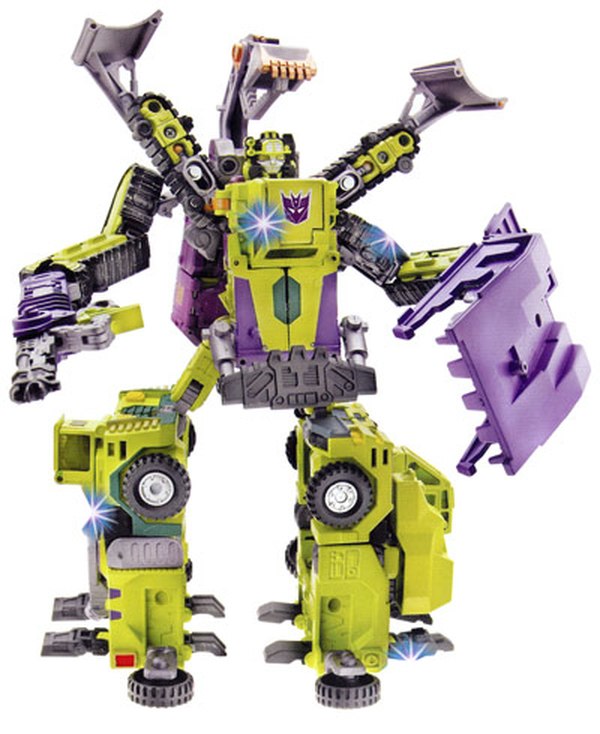 Source: TFWiki
Meanwhile, a pair of G1 Devastator homages were created in the Transformers Universe line - but like any of the other figures listed above, were not meant to be exactly the same character. One was based on the Robots In Disguise Build Team molds, and the other was a set of Micromaster combiners known as Decepticon Sixbuilder, which had been exclusive to Japan prior to their KB Toys exclusive release as Devastator.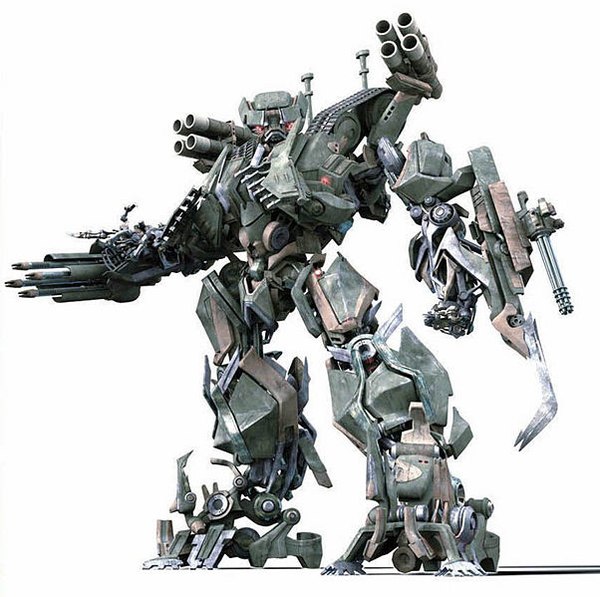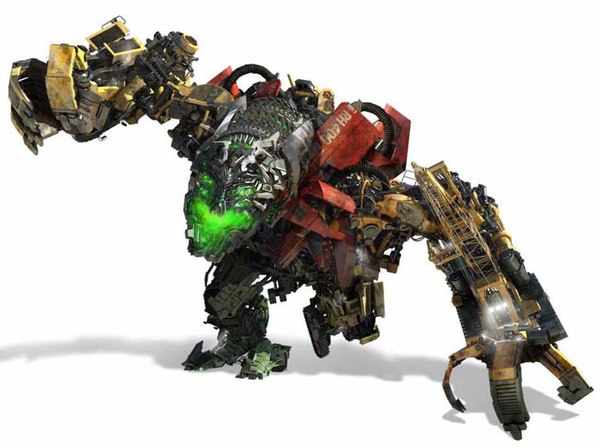 Source: TFWiki
The Michael Bay Transformers movies were eager to latch onto a name as cool as Devastator. In the first movie, the Decepticon referred to as Brawl in all merchandising was named Devastator in the film's subtitles. But in 2009's Revenge of the Fallen, a set of seven or more construction robots that formed a larger robot was featured. It was about as true to the character of Devastator as anyone featured in one of those movies ever is.
Devastator Returns!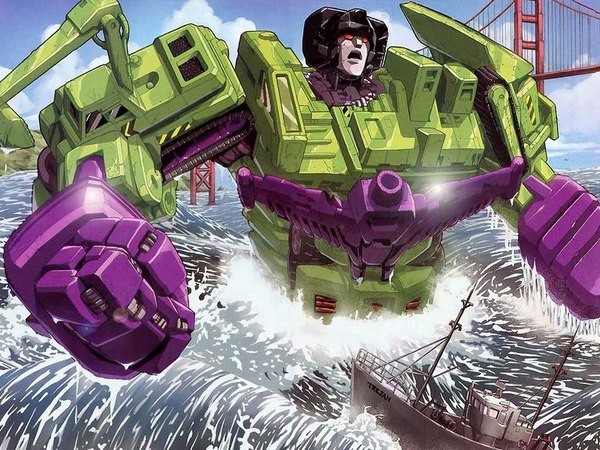 Source: TFWiki
As all this was happening, however, Generation One was enjoying a slow but steady resurgence that began in the world of comics. As in the real world, Dreamwave comics' Devastator was the first of the combiners. As such he was more slow-witted than the combiners that would follow, but also far more powerful.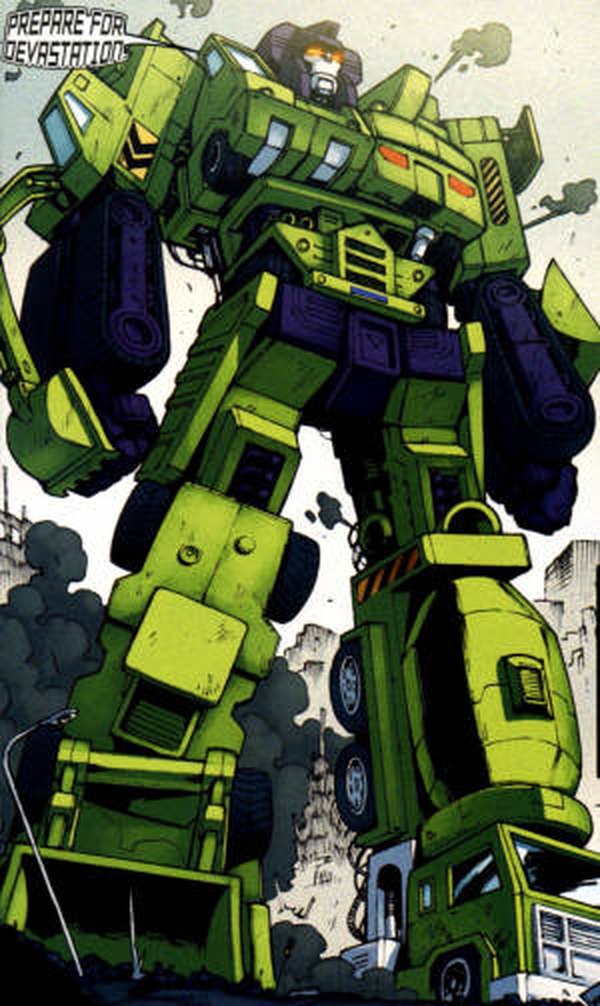 Source: TFWiki
Once the license transferred to IDW, the new continuity followed suit, with Devastator being the first fully successful combiner - though previous attempts had been made. The combination of six minds was made possible by the Constructicons' shared ironic desire to destroy. Devastator featured heavily in the All Hail Megatron storyline where he was one of Megatron's most formidable weapons turned against humankind.
Years later, Scrapper was assassinated by the human Spike Witwicky in order to prevent Devastator from being formed. That didn't stop the Constructicons, who retrieved their comrade's body in order to combine once again. Slowed but not stopped, Devastator then had his other leg cripped by a clever ruse by Sunstreaker.

Source: TFWiki
Years later still, in the pages of Robots In Disguise, Devastator featured as the endpoint of an elaborate plan by Megatron and the Decepticons to conquer Cybertron after the ostensible end of the war. The replacement chosen for Scrapper was ultimately intended to be Megatron himself, but given the mental effects of combining the process had to be tested first. Bombshell - who in IDW continuity had created Devastator based on Shockwave and Jhiaxus' research into combiners - forced a mind-controlled Prowl to become the core of Devastator. The Autobot ultimately regained control of the combiner, and once the Decepticon plan was thwarted the Constructicons decided to stick with Prowl because they found his mind appealing. Ultimately "Prowlastator" remained as technically an Autobot but functionally whatever Prowl currently is until the penultimate chapter of Combiner Wars, in which the late Scrapper was replaced by one-time Autobot Scoop.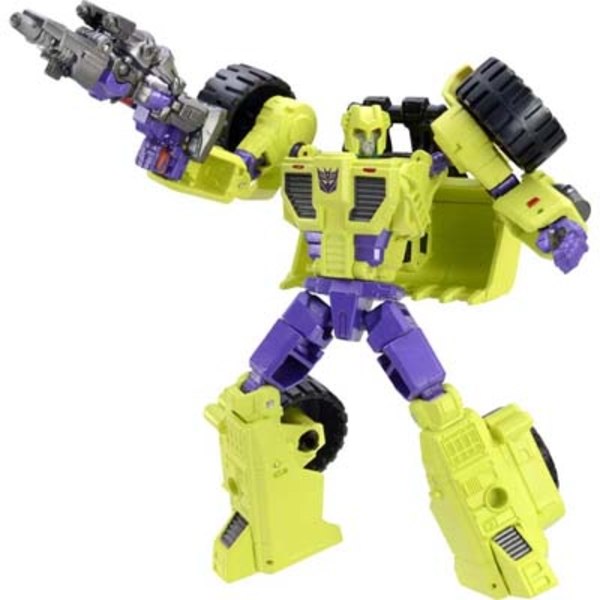 Source: TFWiki
Offhand, we're betting you wish you had preordered Transformers Adventure Roadblock right about now.
Modern Toys Of G1 Devastator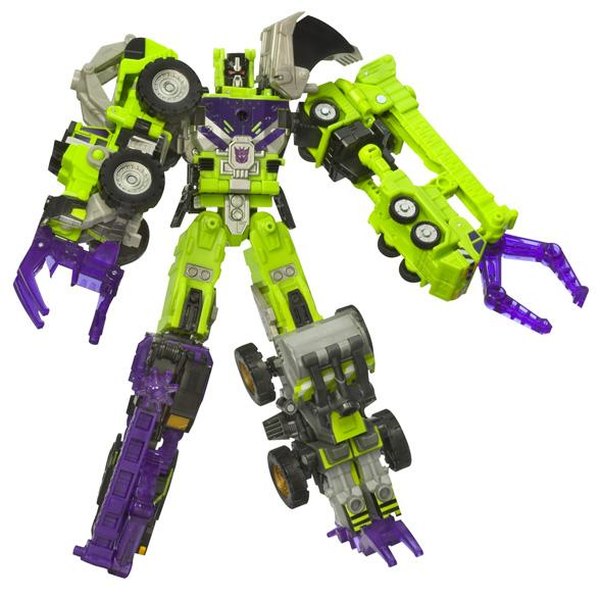 Source: TFWiki
The first modern pass at a G1 Devastator was in fact a recolor of Energon's Constructicon Maximus, released as a Walmart exclusive five-pack. The colors are a bit more coherent than the orignal Energon release, though as was common with that era of Transformers the figures are more an homage than a great representation of the G1 Constructicons.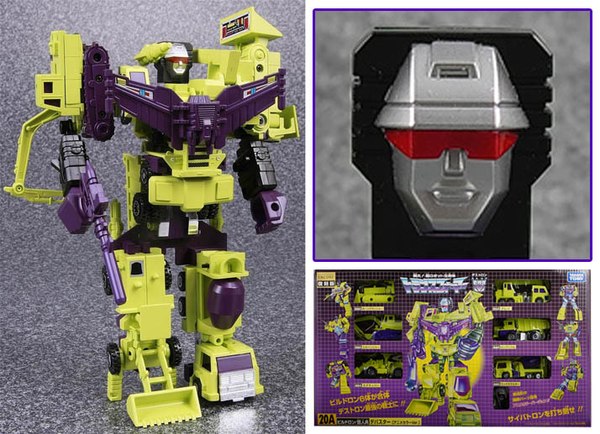 Source: TFWiki
In the early 2010s, Takara reissued G1 Devastator in both a regular release and an "Anime Version" which featured animation-inspired color layouts and a new, visored head.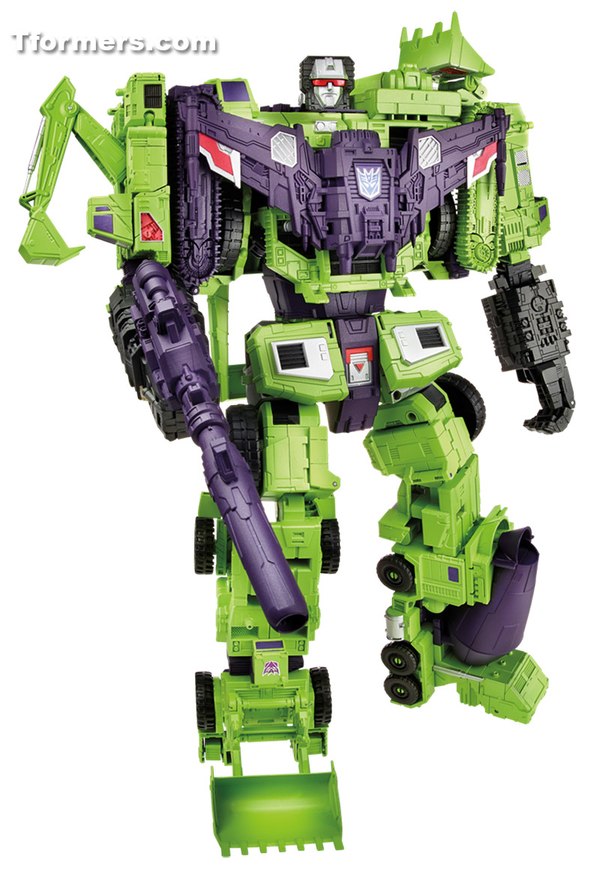 And then, of course, in 2015 Hasbro announced a new Titan-class Devastator to be the big draw of the year and a spotlight toy for the Generations Combiner Wars line. Measuring roughly 18 inches tall, Devastator will be available in both a regular version and an SDCC exclusive. The SDCC version sports a toy-inspired face with eyes instead of a visor, and a lot of purple chrome. Both hew pretty close to the G1 original character designs, with Mixmaster being the largest departure.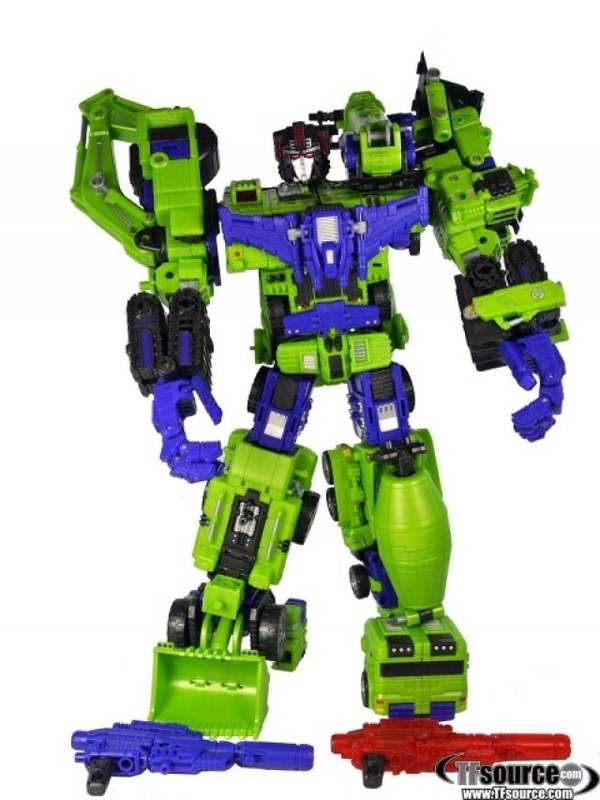 Hercules (Left) Source: TFSource
Third Party: Clash Of The Devastators
As third-party Transformers-inspired figures have become a popular and lucrative fixture within the fandom, naturally the more ambitious groups turned to Devastator for their flagship project. In what would become a trend among third-party toys, two groups began working on the character independently - producing
very
different results. Maketoys' Giant and TFC Toys' Hercules are distinctly different toys, each with their own aesthetic and engineering strengths and weaknesses,
which have been the source of much debate and analysis, especially on YouTube.
Which is only fitting - when you're spending up to $600 on a figure, you want to do as much research as possible!
There Will Always Been A Call For Devastation
Devastator is in many ways the convergence of all the most kid-beloved play concepts found in Transformers. Construction vehicles? Check. Transforming robots? Check. Transforming robots that transform again into a much
bigger
robot? Check and mate. While all the combiners are fondly remembered, Devastator has the unique honor of being the first, and as a six robot team also the most elaborate. Whenever combining robots are brought back into play, it's a safe bet that one of them is going to be green, and purple, and made of bulldozers.