Today's Devastator Week entry is Hook! Similar in his elitist temperament to another Crane who made his TV debut a few months earlier, Hook isn't a doctor - but he's probably as close as the Decepticons have. And nobody seems to know how to draw his feet properly. Read on to learn more!
G1: The Toy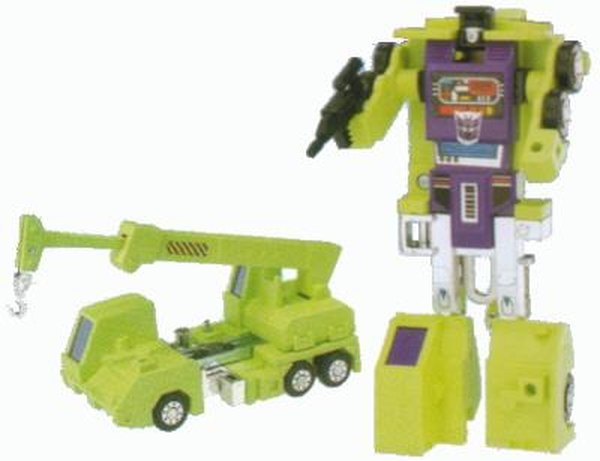 Source: TFWiki. For Some reason, Hook's robot mode image has been mirrored, putting Hook's cab-foot on the wrong side.
"Strive for perfection even if others must suffer."
With the precision of a fine jeweler, Hook performs his job with skill unequalled among the Transformers, whether reconnecting a damaged microchip or setting a two ton girder into place. He's a snobbish, supercilious, unpopular perfectionist who is able to lift 20 tons. As shoulders and head module, combines with fellow Constructicons to form giant robot "Devastator".
Hook makes a decent crane truck, a great bust of Devastator, and a so-so robot. He's got the stubby arms so many combiners end up with for one, and also the connector for Scavenger hanging off of one hip. In addition to having his own weapon, he has Devastator's head module, which disguises itself as a laser with a really big power pack for Attack Mode.
Fun fact: the head module also serves as the connector that attaches Hook to Long Haul. It's entirely possible to have just a lower body sitting there with Devastator's head sticking up off of it - especially if Hook slips out of the piece, which he can sometimes do.

Source: Transformers Kiev
G1: The Cartoon
Hook's animation model is weird. While as a toy he had silver thighs and vehicle-colored lower legs like a majority of G1, the cartoon chooses to represent his asymmetrical legs as being all-silver with the crane truck's cab stuck on the side of one foot. It makes no sense whatsever, but I bet it was easy to animate! And unlike a lot of the other Constructicons he essentially keeps his toy face, so that's one in the plus column for him.
Hook's crowning moment in the G1 animation - other than all the crowning moments when he forms Devastator's crown - comes in The Transformers: The Movie, where he calls Soundwave an uncharismatic boor who is unfit to rule the Decepticons. And though most sources use the word "bore," the definition of the word boor - a rude and uncultured person - makes it the far more likely candidate to be the snobby Hook's go-to insult.
Hook Joins The Combiner Wars

Source: TFWiki
Hook deviates from both the G1 toy and animation model - an unusual thing! - by moving the crane truck cab to the back of the leg. This gives him a symmetrical look in Robot Mode when seen from the front. Hook also has elbows in his Hasbro Combiner Wars form, but they're really weird, shallow elbows that look kind of awful when you move them. They're necessary for Hook's torsofication, but if you want you can ignore them for Robot Mode. Hook's deco doesn't quite match either the toy or animation model either, settling for an in-between level of detail and color.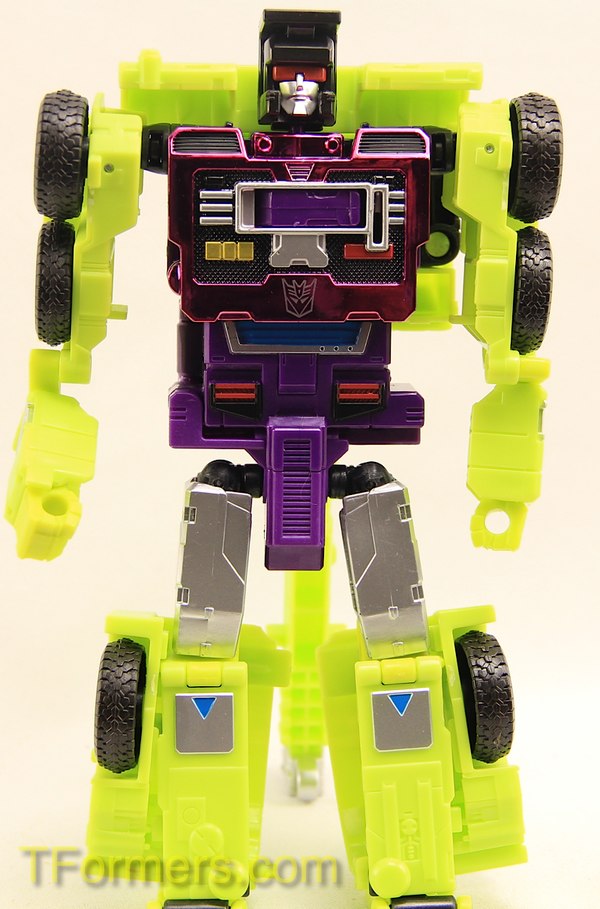 SDCC Hook picks up a few paint applications, but also the purple chrome in a pretty severe mismatch. It really looks like one of Takara's earlier Henkei! Henkei! Transformers takes on the Classics toys. The extra deco does help the truck a bit, though it's still pretty sparse.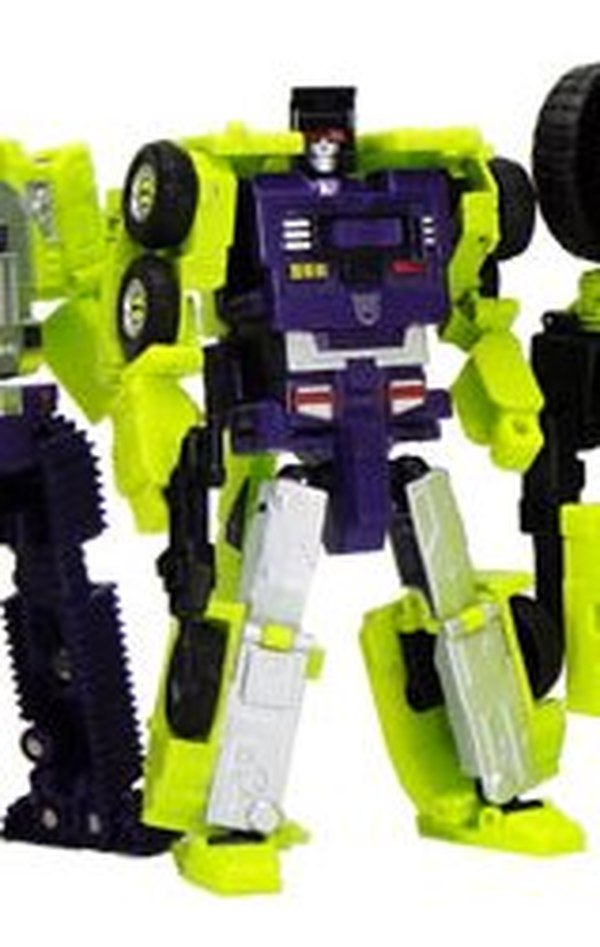 TakaraTomy's Unite Warriors take on Hook is probably the biggest letdown of all their Constructicons. No physical changes are evident, and the less colorful deco is trying so hard to make the new, sensible legs match the old, dumb character model. But hey, he's got his pistol back!
Next time, Mixmaster!