Devastator Week marches on with Scavenger! The right arm of Devastator has some serious self-esteem issues that he overcompensates for mightily. But if there's ground, he can tell you what resources are in it, and where. Also he killed Prowl. Read on!
G1: The Toy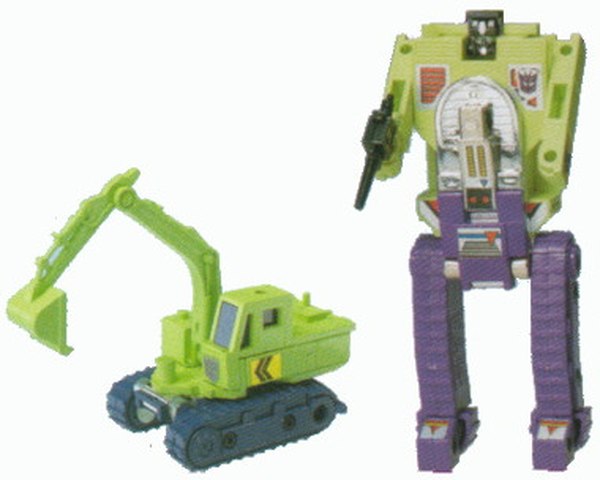 Source: TFWiki
"Everything is worth something, even me."
Desperately tries to prove his worth to comrades by trying to find things of value -- whether by digging up a hillside or a backyard. Only tolerated because of ability to use shovel's magnetic, ionic, electrical, gas sensors to detect presence of fuels, metals, etc. As right arm module, combines with fellow Constructicons to form giant robot "Devastator".
Scavenger is an excavator, complete with rotating base and articulated shovel arm. As a robot, his proportions are wonky, and typically Combiner Wonky - long torso, short arms, etc. You know how it goes. In addition to his handgun, he comes with Devastator's right forearm block, which can double as a drill missile launcher for Attack Shovel mode. The weird tab on Scavenger's chest plugs into Hook to connect Devastator's arm, and is a much more secure connector than Bonecrusher's. Though a chrome-on-chrome connection is kind of variable still, and I've handled some that were too tight or too loose with not-great results either way.
G1: The Cartoon


Source: Transformers Kiev
Scavenger's head remains mostly unchanged from the toy (though if anything it got more square), and the character model otherwise takes the shapes of the toy robot and shakes out all the Combiner Wonky. The larger arms with lower shoulders and elimination of the transformation mechanisms around his hips work most of the magic. Though the changing of the green blocks on the side of his hips to purple is helpful too. The silver Devastator arm connector part of his chest is oddly less flat than the real one in his character model, but ease of animation put it back where it belongs in practice.
Scavenger's first shining moment is the time in "Desertion of the Dinobots, Part 1" where he missed the call to form Devastator and left the other five Constructicons to battle the Dinobots one-armed and left-handed. But ultimately he made up for it by one-shotting Prowl in The Transformers: The Movie's first of many notably gruesome(for a kids' cartoon) deaths.
Scavenger Joins The Combiner Wars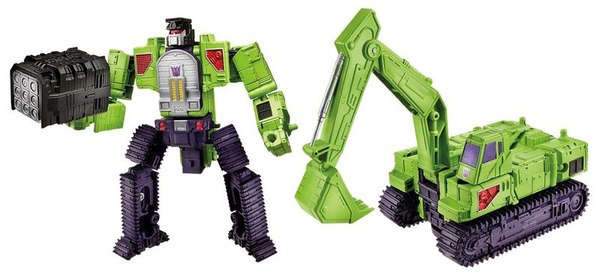 Source: TFWiki
Scavenger's Combiner Wars body takes the proportions of the animation model and the detailing of the original toy and - along with recessing some of the transformation mechanisms to stave off the Wonky - provides us with a pretty nice blend of G1 influences in a nice, modern design. He also gains elbows and knees in the process - that has to help a bot's self-image! As with Bonecrusher, Devastator's forearm converts to a missile pod for Scavenger to use as a hand weapon.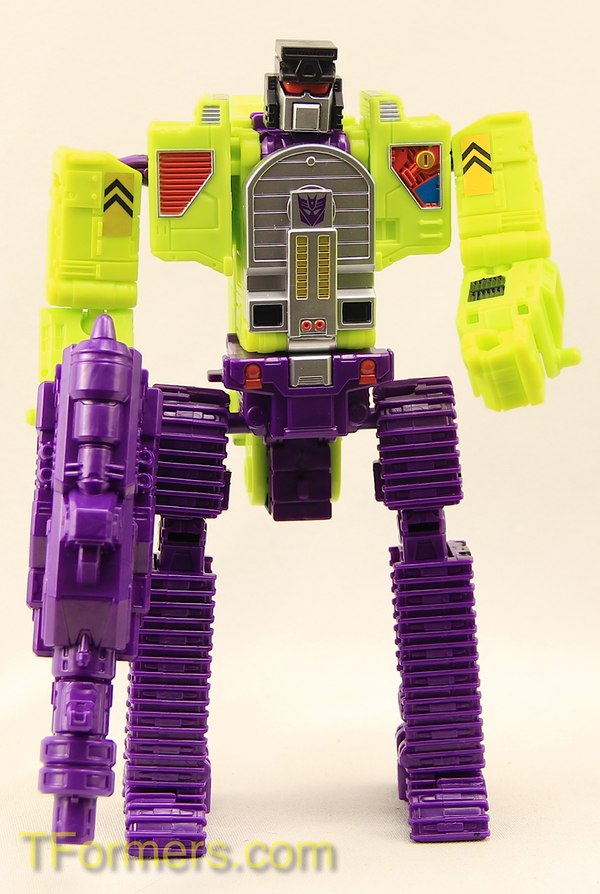 While the SDCC version does add some extra deco, particularly to Vehicle Mode, Scavenger's probably the best-decorated of the Titan-class Constructicons. He's also devoid of vacuum-metalized parts to not match the purple plastic, so he really does have an edge against many of the other Constructicons in terms of looks. Like Bonecrusher, he also gains some gunmetal paint on the central block that the treads wrap around, which looks really nice.
Unite Warriors Scavenger gets his Prowl-killin' pistol back, but in exchange loses some paint applications to bring him in line with UW04's more animation-oriented aesthetic. No serious structural changes, but as reportedly the strongest figure of the set on his own merits, he likely didn't need any.
We're in Devastator Week for the Long Haul, and next time we'll prove it!