Rounding out the Constructicons for Devastator Week is Long Haul, the team's logistics expert! He hates his job, but gets it done. I think the stress of that has gotten to him over the years though, because he has put on some serious weight for the Combiner Wars. Read on to see his design history!
G1: The Toy

Source: TFWiki
"A battle front is only as good as its supply line."
Unhappy with unglamorous role, but understands its importance... helps build Decepticons' massive energy-recovery installations. As vehicle, can carry 90 tons for 1200 miles, use a dual heat-seeking missile mount. As torso module, combines with fellow Constructicons to form giant robot "Devastator". Can be goaded into a fight in which he's overmatched.
Long Haul becomes that most ubiquitous of toys for boys under 5, a dump truck. He's maybe a little bulkier than the other Constructicons, but not really by that much. As a robot, he has stubby little arms that barely poke out past the wheels attached to them. Besides his personal weapon he includes Devasator's hips and crotchplate, which attach to the dumptruck mode as a pair of twin cannons that look about as functional and elegant as his robot arms.
G1: The Cartoon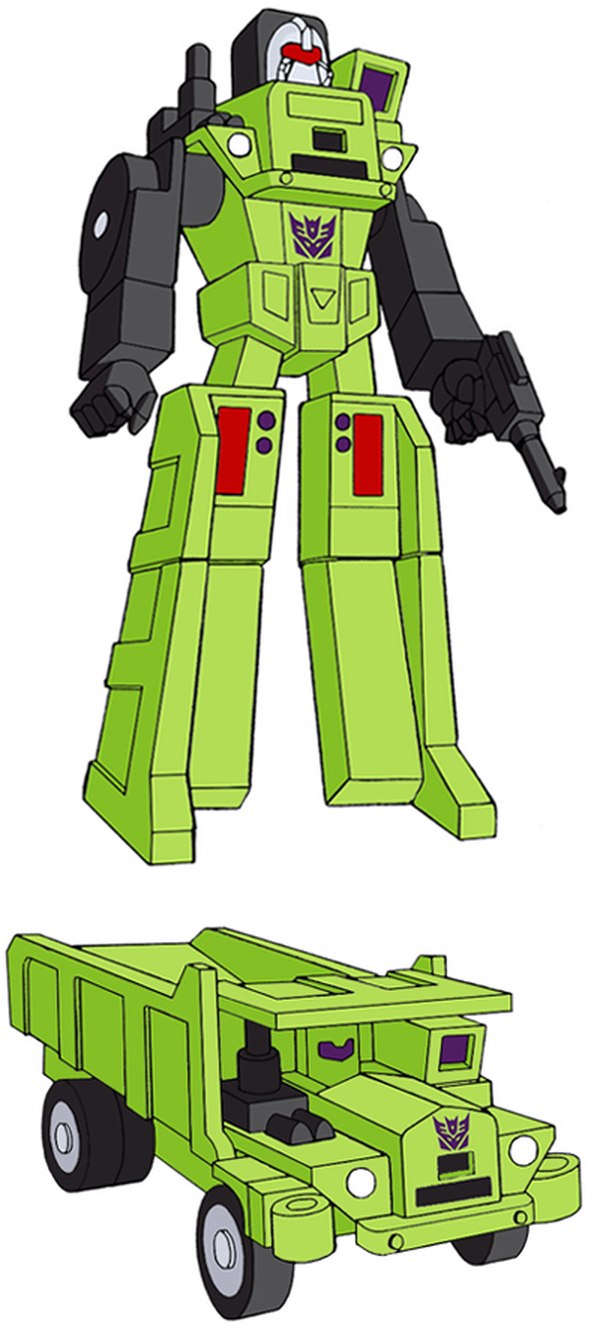 Source: Transformers Kiev
Long Haul's character model alters the colors of his face, but otherwise doesn't do much to the design. It takes the flat tab his toy head was sculpted onto, and makes that part of a more, er, fleshed-out helmet. The usual simplifications of shapes and deco are on display here, including an odd choice that makes only the outer edges of the dumptruck bed foot-shaped. Makes him look really odd. But, even the animation model has weird-looking arms. Truth in advertising!
Long Haul doesn't have much in the way of cartoon exploits other than complaining about his job, so it's time for...
Constructicon Origin Story #3
As you may remember, the Constructicons were first seen in season 1's "Heavy Metal War," having been created on Earth. They were next seen in season 2's "The Secret of Omega Supreme" as having been good guys on ancient Cybertron who were turned evil by Megatron's Robo-Smasher device. Well, in Season 3's "The Five Faces Of Darkness, Part 4," Rodimus Prime has a Matrix-vision encompassing the entire history of the Cybertronian race, wherein the evil Constructicons build Megatron.
Related viewing:
Long Haul Joins The Combiner Wars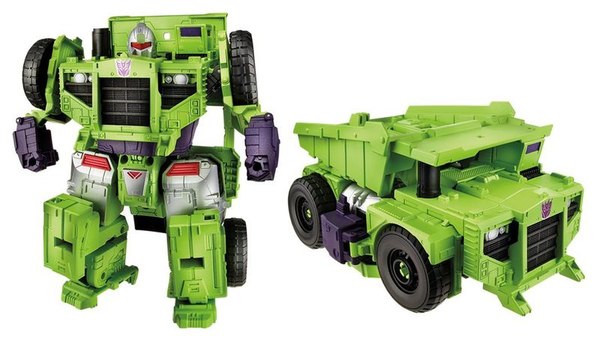 Source: TFWiki
Combiner Wars Long Haul incorporates the combining mechanisms to become Devastator's hips into his body - and as such, the guy is big. Easily the biggest of the Titan-class Constructicons, he still looks a lot like the original design above the waist, but features new legs that actually look like they'd hold some kind of weight. Speaking of holding weight, this means his waist and hips - which are also Devastator's waist and hips - feature some wicked-strong ratchets. But his arms are still weird and stubby, and the bigger body means he's got some T-Rex body issues going on here.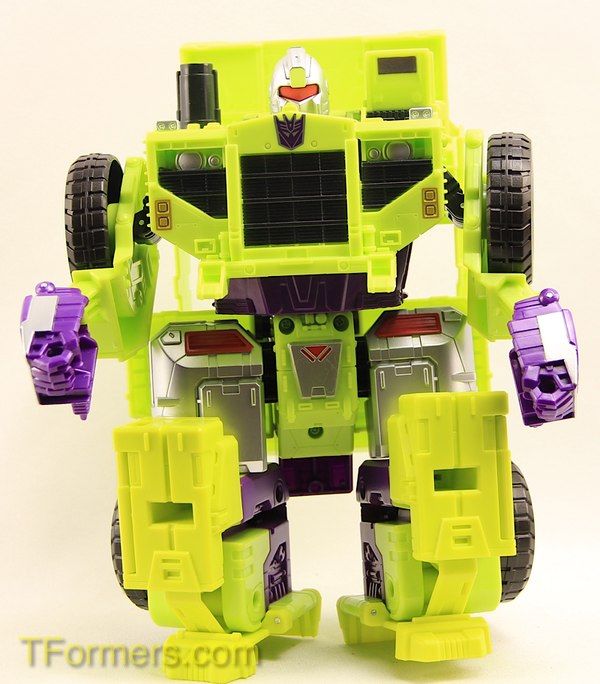 SDCC Long Haul does gain some hazard stickers for Vehicle Mode, and also paint applications for Robot Mode. The most pointless of those is some silver on the forearms, a serious lipstick-on-a-pig moment. But he's not afflicted with mismatching purple chrome, so he comes out ahead of the game!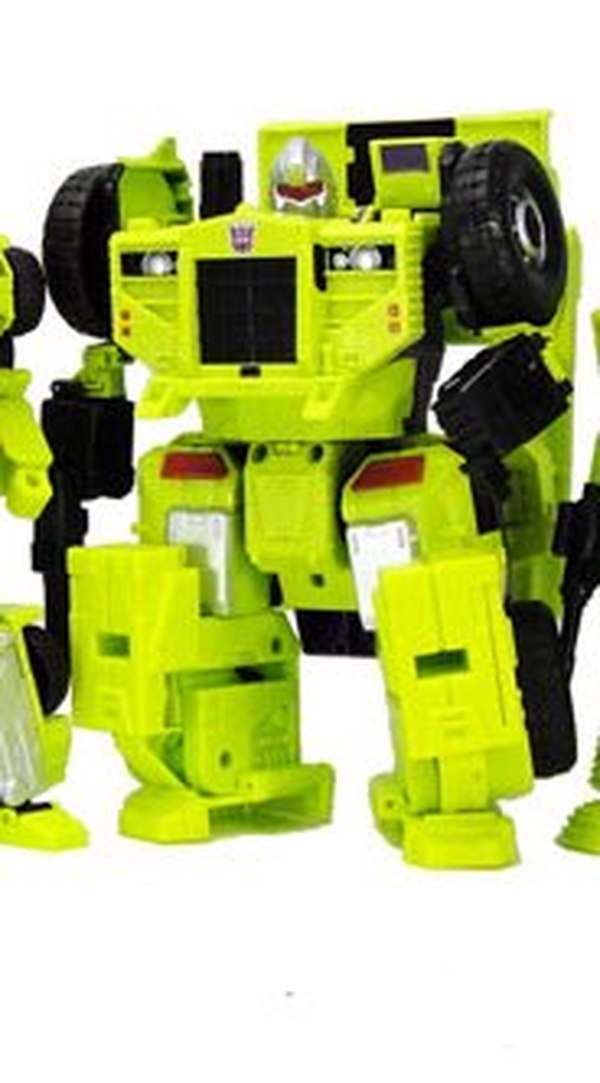 For Unite Warriors, Long Haul has an elbow improvement, in that he now has them. Like the other Constructicons he has reduced paint to get closer to the animation model, but gets his gun back in the process. We're not sure what the addition of elbows is going to mean, really - with the little T-Rex arms, it's tough to say how much of an upgrade this actually represents. But hey, it's a nice gesture, and the more articulation the better,
Tomorrow, the history of Devastator!