And now we bring it all together for Devastator! The first combiner in the Transformers toyline, Devastator would set the tone for all that came after - both what to do and what not to do. Click through to read more!
G1: The Toy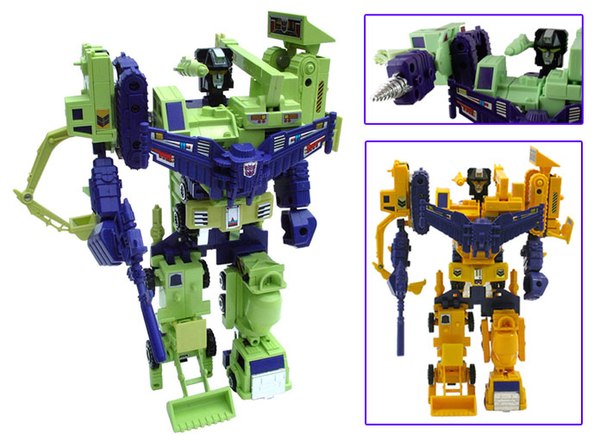 Source: TFWiki
"Thinking and winning do not mix."
Awesome and terrifying, this Decepticon is a bizarre combination of six Constructicons: Scrapper, Scavenger, Bonecrusher, Hook, Long Haul, and Mixmaster. He is pure brutality as his sole purpose is to crush all in his path. His mind is a melding together of his six parts, but he is limited by their competing thoughts. He possess enormous height and incredible strength -- can knock down a bridge with one punch. He carries a 10,000 degrees Celcius solar energy beam rifle. Devastator is slow, awkward, and not too bright.
One thing you might notice off the bat is that the Solar Energy Beam Rifle mentioned here is the same thing that, in Mixmaster's hands, is a mere Magna Laser. Maybe Devastator somehow amplifies its power output?
Devastator is a "giant" robot. Why the quotes? Well, scale is a pretty hilarious and random thing in G1. Made up of six figures that we'd probably classify today as "Scout" sized - larger than Legends but much smaller than a modern Deluxe - Devastator is only slightly taller than Megatron. He just barely misses out being the shortest of the Decepticon combiners - thanks, Menasor! In fact, he's not even the tallest Decepticon released that year. That'd be Shockwave, by an ear.
On top of which, the engineering shows that combining was still a new thing to Transformers. Every Devastator I've handled likes to fall apart, whether it's Bonecrusher wanting to fall off the shoulder, or the crotchplate wanting to pop out of its socket, or Hook just plain sliding out of the slot in the torso connector and leaving Long Haul, Mixmaster and Scrapper standing there looking kind of pathetic with a robot head sticking up off of them.
G1: The Cartoon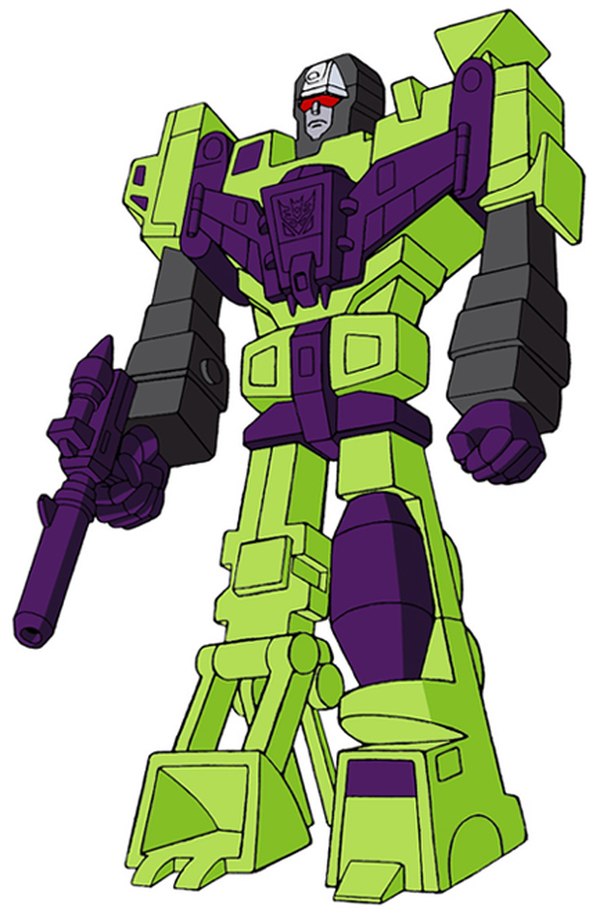 Source: Transformers Kiev
Devastator's super-simplified character model is... kinda terrible. Look at the legs! Look at how spindly Scrapper looks! Look at how Mixmaster tapers impossibly! And how would those legs even bend!? ...and yet, when animated and shaded competently, and of course with the voice of Arthur Burghardt and all the voice modulation and sound effects that G1's brilliant sound designers could supply, it just works. But when you look at it independent of context like this, it looks like something Hanna Barbera would've rejected.
While the original toy definitely had eyes, G1 Devastator sometimes has eyes and sometimes a visor. It can change from episode to episode or even scene to scene - and once Devastator used electromagnetic eye beams from beneath the visor that suggested the shapes of his individual eyes. So, yeah. But in The Transformers: The Movie he had the visor, so that's what everyone remembers. The fact that TF:TM was the most readily-available Transformers fiction for like a decade has shaped the franchise to more of a degree than most people realize.

Source: TFWiki
In Japanese G1, Devastator was last seen in the Transformers Zone OVA fighting against Dai Atlas and Sonic Bomber after having been powered up by Violen Jiger.
Some people can pull off a cape and silly gold armor, but Devastator is not one of those people.
A Titan Joins The Combiner Wars

Source: TFWiki
Perhaps overcompensating for his previous toy height, Combiner Wars Titan-class Devastator is the tallest thing in the modern Transformers toyline except for Metroplex. (Which, behind G1 Fortress Maximus, likely makes Devastator the third-tallest Transformers mold of all time.) Following the G1 animation model for detailing, but not looking half as dumb in static images, Devastator is huge and poseable. His head details favor the visored animation model, but the shape is more like the G1 toy, being somewhat less mushroom-shaped than the cartoon version.
If you want individual eyes, SDCC Devastator is your bot. It has a fair bit more paint detailing too! ...but also comes with a lot of magenta chrome parts that were not on any version of the G1 toy. Decisions, decisions...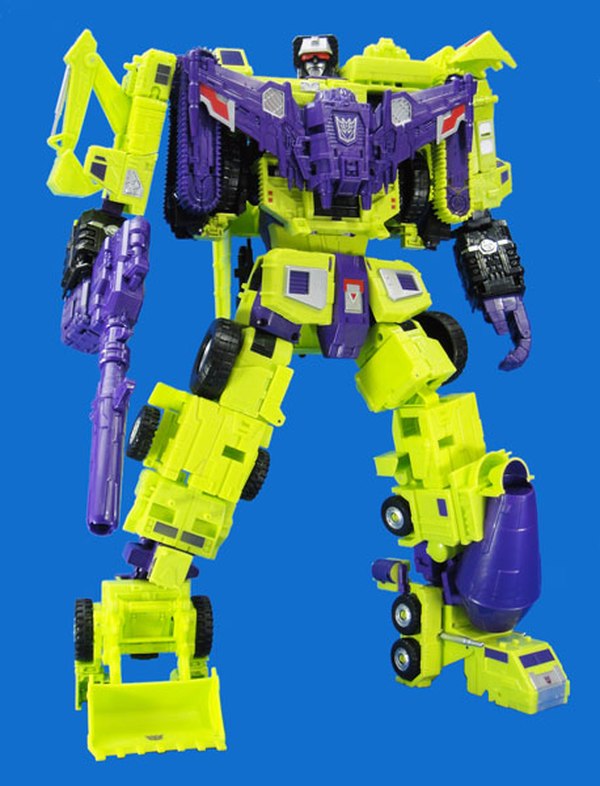 While the individual Constructicons lose some paint apps for Unite Warriors, taken as a whole UW04 Devastator doesn't suffer very much. It mostly favors the animation model - adding purple to Bonecrusher's treads to balance out the chest and making the hands show-accurate purple.


As if that and the upgrades to the individual Constructicons weren't enough, they have their own head for Devastator that can alternate between individual optics and the visored look.
Show-offs.
Is the Combiner Wars mold the definitive take on Devastator? Probably not - beyond having its own quirks visually and in terms of engineering, there will always be new groups of designers - both within Hasbro and Takara, and third parties - that will want to put their own spin on the most iconic combiner in Transformers history. But with all the options we have now, and more coming, it's a good time to like Constructicons.