Just in from a new listing on Amazon France, we have the word of the Earthrise Deluxe Alliance Autobot Ironhide and Prowl 2-Pack coming at some point in the future. What is to be seen is whether these are the same Wave 2 SIEGE figures, as is often case when there is a 2-Pack release, or something else. Hopefully, it is more than just a repack and includes some new paint, or other inclusions. Read on to see the translated details from Amazon France.
War For Cybertron: SIEGE Wave 2 Ironhide and Prowl shown for reference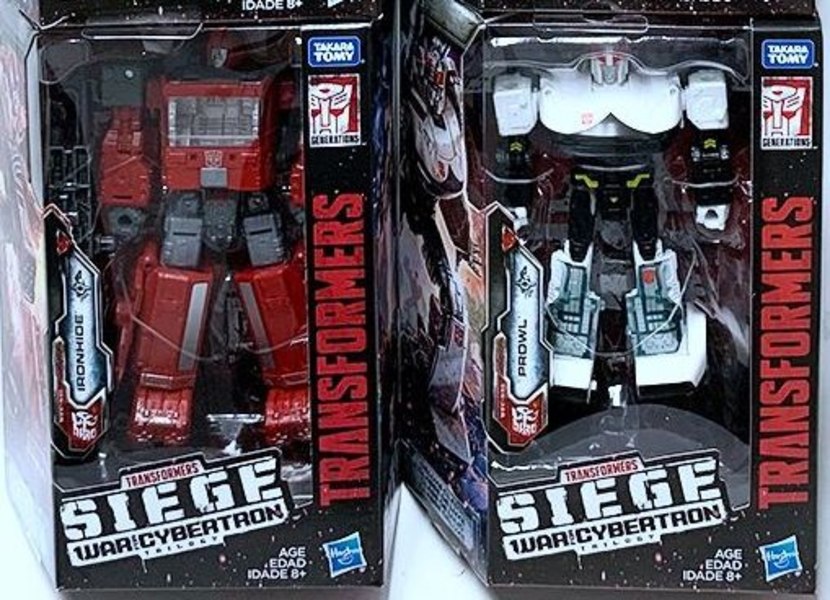 Transformers Generation War For Cybertron - 2 Robots Deluxe Alliance Autobot Ironhide and Prowl - 2-in-1 transformable toy from Transformers

EARTHRISE: The siege is over, but the war for Cybertron is just beginning. Although Autobots and Decepticons have left Cybertron, their fight continues in space as they search for the Allspark

ENLARGE THE BATTLEFIELD: Great space battles can be created with Earthrise figures that convert to modular battle stations. Includes: Deluxe class Ironhide and Prowl figures from Transformers Generations War for Cybertron: Earthrise, 2 accessories and instructions in French.

ALLIANCE AUTOBOT: This toy contains Ironhide and Prowl figures in land mode. Fans of the cartoon will imagine the Ark's crash landing on Earth and the continuation of the brutal war against the Decepticons.

AUTOBOT ALLIANCE AGAINST ELITE HUNTERS: The images on the packs of the Autobot Alliance and elite hunters show both sides of the fight. Combining the two completes the battle scene.

G1 TERRESTRIAL AND WEAPON MODES: Ironhide and Prowl figures convert to truck and police car mode in 22 stages and 15 stages, and are sold with 2 weapons. Transformers, to start imagining, inventing and transforming reality. Transformers, stronger than appearances.