It's been a contentious issue over the last couple of Prime Wars installments, and it's only getting more intense. We can see the appeal of stickers to solve budgetary problems, but we can also see the stickers peel - often before we've even bought the toy! In this editorial, RAC goes over the hows and whys of stickers and cites the remarkable consensus growing in a consensus-resistant collector community: Hasbro, Please Stop. Click through for thoughts on this sticky situation.

Consensus is tremendously rare in Transformers fan circles. I mean, even just within the G1/Generations circles, we're talking about the fandom that has made a running gag of - and staked out positions on - which of two identical cassette men is red and which is blue for thirty years now. And yet, there is emerging a rallying point among Generations collectors - people who collectively want more or less G1 fidelity, more or less non-G1 figures, more or less gimmicks, and so on down the checklist of every creative choice Hasbro ever makes. There's something nearly all of us have in common.
We want Hasbro to stop the stickers.

The Problems That Stickers Solve
Since the late 2000s financial crisis, budgets have gone down and prices have gone up. Not just on Transformers, on everything - look at a "half gallon" of ice cream next time you buy one if you haven't noticed already. Everything's shrinking, getting more expensive, or both. Transformers, over the past decade, have done a little bit of both. But ten years in, trying to find that balance between what fans expect and what can be done at a price point they will pay is still incredibly difficult.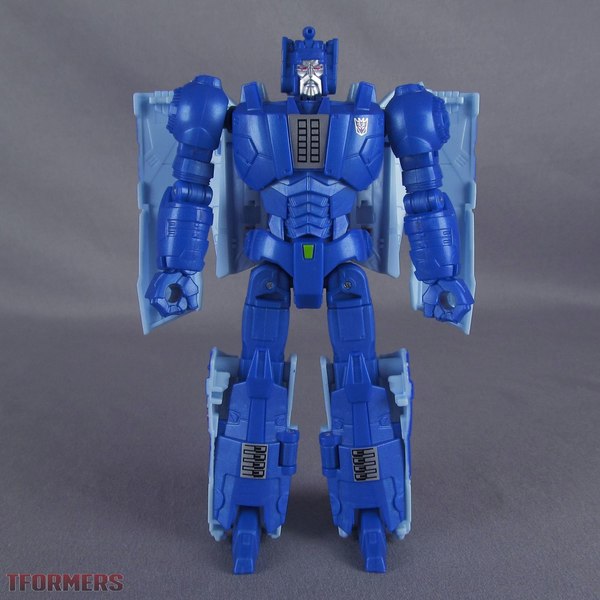 The most common place for this dilemma to assert itself is deco. There are a limited number of plastic colors and paint applications available to keep a figure within its price point, something has to give, and things end up needing to be prioritized. Quite a few of the early
Titans Return
Deluxe figures, like Scourge here, wound up largely favoring the vehicular mode. A similar problem befell Blurr - nicknamed "Bluer" in his US release - and both those figures sat longest out of their waves because prioritizing vehicular deco and packaging two all-blue robots in
Robot Mode
in the same wave turned out not to be a great idea. In both cases it's a pity, as they're good toys - Blurr is a fantastic mold that was better used in literally every other reuse - the TakaraTomy
Legends
Blurr in particular turned out to be a favorite when painted up nicely.
Stickers are a way around that issue, adding complex details in a format far cheaper than a tampograph of similar size. They're particularly prevalent at the Voyager size and above, and the Titan Class figures come with gigantic sticker sheets with G1 details aplenty.

Why They Solve It Poorly
Aside from that, there is one major issues deal with, and that is stickers.
Hasbro, please drop the stickers like you dropped chrome.
The stickers are thin, cover up molded details, and in general are not very durable, sometimes coming "pre-peeled" in the box.
Tampographed details
are nice, clean, and stand the test of time, and you have been doing some amazing things with them, like the details you added on
Misfire
and
Slugslinger. Please make all of our figures as wonderfully detailed as they were.
-
Power of the Primes Voyager Grimlock review,
The Allspark
Stickers worked reasonably well in G1, and man does this design team love what worked in G1! Headmasters, Pretenders, Combiners... unfortunately, the world has changed, Transformers have changed, the economy has changed, and recreating what worked about stickers in G1 is not possible. The economy sabotages stickers the same way it sabotages any other G1 design decisions. G1 stickers were a foil backed with adhesive paper, and had a certain degree of durability. That durability is expensive to replicate on a modern toy, and most of them can't get there. Let's look at two attempts on the same mold.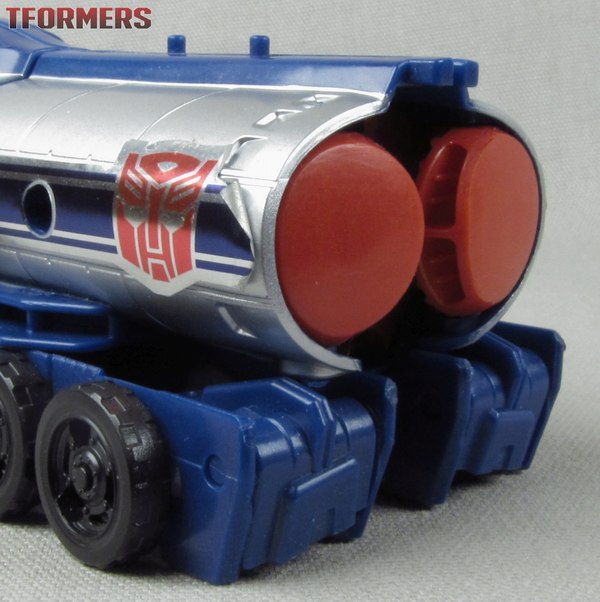 The retail release of
Titans Return
Voyager Optimus Prime has foil stickers backed with plastic, which is the most common type. They are almost guaranteed to be peeling and rolling up right out of the box.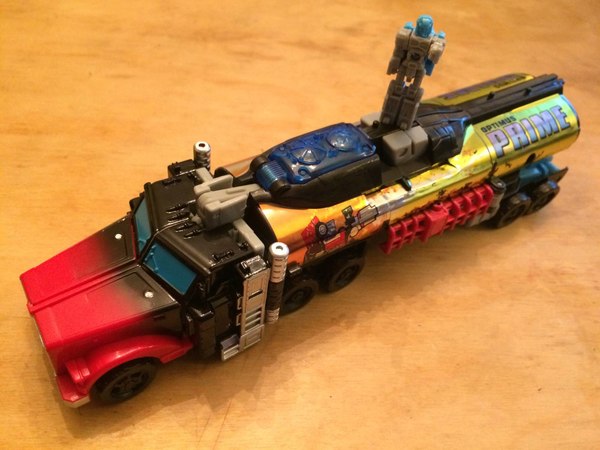 Here's the same mold from the
Chaos on Velocitron
boxset in a G2 Laser Optimus Prime deco. That trailer sticker is accurate, and is the old style foil on paper... but unlike G1 it's more paper than foil and you were almost guaranteed to get stickers out of the box that were rumpled, wrinkled, and torn. It is most noticeably of a different and lower quality than G1/2 foil stickers.
Lastly, the complexity of figures has increased in such a way as to make stickers unfeasible. Even in G1, transformation would ultimately rub the stickers off a toy, but transformation is incredibly complex now, relatively speaking. The much-anticipated
Power of the Primes
Leader Class Rodimus Prime has stickers which are nearly guaranteed to be destroyed the first time you transform him. While there's a few other small QC issues - inevitable with current Transformers - the most common complaint is that those stickers are
toast
within days. For a figure anticipated for well over a decade, that's a tragedy.
Why It Needs To Change Sooner Rather Than Later
Up until this year, stickers were a choice that collectors could make: they could either buy the Hasbro product, or wait for TakaraTomy to do an up-deco version for their own market at double the price if they wanted. This year, TakaraTomy isn't doing that.
Power of the Primes
is anticipated to be, as
Transformers: The Last Knight
was, literally comprised of Hasbro product with localizing name/price stickers applied to the packaging.
Third-party stickers from vendors like ToyHax are still an option, but it's likely that a lot of people are simply not going to bother buying instead. That's bad for the brand.
And so it's time for us all to ask Hasbro - politely, because we like their toys and want them to be better - to please lay off the stickers. Find other ways to make the deco work if you can, because this isn't working for us. Cheap stickers on some of the best figures you've ever made is hurting fan perception of them, and that's not good for any of us. You have some of the best, most clever designers and engineers in the world working on Transformers, and we're sure you can find a superior solution!