Toy Fair is less than three weeks away, which means it's time for early leaks and such to start coming out in force while they're still relevant. Tonight, through 4chan, an image has come up showing none other than Titan Class Scorponok himself, as well as the Commander Class Sky Lynx which has been strongly pointed to for a little while already.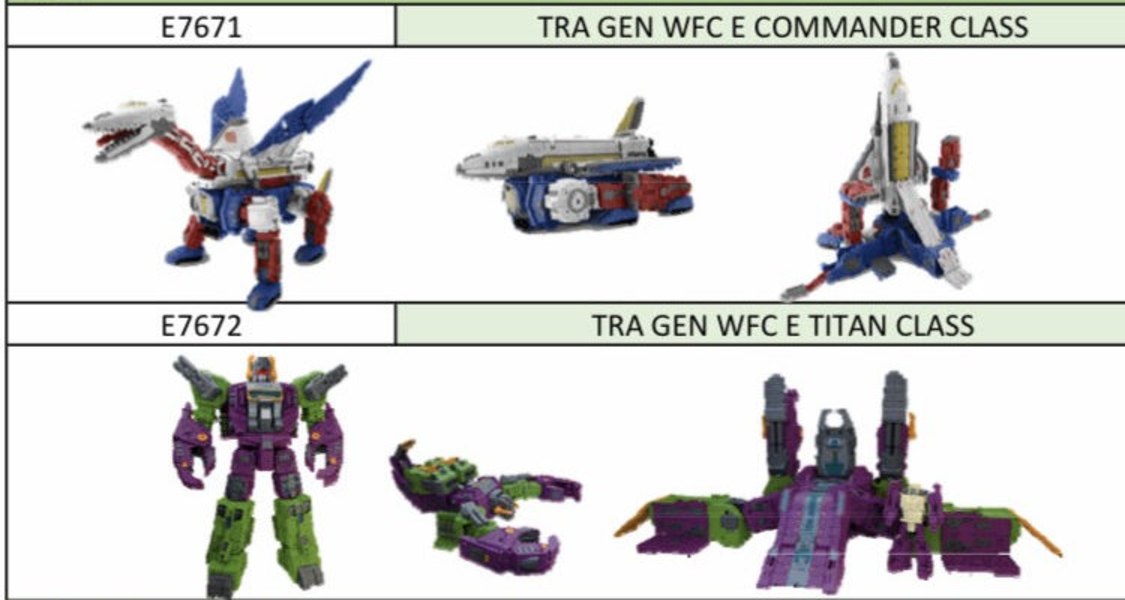 The image seems to be of a retailer catalog of some sort - that is, the kind of thing retailers use to decide what to order, not that consumers order from. It also features a pair of new, unnamed Battlemasters. Like Soundbarrier, these are represented as having ramps or deck plates as alternate modes, for use with the Modulator Micromaster base play pattern. Speaking of Micromasters, while part of the assortment is represented by the already-known Hot Rod Patrol, we do have representatives for another, previously-unseen update: The Astro Squad! It looks like Phaser and Blast Master will be our two out of this group to get new toys, combining together to form a space shuttle.
Those will theme nicely with the new Sky Lynx, who besides being shown as the shuttle mode and combined beast mode, also features a shuttle launch platform mode. Or rather, what is traditionally the "lynx" part of Sky Lynx seems to become the launch platform. If the toy can separate that way to form this mode, it seems the smallest of leaps that both individual beast forms will also be possible.
It's harder to pull any meaningful details out of Scorponok with these images. The base mode, as is often the way, is nothing to get excited about. But the robot mode looks very nicely proportioned, and will hopefully be taking after Omega Supreme in being solid, well-balanced, and relatively easy to handle. The scorpion mode also looks pretty much like you'd expect it to, though the tail might be just a bit short for the liking of some.
These are of course just our first looks at these toys. There will be many more coming in not very long at all! TFormers will be bringing you coverage of Toy Fair 2020 in New York, which starts on February 22nd, so stay right here for all the latest updates!
BaCon
2020-02-02 @ 3:19 pm
Holy robot of all things BASEformers!!! That Scorpy looks GREAT, except for the tail. That's just begging for a 3P Upgrade.
the skylynx looks legit, until we get larger images on the others I'm not convinced this isnt a shop job, odd proportions on beast scorponok compared to bot mode, g1 micromasters instead of photos of the new ones, 2 of which are ALREADY OUT plus that is NOT earthrise wheeljack.... the wings are too long and the car stripes are wrong.
Yep, agreed on both. Interesting that the micro master pictures are the G1 lol. I heard about the Astto Squad some time ago but expected that punk truck ....maybe that's Metro Squad, I'm old, I forget things lol.
Shut up and take my money!