Happy Halloween! Today we've dug up the Halloween Horrorcons, the one and only attempt Hasbro ever made to make Halloween-themed Transformers toys. Who were they, what were they, where were they supposed to be available... and why don't you have any? We'll take a look at that after the jump.
The Treat
A pair of Halloween Horrorcon 2-packs were planned, with a Bug and Beast in each.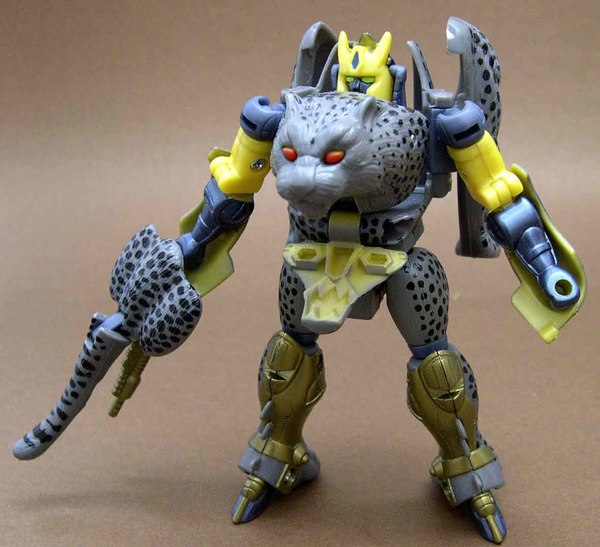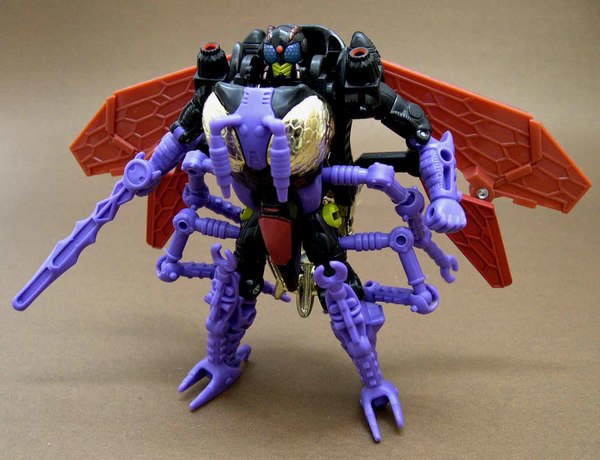 Nightprowler vs. Waspinator
(Photos: TFWiki)
Nightprowler was to be recolor of the original Beast Wars Deluxe Cheetor with a similar palette - but one that's distributed very differently. Most notable is the change to a blue-gray coat of fur that's much better suited to prowling about at night than Cheetor's shade of Kid-Appeal Yellow. His adversary, Waspinator, was a recolor of the Transmetal Waspinator mold that swapped the insect legs' red for purple, and the wings' green for a deep salmon pink. We're... not entirely sure what's spooky about salmon pink. Wouldn't a nice vivid orange have worked better?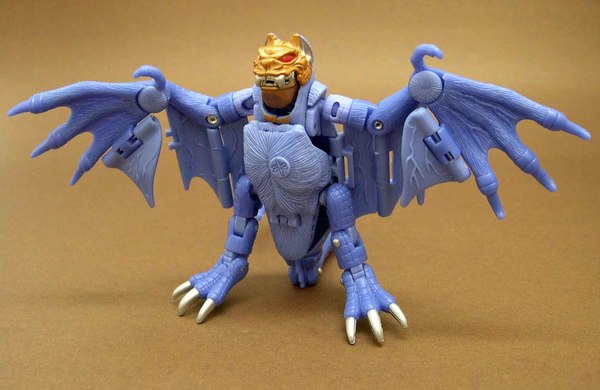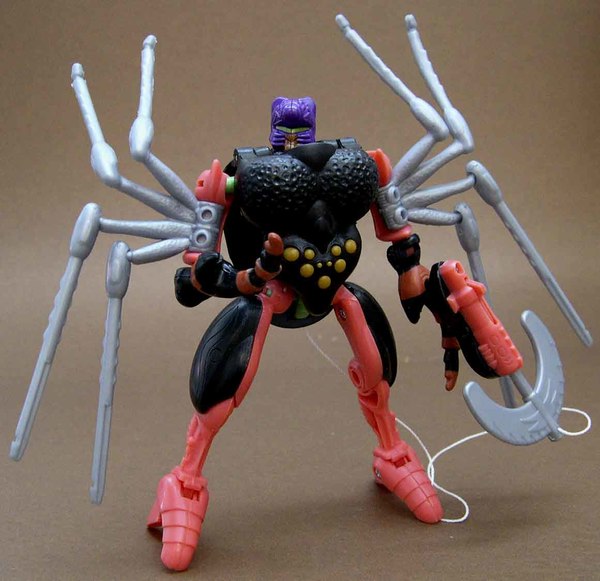 Leatherhide vs. Blackarachnia
(Photos: TFWiki)
Leatherhide is probably the biggest missed opportunity in this set, speaking from a place of posterity. He was to be a reuse of the Beast Wars Mutants Soundwave mold. As a Mutant, Soundwave has no proper robot mode but alternates between a bat and (very large-pawed) alligator. He's also molded in that certain kind of gold plastic that gets brittle and crumbly when it ages. So, Leatherhide in all his blue-gray and gold painted glory would've been a great way to preserve a version of that mold, which is a pretty neat toy. Leatherhide would've faced off against Blackarachnia, who like her original toy shared a mold with Beast Wars Deluxe Tarantulas. Her head matches the original toy's purple, though the rest of the purple on the figure is gone, as are the gold paint apps and spider legs. And there's that weird salmon pink again!
The Trick
The Halloween Horrorcons were to be a Transformers: Universe (the original line, not the iteration of Classics/Generations) release exclusive to Wal-Mart in 2003. But Wal-Mart had taken a lot of Transformers exclusives that year, and the thing about holiday-themed products is that they have a very short shelf-life and are usually expected to be marked down after the shopping season has passed. (As of this writing, only 12 hours left until it's time to go hunting for cheap Halloween candy!) And so, as has happened to a variety of figures before and since, the Halloween Horrorcons returned to the grave, with only a few scarce artifacts left in the hands of private collectors. It's a pity that these never came out, but also entirely understandable from a business standpoint.
In the years since, there have been Halloween-themed Transformers... sort of. TakaraTomy has sold Halloween-themed licensed Transformers products - namely, transforming figures of Mickey Mouse, Donald Duck, and Hello Kitty that are simultaneously in a Halloween-themed deco, and turn into vehicles. Maybe "pumpkin-themed mouse truck" would've been a weird enough concept for Wal-Mart to bite on...