It was just over a year ago that we were introduced to Combiner Wars, with Superion and Menasor leading the way. As we move towards the final product wave for 2015 and look at the first half of 2016, trends are clearly presenting themselves, and interesting and promising design philosophies may not look the same as they once did. With another year ahead of it, is Combiner Wars already in a state of decline? Keep reading to hear our thoughts.
The first two waves of Combiner Wars were undeniably something special, bringing fans true updates to classic combiner teams that had been long desired. Superion itself was an unexpected success given it was the result of the first product wave and a toy of Superion, neither of which traditionally yields the best outcome. Wave two rode high as well with the Stunticons as they introduced different engineering patterns - at least for the most part. And when wave three became known and we got a good look at the toys, we finally had the trick worked out. Combiner Wars brought us an unusual degree of retooling that helped a few core designs be reused and let us avoid getting a lot of simple recolors. And this was all pretty good. The toys had designs that were very to the point, which made them easy to handle. The combiners had a great new connection design so they were easy to put together and take apart. And with the retooling they showed us, it was easy to imagine that any and every new mold that came along could end up being practically anything the next time we saw it. This line looked like it could be the most interesting thing to have happened in some time.
Then with the reveal of wave 4, which lacked any new mold figures at all, the image started to deteriorate, just a little. But, still, getting one wave of just recolors wasn't unheard of in Transformers. Really, it's something to be expected, especially as you get to the end of a product year. And a team of Autobot cars was an okay compromise to get a little more out of the Stunticon molds. The first year toys were going to have a good run, and then make way for more in 2016. Surely we would see a selection of all new figures with the first images of 2016's teams, some fresh material to run for the second year. But of course, that's not exactly what happened. While there are new molds - a whole two of them! - Bruticus is mostly reused base designs, with varying degrees of retool, from extensive to none at all. And the Deluxe wave after that was again all recolors with some alternate parts mixed in here and there. The first half of the line's second year still has figures - some completely unaltered - from the very first wave of product.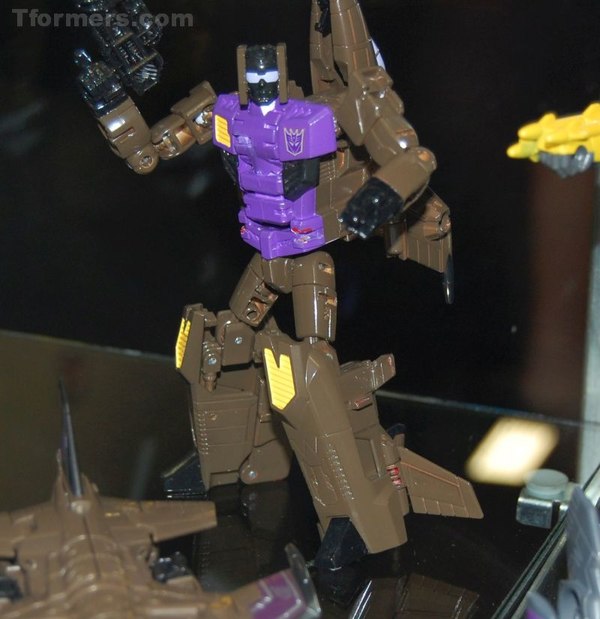 It feels like such a quick change in response. A lot of positivity and anticipation towards upcoming Combiner Wars assortments has since turned to disinterest, and I haven't escaped it myself. I love Combiner Wars as an idea, and it's generated toys that I like a great deal. Hot Spot has even earned a place among my very favorite molds ever - not a thing that is earned easily. But seeing the way the toyline is moving, versus what it looked like initially, I don't think it's hard to see why it might be less encouraging to follow right now.
Let's talk about mold repetition. I'm trying to set aside judgements of the quality of any given toy and just look at how many times they're popping up. The helicopter is going to be the worst offender, with three normal retail uses (Alpha Bravo, Blades, and Vortex) and only an alternate head among them. Add Victorion and you hit five, though with a bit more in terms of new parts at least. Spinister in next year's Collector's Club subscription service brings it to six, albeit in a far more limited release method than the other five which have been or theoretically will be available to the general buying public. It's the worst example, but not the only one. While major changes to the toys, like Dead End being so extensively modified as to be a fully different car model in the Streetwise iteration can help a lot, there's still only so much mileage you can get before fatigue starts setting in.
It's very probable that this model of heavy design and parts reuse is the very reason that we can have a line populated by combiner teams and get a new full team with every wave. At least for a while it got us adequately distinct toys in each assortment, and the "shortcut" was successful. It makes sense from a basic design perspective to try to share design elements when possible too. With only so many ways to make limb shapes with matching, compatible dimensions so everything is universally cross-compatible, you can either spend a lot of time remaking the same core engineering again and again, or you can set up a few patterns and work around those and focus the development time in other aspects. It makes perfect sense to do. And for a line that would run 12-16 months before switching over to something new, I think only a very few people would ever take exception with the approach. But again, by all indications Combiner Wars is going a full two years. And perhaps even a bit more than that, since it could run right up to when the next movie line kicks off in 2017.
And this is where the clever design style that saves money and development time turns around and starts to shoot itself in the foot. Now, we've had time to study the line and figure out what's happening, and the magic has fallen away from it. Now we have just the reality of a lot of the same toys in a repeating cycle. And I don't think it should ever make it to that point. New product should be prepared to be pushed through just in time to renew that "magic" feeling and prevent a hard look at the actual structure of the line from taking place while it's in the middle of running.
Another problem may be the pacing of the line. 75% of what we understand to be the year's product made it to retail before we were even half way through 2015. Getting so many toys in rapid succession may have made things a little more obvious. Consider that if the releases were properly quarterly through the year, we would only just now be starting to look at the Protectobots getting released, and we'd be seeing major retools of toys from months earlier, as well as being months off from having further recolors and retools of these two waves hit again in wave 4. There would be some cool down time, and some time to forget a little bit. Time to forget what we last bought from the line so the reruns would feel a little more fresh. Plus like I noted earlier, getting heavy recolor waves isn't an odd thing in waves coming late in the product year. It's standing out more now because we had the Stunticons and Protectobots close enough together to feel like we mostly bought the same toys twice in a very short span.
So we come back to the original question that started this off: Is Combiner Wars already on a downward slide? Is the perception of Combiner Wars as a line of retools and recolors repeating over and over so far gone already that it can't recover from it? I can't deny that Sky Lynx looks fantastic, and Brawl looks really nice. But it's so small an infusion of new material, I have to wonder if it really will matter. I had desired to be completist on Combiner Wars when it started, ebcause why wouldn't I want to be all-in on a line of interchangable combiners? But as it stands today, I've decided that I'm largely going to skip at least two waves - out of two Deluxe assortments I plan to buy only one or perhaps two figures. That means skipping over what's in theory half a year's worth of toys because I can't get interested because they're just recolors of recolors of retools.
If the back half of 2016 manages to bring actual new designs and new molds in to play, I think Combiner Wars can reclaim some of what it started out as. But I think the situation right now is pretty clear. The reuse of this year's molds has to stop. For Combiner Wars to have a chance to take back the positive reception and excitement it was met with originally, it has to start introducing genuinely new figures again. If those need to be recycled to varying degrees, so be it. That's the nature of Transformers. But at least from there until the line is retired and Generations takes another direction, it'll be fresher material being run through the cycle of repetition. I don't want to look back when 2017 is rolling in and see that this line was 80% copies of a small pool of figures. I've already decided to mostly skip the fourth wave this year, and I'll probably be skipping the next batch of Autobot cars in the second wave of 2016. If the waves subsequent don't demonstrate a significant change in approach, it could well turn out that the Combaticon wave and Sky Lynx will be where I finish with Combiner Wars.

It is most certainly possible for the line to pull it back and go out on a high note in the second half of 2016. All we can do from here is wait and see how it plays out. After all, the remainder of next year's product has already been decided. Where it goes from here is already set, I only hope that it's the right direction so what started as one of the most exciting Generations lines doesn't become remembered as the most disappointing.