The HasLab Transformers Victory Saber is hitting the road with a new showing at FAN EXPO Dallas, Texas going on September 17-19th. Today we have new Images of the prototype shown with the 2nd stretch goal that has just been announced as a handy translucent Autobot display stand. As we can see in the images below, this addition was made to support the combined robot and the spaceship modes.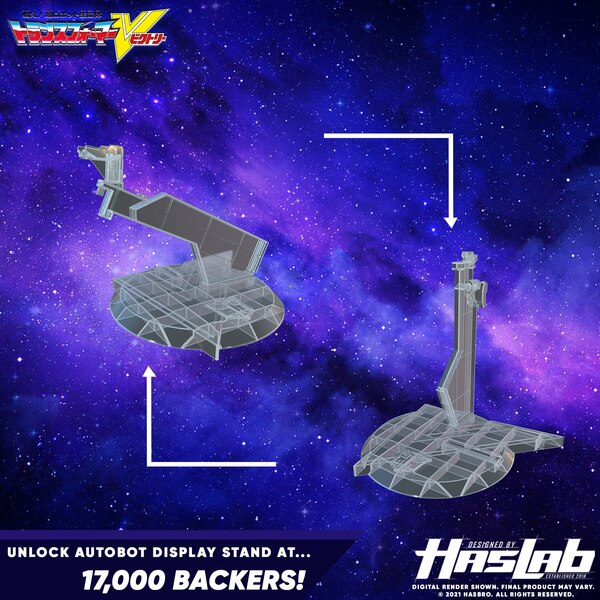 The Tier 2 unlock was rumored to be a shield, but it seems we are still a bit challenged to make the initial project funding of 11k backers, let alone the Tier 1 stretch goal for the V-Lock Cannon at 14k backers when there are currently only 7,876 backers at the time of this posting. Come on people, let's spread the word and order another to help bag that V-Lock Cannon, at least. Read on to see the full update and images below.
TRANSFORMERS fans! Victory Saber is soaring across the U.S. to the FAN EXPO Dallas Sept. 17th-19th! To celebrate, we're revealing the second stretch goal for this #HasLab - check out the Translucent Autobot display stand! This adjustable display can hold your Victory Saber in bot and jet mode, and will be unlocked when this project reaches 17,000 backers! Stop by the booth at FAN EXPO Dallas and check out the gray models with this awesome display stand! NOTE: Final product and accessories will include deco. Stay tuned for future updates!
US/CAN BACKERS: https://go.hasb.ro/3ypxPPf
UK BACKERS: https://go.hasb.ro/3gFtlOx
Pre-order and back the Transformers Victory Saber HasLab project for $179.99 on #HasbroPulse. This crowdfund project will run until October 10th, 2021. See HasbroPulse.com for more details.