IDW Editor In Chief and Transformers comics veteran
John Barber
sat down with
IGN
alongside Hasbro Global Publishing VP
Michael Kelly
to talk about the impending Transformers comics reboot!
The interview begins with an explanation as to why the established IDW continuity was ended, and it comes down to the fact that 13 years of continuity is a
lot
for new readers.
"We already had the best fans in the world, so we had that going for us." said Barber. "That said—absolutely, we all want to reach out and introduce new readers to these characters and worlds and mythology. The previous Hasbro comics universe was one that meant a whole lot to me. I love that series and those versions of the characters. But we hit a really natural point to put a genuine, and I hope satisfying, ending on that story.

As for whether fans can expect the Hasbro Comic Book Universe continuity to continue in some form, it doesn't sound likely. Barber said, "I really love that story and that universe. I still talk to everybody that worked on those comics. I love reading them, and we'll continue to keep the comics in print and in our deluxe IDW Collection hardcovers. But there's no plans for ever going back to that universe. Much as I love it, personally I feel like we told the story we set out to tell."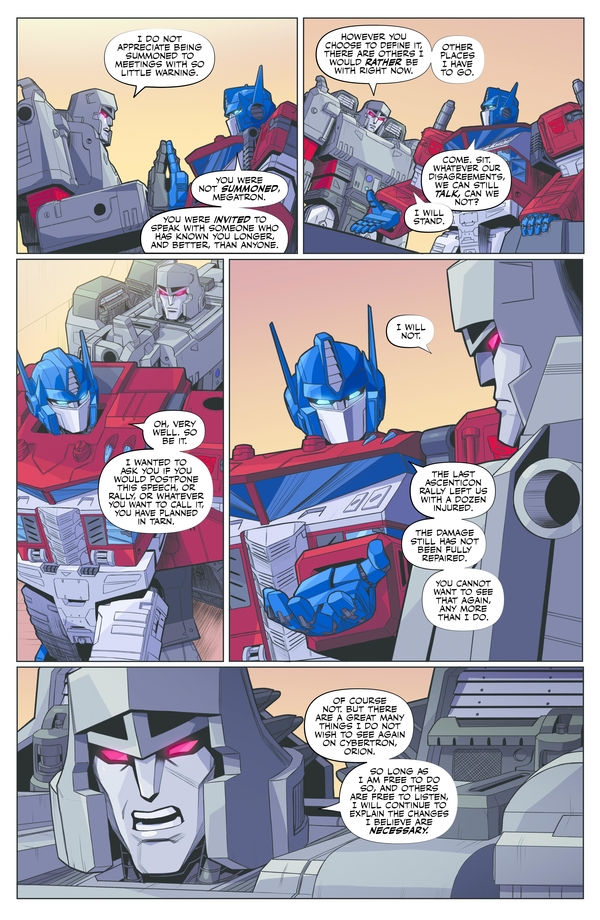 Barber and Kelly go on to explain the selection of writer
Brian Ruckley
and art team
Angel Hernandez and Cachet Whitman
, focusing on the humanity in Ruckley's pitch. The story is seemingly centered on a new generation of smaller Cybertronians - Micromasters, anyone? - and their experiences coming into the world of Cybertron. Using these characters for the newcomers' POV allows them to take the world-establishing slot frequently reserved for human characters within Transformers stories.
As we knew, the series begins before the war begins, aligning it with the Generations
War For Cybertron
trilogy of toylines.
Barber teased that the series will showcase the growing friction that eventually leads to all-out war on Cybertron. "What I think is really cool about this—besides the characters and the mystery our heroes find themselves embroiled in as the series opens—is that we get to see all these changes happen in real time. We'll be there with Orion Pax and Windblade and Soundwave as society starts to fall apart. This won't be a flashback, or a history lesson—it's all happening right in front of us."

"The relationship between Orion Pax and Megatron is one of the great tragic set pieces in comics, and this telling will feel both archetypal and fresh, " said Kelly. "Knowing they were once friends; knowing that in many ways their ideals are compatible, and yet knowing they are doomed to fall into devastating conflict provides never-ending drama, even if in the back of your mind you think you know how it's going to end. I keep wishing we could go back to that moment and prevent the rift; just imagine what these two could have achieved working together."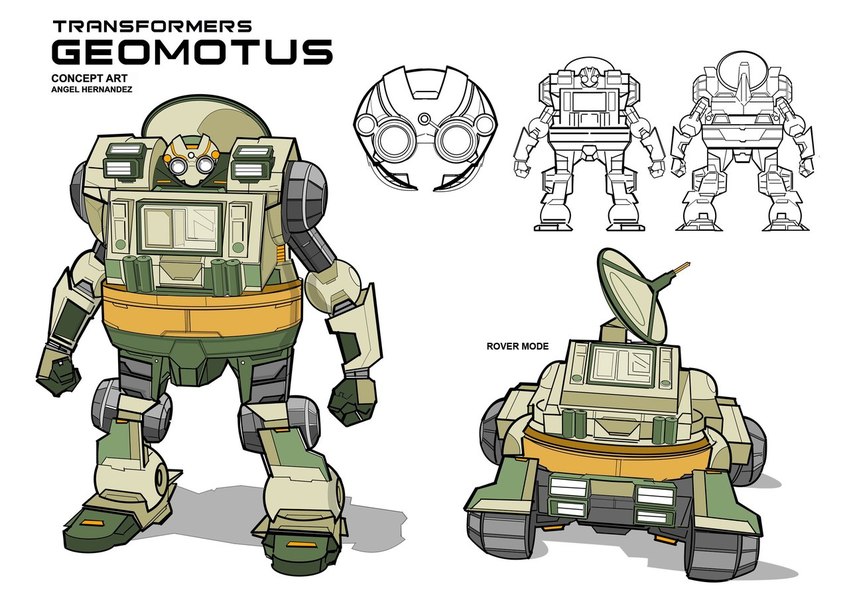 The article also introduces us to new character
Geomotus,
who looks to be continuing IDW's legacy of including and representing all aspects of humanity within the pages of
Transformers.
We were also intrigued to learn about another new addition to the Transformers cast, Geomotus. Geomotus is a character who struggles with social interactions and could be said to fall on the autism spectrum.

Barber clarified, "Geomotus is one of the first openly neurodivergent Cybertronians. He struggles with unfamiliar social situations and doesn't care much for more aggressive bots like Prowl. He can deal with the unfamiliar, however, as long has he has his "shapes"—essentially blocks that help him by giving him something comforting to focus on. And with his shapes in hand, he'll end up on the crew investigating the murder mystery because he's a master of geology and of finding patterns and small details in Cybertron's very metal that others overlook."

Barber also spoke about how a character like Geomotus fits into the overarching goals for the new series. "I think one of the things IDW can pride itself on over the course of our many Transformers series is emphasizing the humanity of Cybertronians—we've given them love and longing and loss and other L words. But, yeah, I think the goals of this series are very different. We're trying to show the wonder of being alive on a planet like Cybertron and we're trying to show even more diversity in its population. It's really easy to make the Transformers alien and that can be fun, but it's important to make them human, so to speak—because that's how we relate to them."
The first issue of the new
Transformers
is due out next week.