Tom Waltz @TomWaltz has been giving us more than meets the previews with more than few posts showing off more of what's to come. Starting with IDW Transformers #4 Cover B by Sara Pitre-Durocher, we also get a look at Chromia art by Nelson Daniels, Variant Cover by Jeffrey Veregge, and more pages from the first two issues coming out in March 2019.
Something that was just noticed in the comic teaser image is the mention of this story being about Bumblebee on Cybertron. Which, sounds an awful lot like what's going on with Cyberverse right now.
Bumblebee guides a new life through a planet on the bring of change. As two leaders, Optimus Prime and Megatron, vie for the hearts and minds of the the Transformers!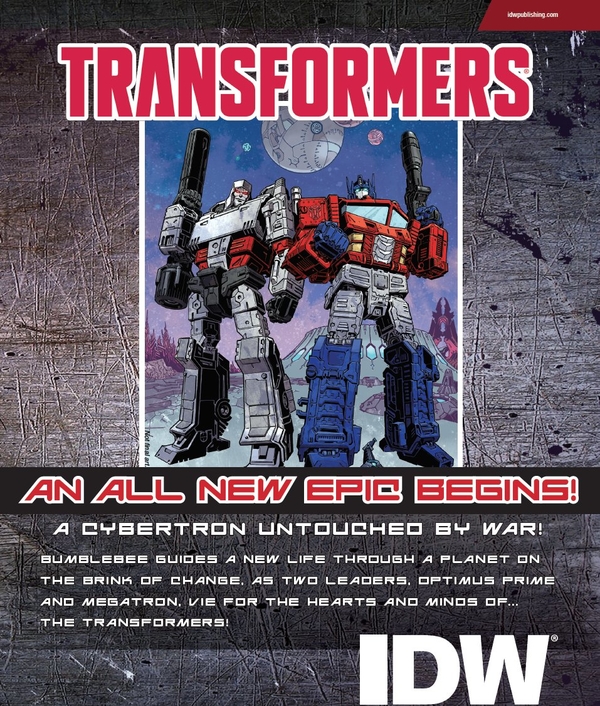 Read on for all of Tom's posts and images mirrored below.
The #Transformers are marching toward March! Make sure you join 'em by getting the 2019 relaunch on your pull-list! A BOLD NEW ERA DAWNS! Double-shipping monthly starting in, yep... March! @IDWPublishing @Brian_Ruckley @RonJoseph717 #AngelHernandez @IDW_David_M
...
Remember that #Transformers tease I (aka MegaTease) posted the other day? Well, now you can call me MegaReveal cuz here's the full image -- Cover B for Transformers #4 by the MegaAwesome @SaraLePew!! More great stuff coming soon! @IDWPublishing @IDW_David_M A BOLD NEW ERA DAWNS!
...
Bad boys, bad boys... whatcha gonna do, whatcha gonna do when Chromia comes for you...?" Check out @nelsondaniel's arresting Cover A for #Transformers #2, coming in March from @IDWPublishing. @IDW_David_M @Brian_Ruckley #AngelHernandez @RonJoseph717 A BOLD NEW ERA DAWNS!
...
A BOLD NEW ERA DAWNS... and we're looking for BOLD OLD AND NEW #TRANSFORMERS FANS to join us on a journey to a #Cybertron like you've never seen it before. Climb on board, buckle up, and enjoy your flight -- as well as this beautiful issue #2 variant cover by @JeffreyVeregge!!