Later in the month than usual, we've finally got word via Previews World of what to expect in the realm of Transformers comics for the month of April.
Lost Light
continues its alternate universe adventure,
Optimus Prime
moves towards wrapping up the Junkion story arc, and
Till All Are One
goes back to deal with a problem that's been waiting for a while. Full solicits are below along with the usual cover images. Keep reading!
OPTIMUS PRIME #6
(W) John Barber (A/CA) Kei Zama
NEW CYBERTRON-CONCLUSION! As the Junkions reveal their ultimate plan, Optimus Prime makes a decision that will define the relationship between Earth and Cybertron for all time... but will Arcee be able to live with the fallout?
In Shops: Apr 26, 2017
SRP: $3.99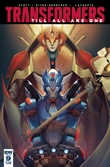 TRANSFORMERS TILL ALL ARE ONE #9
(W) Mairghread Scott (A/CA) Sara Pitre-Durocher
After the costly victory against the Titans, Iacon is in shambles and Starscream finds himself on shakier ground than ever. The key to his political (and likely literal) survival rests in the outcome of a very unlikely event: the trial of the Council's first official war criminal-Chromia of Caminus!
In Shops: Apr 26, 2017
SRP: $3.99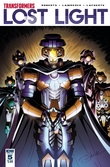 TRANSFORMERS LOST LIGHT #5
(W) James Roberts (A/CA) Jack Lawrence
It's TEAM RODIMUS versus a universe gone wrong! An alternate Cybertron is being torn apart as the malevolent Functionist Council implement a plan that's been millions of years in the making. But with victory within their reach, they find themselves up against someone who really shouldn't exist: MEGATRON.
In Shops: Apr 19, 2017
SRP: $3.99