Tonight we have the first looks at the April offerings from IDW by way of Previews World.
Sins of The Wreckers
returns from a short hiatus, as well as
Transformers vs GI Joe
promising its next issue.
More Than Meets The Eye
boasts perhaps the shortest solicitation blurb in the history of comics, and we round out with
The Transformers
and collected edition of
Windblade
Vol.2 and
Robots in Disguise Animated
. Keep reading for cover previews and blurbs!
TRANSFORMERS MORE THAN MEETS EYE #52
(W) James Roberts (A/CA) Alex Milne
Megatron vs. Tarn.
In Shops: 4/27/2016
SRP: $3.99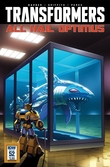 TRANSFORMERS #52 ART APPRECIATION VAR
(W) John Barber (A) Andrew Griffith (CA) Casey W. Coller
ALL HAIL OPTIMUS part 3! OPTIMUS PRIME has declared the Earth to be his territory... but even he can't go it alone. Now he reaches out across the galaxy to form a coalition-of old friends and older enemies.
In Shops: 4/6/2016
SRP: $3.99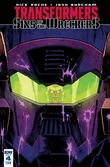 TRANSFORMERS SINS OF WRECKERS #4 (OF 5)
(W) Nick Roche & Various
WEB OF DECEIT! The search for PROWL leads the WRECKERS deep into enemy territory-and that's where they're at their best! Unfortunately, with the lives they've lived-the pasts they battle to escape-even their best isn't enough to save everybody.
In Shops: 4/20/2016
SRP: $3.99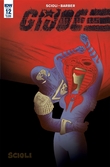 TRANSFORMERS VS GI JOE #12
(W) John Barber, Tom Scioli (A/CA) Tom Scioli
WELCOME TO THE TERROR DROME! As the forces of COBRA plot a treacherous move, OPTIMUS PRIME descends in to CYBERTRONAIN hell in search of the MATRIX. They say the sun also rises... but will it be friend or foe?!
In Shops: 4/13/2016
SRP: $3.99
TRANSFORMERS ROBOTS IN DISGUISE ANIMATED TP
(W) Georgia Ball (A/CA) Priscilla Tramontano
GO TEAM 'BEE! BUMBLEBEE leads an all-star team of AUTOBOTS to Earth to find rogue DECEPTICONS... but in this all-new story based on the hit Cartoon Network animated series, they're forced to go up against their old friend, ULTRA MAGNUS. What terrible secret can set AUTOBOT against AUTOBOT?!
In Shops: 4/13/2016
SRP: $14.99
TRANSFORMERS DISTANT STARS TP
(W) Mairghread Scott (A) Corin Howell, Sara Pitre-Durocher (CA) Naoto Tsushima
After the events of "Combiner Wars," Windblade and Starscream race to recruit the lost Cybertronian colonies to the Council of Worlds-but which of them will control the fate of Cybertron? Collects issues #4-7 of the Windblade series and the Combiner Hunters One-Shot.
In Shops: 4/20/2016
SRP: $19.99