Previews World has posted the next round of upcoming comic news, covering issues due to ship in April (and one entry expected in May, but that's fine too). In this month's assortment, we have issue #18 of Optimus Prime, the 5th and final issue of Transformers Vs Visionaries, Lost Light issue #17, and the final collected volume of Till All Are One. As usual, you can find the cover images and teaser blurbs in the full post just below. Read on for all the details!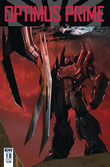 OPTIMUS PRIME #18
(W) John Barber (A) Kei Zama (A/CA) Livio Ramondelli
"The Falling," Interlude: Who is Onyx Prime? Leader of beasts, and one of the original Primes who led Cybertron, Onyx has been missing for millenia. Yet, his schemes go on. Where did he come from, and how will his reappearance change Cybertron forever?
In Shops: Apr 11, 2018
SRP: $3.99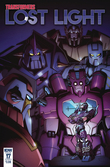 TRANSFORMERS LOST LIGHT #17
(W) James Roberts (A/CA) Jack Lawrence
"The Everlasting Voices," Part 2! Hot Rod and company are dead. The Allspark is real. And Hot Rod is about to meet his maker(s)! Oh, Primus! Somebody stop him!
In Shops: Apr 25, 2018
SRP: $3.99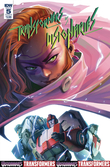 TRANSFORMERS VS VISIONARIES #5
(W) Magdalene Visaggio (A/CA) Fico Ossio
The final fate of Cybertron! Leoric and the drill team, on a mission to stop the destruction of the planet, reach the core-only to be met by Virulina and her Darkling Lords! Now, the two sides are locked in a final battle to determine whether Cybertron sees tomorrow. Everything comes to a head in this thrilling conclusion!
In Shops: Apr 25, 2018
SRP: $3.99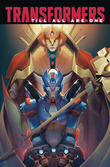 TRANSFORMERS TILL ALL ARE ONE TP VOL 03
(W) Mairghread Scott (A/CA) Sara Pitre-Durocher
The fate of Cybertron lies in the hands of Starscream and Windblade as each tries to win allies and support in order to gain control over the Council of Worlds. After the costly victory against the Titans, Iacon is in shambles and Starscream finds himself on shakier ground than ever. The key to his political (and likely literal) survival rests in the outcome of a very unlikely event: the trial of the Council's first official war criminal-Chromia of Caminus! Collects issues #9-12 and the 2017 Annual.
In Shops: May 09, 2018
SRP: $17.99