It's the middle of the month, more or less, and that means it's time to find out what comics are coming a couple months down the line. August will see the final collected volume of
Transformers vs GI Joe
, an omnibus reprint of
The War Within
, and the kick off of the Titans Return crossover event in
The Transformers
and
More Than Meets The Eye
, while
Till All Are One
seems to be wisely minding its own business for now!
Keep reading for covers and summaries, but beware of possible spoilers!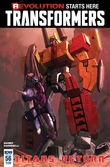 TRANSFORMERS #56
(W) John Barber (A/CA) Livio Ramondelli
TITANS RETURN! Following the literally-Earth-shattering events of last issue... OPTIMUS PRIME establishes a new base of operations - AUTOBOT CITY! Its first visitor: a newly-revived SENTINEL PRIME, who sees a potential ally in OPTIMUS.
In Shops: 8/3/2016
SRP: $3.99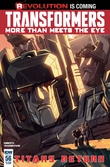 TRANSFORMERS MORE THAN MEETS EYE #56
(W) James Roberts (A/CA) Priscilla Tramontano
TITANS RETURN! On Luna 1, nothing ever happens-and as far as FORTRESS MAXIMUS and RED ALERT are concerned, nothing ever will. After all, who else could possibly be interested in the Luna 1's birthing field and its graveyard full of dead Titans?
• You've never seen a TRANSFORMERS crossover like this before!
• Ties directly in to this month's TRANSFORMERS!
• Sets the stage for next month's REVOLUTION!
In Shops: 8/17/2016
SRP: $3.99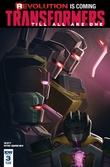 TRANSFORMERS TILL ALL ARE ONE #3
(W) Mairghread Scott (A/CA) Sara Pitre-Durocher
WINDBLADE TURNS TRAITOR?! With the rise of the COMBATICON threat, STARSCREAM issues an ultimatum to WINDBLADE: do his - or everyone on Cybertron will learn her darkest secrets!
• Will WINDBLADE betray her own ideals and become STARSCREAM's crony?
• Is ONSLAUGHT really the threat to world peace that STARSCREAM claims?
• And where in the name of the Primes is SWINDLE?!
• Sets the stage for next month's REVOLUTION!
In Shops: 8/10/2016
SRP: $3.99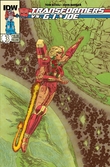 TRANSFORMERS VS GI JOE TP VOL 03
(W) Tom Scioli, John Barber (A/CA) Tom Scioli
The biggest space battle ever grows to universal proportions! Will the G.I. JOE team and the AUTOBOTS make peace-before COBRA and the DECEPTICONS end the war... the bad way?! Collects issues #10-13.
• The series you never thought would happen comes to its thunderous conclusion!
In Shops: 8/31/2016
SRP: $19.99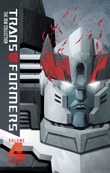 TRANSFORMERS IDW COLL PHASE 2 HC VOL 04
(W) Chris Metzen & Various (A) Livio Ramondelli & Various (CA) Marcelo Matere
In the early days of the war on Cybertron, two leaders start down their paths towards destiny. Meanwhile, on current day Cybertron, Megatron is back! Everything Bumblebee and his Autobots have built teeters on the edge of collapse-and Starscream has to make the choice his whole life has been leading to. On the Lost Light, a secret prisoner is confined in the bowels of the ship. Collects the Monstrosity mini-series, Robots in Disguise #12-18, and More Than Meets the Eye #14-16.
Item Code: JUN160430
SRP: $49.99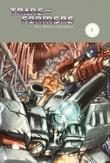 TRANSFORMERS WAR WITHIN OMNIBUS TP (CURR PTG)
(W) Simon Furman (A) Don Figueroa, Andrew Wildman (CA) Don Figueroa
Before Stormbringer, before the Beast Wars, before even Generation One, there was... The War Within. Four million years before the TRANSFORMERS came to Earth, civil war rocks their home world of CYBERTRON, and OPTIMUS PRIME faces his first - and greatest - challenge. If you think you know the TRANSFORMERS... think again!
In Shops: 8/10/2016
SRP: $24.99