The solicits for this coming August are out, just a little bit early via Forces of Geek, and we have three Transformers-relevant titles to expect. Sadly not present on this list is
Till All Are One
, but we do have
Lost Light
#9,
Optimus Prime
#10, and the second installment of the five part miniseries
Rom vs Transformers: Shining Armor
. We got the blurbs and some cover image preview, which you can find in the full article below.
Rom Vs. Transformers: Shining Armor #2 (of 5)
John Barber & Christos Gage (w) • Alex Milne (a & c)
Starscream forges an unholy pact with the Dire Wraiths -- and Bumblebee and Ultra Magnus are hot on his trail. Unfortunately for them, Rom and the Solstar Knights don't know the difference between Autobots and Decepticons -- and they're ready to fight all comers!
FC • 32 pages • $3.99
•  An all-star lineup of Christos Gage (Rom), John Barber (Optimus Prime), and Alex Milne (More Than Meets the Eye) tell the never-before-revealed secret history of Rom and the Transformers!
•  Don't miss the cover by Ominous Press creator, Bart Sears, part of our Bart Sears cover month!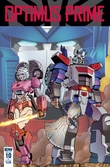 Optimus Prime #10
John Barber (w) • Livio Ramondelli & Kei Zama (a) • Kei Zama (c)
THE RETURN OF GALVATRON THE BARBARIAN! Optimus Prime meets with Alpha Trion, the ancient sage, who reveals a tale of Cybertron's earliest days, when the original Thirteen Primes united the world. But even then, the warrior known as Galvatron was a wild card... shaping the future in unexpected ways.
FC • 32 pages • $3.99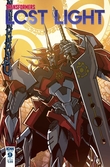 Transformers: Lost Light #9
James Roberts (w) • Priscilla Tramontano (a) • Jack Lawrence (c)
All sides converge on Troja Major as the race to unlock the secrets of a unique Cybertronian reaches its desperate, violent conclusion. As old secrets are revealed, Nautica must pay the ultimate price -- by resorting to the ultimate currency.
FC • 32 pages • $3.99