Just in via Previews World, we have the latest on upcoming Transformers comics from IDW heading to shops and digital this August. The end of the universe proceeds in its own good time between issues 3 and 4 of the Unicron miniseries, with its echoes felt in issue 23 of Optimus Prime, all while Lost Light tends to its own final affairs in its own issue 23. In the movie world, the third issue of the Bumblebee prequel story, plus a separate trade paperback featuring a Bumblebee of a completely different flavor! Cover previews and blurbs can all be found below...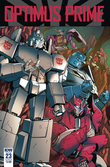 OPTIMUS PRIME #23
(W) John Barber (A) Priscilla Tramontano (CA) Kei Zama
The battle against Unicron forces Optimus Prime's colonist soldiers to contend with a brutal reality-they have no homes to return to. But when they make a move against Trypticon, the human-controlled home of the next generation of Cybertronians... can the end be far behind?
In Shops: Aug 08, 2018
SRP: $3.99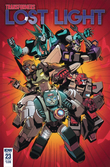 TRANSFORMERS LOST LIGHT #23
(W) James Roberts (A/CA) Jack Lawrence
The final battle is here! Bots will live, bots will die, and the craziness can only increase! We're halfway through a finale six years in the making! And if you've ever loved a bot, you won't want to miss this.
In Shops: Aug 15, 2018
SRP: $3.99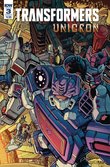 TRANSFORMERS UNICRON #3
(W) John Barber (A/CA) Alex Milne
Unicron approaches Cybertron, so Windblade enacts a desperate plan-one neither Optimus Prime nor Starscream agree with! Has Windblade outmaneuvered Shockwave's machinations-or played right into his deadly hand?
In Shops: Aug 15, 2018
SRP: $4.99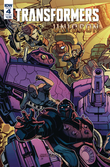 TRANSFORMERS UNICRON #4
(W) John Barber (A) Alex Milne (CA) James Raiz
Unicron sets his sights on Earth... but is anyone left to defend it?
In Shops: Aug 29, 2018
SRP: $4.99
TRANSFORMERS BUMBLEBEE MOVIE PREQUEL #3
(W) John Barber (A/CA) Andrew Griffith
Energon is Forever. It's war in the streets of swinging 1960s London, baby-and it freaks Bumblebee out! The Decepticon scheme to lure the world's top espionage organizations into war shifts to high gear-so Bee and his super-spy friends call in some international help!
In Shops: Aug 08, 2018
SRP: $3.99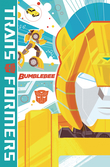 TRANSFORMERS BUMBLEBEE WIN IF YOU DARE TP
Life can feel rough when you aren't the fastest, or the bravest, or the tallest Autobot, and Bumblebee's feeling the pressure. When he's hurt, Bumblebee takes it upon himself to prove his worth to his fellow Autobots. Things get tense as 'Bee and his new human companion race into action hunting down dangerous foes and a devastating device. It's ready, set, go in this new exciting '80s adventure packed filled with laughs and thrills!
In Shops: Sep 19, 2018
SRP: $9.99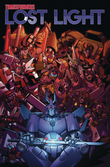 TRANSFORMERS LOST LIGHT TP VOL 03
Crammed into a dead Decepticon astropod that's 10 sizes too small, the displaced crew of the Lost Light faces their most serious threat yet: each other. No worries though, Rodimus can save the day! Or maybe they'll all die... Plus, the Scavengers have never had it so good. The war is a receding memory, their patchy service records have been forgotten, and the five of them can roam the galaxy as they please. All's well that ends well? Not quite. Collects issues #13-18.
In Shops: Sep 19, 2018
SRP: $19.99