It's that time once again! Previews World has updated their upcoming listings with what's on the plate from IDW at year's end, and there's a lot on the way! More than we can summarize in this short space, but among the unusual in December is a Holiday Special book, a reprint of Dreamwave's Transformers/GI Joe miniseries, IDW's Transformers vs GI Joe #10, and an apparent comic adaptation of the opening story of the current RID cartoon! Keep reading for covers and teasers!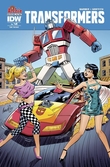 TRANSFORMERS #48
(W) John Barber (A/CA) Andrew Griffith
CONQUERORS, part 3! It all comes down to this... the fate of the AUTOBOTS, the survival of the human race, and the existence of a post-war CYBERTRON depends on the two greatest heroes in TRANSFORMERS history: BUSTER the dog and D.0.C. the drone.
In Shops: 12/16/2015
SRP: $3.99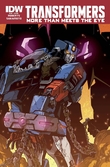 TRANSFORMERS MORE THAN MEETS EYE #48
(W) James Roberts (A) Hayato Sakamoto (CA) Alex Milne
MIND GAMES! The crew of the Lost Light are caught off guard when a dead friend appears out of the blue. But there's no time for a happy reunion: someone else has found his way onto the ship-someone with the power to tear the crew apart.
In Shops: 12/30/2015
SRP: $3.99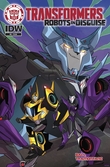 TRANSFORMERS ROBOTS IN DISGUISE ANIMATED #6
(W) Georgia Ball (A/CA) Priscilla Tramontano
VEHICONS AMOK! When the DECEPTICON called STEELJAW stumbles upon three lost VEHICONS, he convinces them he's on a mission from MEGATRON-a deception that puts them on a collision course with BUMBLEBEE and company!
In Shops: 12/16/2015
SRP: $3.99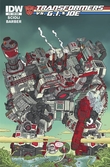 TRANSFORMERS VS GI JOE #10
(W) John Barber, Tom Scioli (A/CA) Tom Scioli
REMEMBER US?! The most titanic tale of the twenty-first century takes an unexpected twist-BUT WHEN HAS TRANSFORMERS VS. G.I. JOE DONE ANY LESS?! Expect the unexpected-then throw your expectations out the window!
In Shops: 12/16/2015
SRP: $3.99
TRANSFORMERS SINS OF WRECKERS #2 (OF 5)
(W/A/CA) Nick Roche
FROSTY RECEPTION! THE WRECKERS journey to Nome, Alaska to track down the number one suspect in PROWL's disappearance-their former human ally, VERITY CARLO!
In Shops: 12/2/2015
SRP: $3.99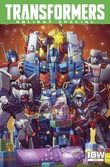 TRANSFORMERS HOLIDAY SPECIAL 1
(W) John Barber & Various (A) Josh Burcham & Various (CA) Casey W. Coller
HOLIDAYS IN THE STARS! Three stories about three casts and three unique holiday adventures! You'll laugh, you'll cry, and you'll never look at CYBERTRON-or the holidays-the same way again!
In Shops: 12/2/2015
SRP: $5.99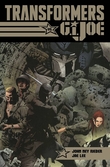 TRANSFORMERS GI JOE TYRANTS RISE HEROES ARE BORN TP
(W) John Ney Rieber (A/CA) Jae Lee
Reprints the fan-favorite series set in World War II. Cobra Commander unleashes Megatron and the United States creates the G.I. JOE team to combat them.
In Shops: 12/9/2015
SRP: $19.99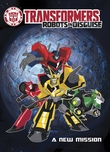 TRANSFORMERS ROBOTS IN DISGUISE A NEW MISSION TP
(W) Adam Beechen, Duane Capizzi (A/CA) Various
A new generation of Transformers starts in adaptations of the celebrated animated series! The Great War has passed and Cybertron is rebuilt and harmonious, though leader OPTIMUS PRIME's fate is unknown. But when an unexpected threat puts Earth in danger, a vision of OPTIMUS PRIME leads BUMBLEBEE to Earth with a team of Autobots to protect the planet. Get ready for the exciting first installment of Robots in Disguise!
In Shops: 12/16/2015
SRP: $7.99