Just in are the first looks at the IDW offerings for January, a surprisingly light month in Transformers comics as it appears right now! Previews World has posted the lists for the start of 2016, but notably absent is
Robots in Disguise Animated
, leaving us with only
The Transformers
and
More Than Meets The Eye
's 49th issues, and the third installment of
Sins of The Wreckers
. We'll watch the situation for more info to arise, but meanwhile click through for the summaries and cover previews.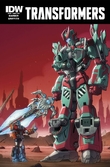 TRANSFORMERS #49
(W) John Barber (A/CA) Andrew Griffith
CONQUERORS: CONCLUSION! The most dramatic action ever taken by an AUTOBOT sets the stage for next month's mammoth issue 50. Earth and CYBERTRON. OPTIMUS PRIME and GALVATRON. SOUNDWAVE and COSMOS. It all comes together at four billion miles an hour.
In Shops: 1/13/2016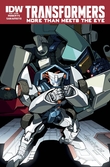 TRANSFORMERS MORE THAN MEETS EYE #49
(W) James Roberts (A) Hayato Sakamoto (CA) Alex Milne
SHUTDOWN! A vengeful god stalks the corridors of the Lost Light, murdering everyone who makes eye contact. The crew must answer two questions: Why have they been singled out for punishment? And how do you stop someone who can kill you just by thinking about it?
In Shops: 1/27/2016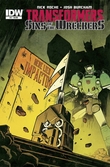 TRANSFORMERS SINS OF WRECKERS #3 (OF 5)
(W/A/CA) Nick Roche
SECRETS AND SINS! PROWL's past-shrouded in mystery-begins to come to light... and the revelations aren't pretty. But to get ahold of the missing AUTOBOT, the WRECKERS will have to face... the NOISEMAZE.
In Shops: 1/20/2016