It seems we have our standard look ahead a few months in comics, with the solicitations and cover previews for January's Transformers titles coming our way from IDW. Newsarama has the slightly early look at the solicits for the Hasbro license books, and relevant to us will be
Optimus Prime
#3, which we saw a first look at earlier today with its excellent Artist Edition alternate cover,
Till All Are One
#7, and
Lost Light
#2. You can find the teaser text and cover images below - keep reading!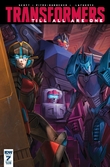 Transformers: Till All Are One #7
Mairghread Scott (w) * Sara Pitre-Durocher (a & c)
As Windblade and her team fight their way through Elita-1's Titan, Carcer, they face opposition at every turn to stop them from awakening the sleeping giant... and they soon find out why!
FC * 32 pages * $3.99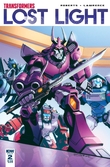 Transformers: Lost Light #2
James Roberts (w) * Jack Lawrence (a & c)
Rodimus and Co. find themselves in a dangerous place. Even more dangerous than on a planet that exploded from the inside. That's already pretty dangerous. But where they are now? Oh boy.
FC * 32 pages * $3.99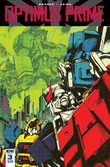 Optimus Prime #3
John Barber (w) * Kei Zama (a & c)
An uneasy peace between Optimus Prime and the newly arrived Junkions is threatened by Soundwave's discovery within their massive ship...
FC * 32 pages * $3.99