It's the middle Wednesday of the month, and that means it's time once again to see what's coming a few months down the road in Transformers comics. Headed our way in March, we'll be seeing the issues 51 of both
More Than Meets The Eye
and
The Transformers
, and omnibus reprint of Dreamwave's
Transformers Armada
, and of course the What If style one shot
Transformers: Deviations
. Keep reading for summaries and cover previews!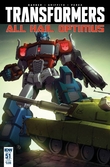 TRANSFORMERS #51
(W) John Barber (A/CA) Andrew Griffith
"ALL HAIL OPTIMUS," part 2! OPTIMUS PRIME is here to save the Earth-whether the Earth wants saving or not. A hostile world reacts the AUTOBOTS' incursion, as GALVATRON gathers his forces. But is OPTIMUS alone in his head...?
In Shops: 3/2/2016
SRP: $3.99
•War of the World!
•OPTIMUS PRIME -- threat or menace?!
•Nobody likes being told what to do -- not even by a 60-foot tall talking truck!
•Variant cover by Livio Ramondelli!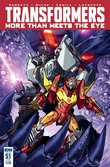 TRANSFORMERS MORE THAN MEETS EYE #51
(W) James Roberts (A/CA) Alex Milne
"If you want to break someone-mentally, physically, emotionally-wait until they're happy. Let them live and love and thrive. Once they recognize the value of a life well lived... THAT'S when you move in for the kill. Because you can't take anything from someone who has nothing to lose." --Tarn
In Shops: 3/9/2016
SRP: $3.99
•The hunt for MEGATRON continues!
•The Decepticon Justice Division will stop at nothing to bring the former Decepticon leader down!
•Variant cover by Livio Ramondelli!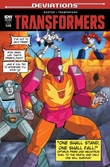 TRANSFORMERS DEVIATIONS 1 (ONE SHOT)
(W) Brandon Easton (A) Priscilla Tramontano (CA) Marcelo Matere
In a World... Where OPTIMUS PRIME Never Died! One would stand and one would fall... and we all know OPTIMUS PRIME fell. But how would history have played out if he hadn't? Would the AUTOBOTS have still stood triumphant in their darkest hour... or would UNICRON have reigned supreme?!
In Shops: 3/9/2016
SRP: $4.99
•Extra-length one-shot!
•Find out what happens in a world... where Optimus Prime never died!
•Writer Brandon Easton (TV's AGENT CARTER) writes his first TRANSFORMERS comic!
•Art from rising star Priscilla Tramontano!
•Part of IDW's Deviations 5-week event!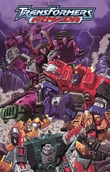 TRANSFORMERS ARMADA OMNIBUS TP
(W) Chris Sarracini, Simon Furman (A) James Raiz & Various (CA) Guido Guidi
BACK IN PRINT! The DECEPTICONS, feeding off the energy of captured Mini-Cons, are about to begin a hostile takeover of the TRANSFORMERS' home planet, CYBERTRON. Do OPTIMUS PRIME and the heroic AUTOBOTS stand a chance of defending the planet against these super-powered villains? And will the Mini-Cons ever get their freedom back? The action is so explosive that the shockwaves will shake not only CYBERTRON but even planet Earth right down to the core. All 18 issues of Transformers: Armada are collected in this omnibus.
In Shops: 3/9/2016
SRP: $29.99
TRANSFORMERS TP VOL 08
(W) John Barber (A) Livio Ramondelli, Andrew Griffith (CA) Andrew Griffith
The COMBINER WARS are over, and OPTIMUS PRIME faces the aftermath. Meanwhile, ARCEE confronts GALVATRON; SOUNDWAVE and COSMOS come face to face; TRACKS and NEEDLENOSE meet up again; and JETFIRE and KUP lead a team to investigate the mysterious ONYX system. Collects issues #42-45.
In Shops: 3/2/2016
SRP: $17.99