Just in time for Christmas, it's the IDW comic solicits! ...for March! The month of March will be bringing us part 4 of the
Transformers Vs Visionaries
miniseries, along with issue 17 of
Optimus Prime
, featuring part 3 of "The Falling" and
Lost Light
#16 which leads off its blurb with a phrase also used as the finale of Star Trek The Next Generation. Is the end near?! (probably not) All this and the
Redemption of The Dinobots
collection, bringing together
Transformers: Punishment, Transformers: Redemption,
and
Transformers: Salvation
. Keep reading for summaries and cover previews!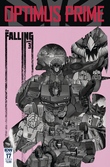 OPTIMUS PRIME #17
(W) John Barber (A/CA) Kei Zama
"The Falling," Part 3: Onyx Prime sows the seeds of chaos and panic on Cybertron as he reveals dark secrets... but nothing will prepare Optimus Prime and his allies for Onyx's darkest revelation!
In Shops: Mar 28, 2018
SRP: $3.99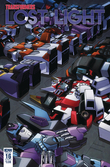 TRANSFORMERS LOST LIGHT #16
(W) James Roberts (A/CA) Jack Lawrence
ALL GOOD THINGS...! Rodimus and the Crusadercons have reached their final destination. The trouble is, it's not Cyberutopia. In fact, it's not ANYWHERE. But they'd better get used to it, because they're going to be there until the end of Time...
In Shops: Mar 07, 2018
SRP: $3.99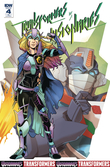 TRANSFORMERS VS VISIONARIES #4
(W) Magdalene Visaggio (A/CA) Fico Ossio
Leoric and Ironhide only have hours left to save Cybertron from destruction, while Virulina tries to harness the life energy of Leoric's captured friends to accelerate the end. Now Leoric must somehow detonate the counter-wave bomb and rescue his people. And the clock is ticking.
In Shops: Mar 14, 2018
SRP: $3.99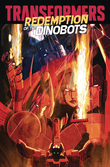 TRANSFORMERS REDEMPTION OF DINOBOTS TP
(W) John Barber (A/CA) Livio Ramondelli
Explore the Dinobots like never before! It's a rollercoaster of death and absolution, drenched in atmosphere and action in three stories focused on the Dinobots. First, in "Punishment," Optimus Prime and Windblade team up to stop a killer, but do they really want to, when all the victims are Decepticons? Then, in the title story, the Dinobots accept a dangerous mission into the Cybertronian wilds, but they get more than they bargained for, and are forced to reassess their beliefs in the process. Finally, in "Salvation," the Dinobots are reviled for the things they've done. So when their greatest threat, Trypticon, appears, how much will they sacrifice for a world that hates them?
* Collects The Transformers: Punishment, The Transformers: Redemption, and The Transformers: Salvation.
In Shops: Apr 18, 2018
SRP: $19.99