Just in this morning via Previews World, we've got a look at the upcoming Transformers titles heading to shop this May.
Till All Are One
looks toward settling business with one of the lost tribes that just isn't playing nice with the rest of the class,
Optimus Prime
vaguely spoils the conclusion to its prior issue, and
Lost Light
makes uncertain allusions to perhaps a great deal of death that probably doesn't really happen! Full summaries and cover previews below, so keep reading - just be careful as some of this could spoil other unreleased issues!
TRANSFORMERS TILL ALL ARE ONE #10
(W) Mairghread Scott (A/CA) Sara Pitre-Durocher
As Starscream faces down the encroaching machinations of Elita One, he enlists Blast Off to help him bring Bruticus back!
In Shops: May 24, 2017
SRP: $3.99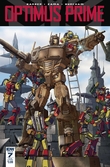 OPTIMUS PRIME #7
(W) John Barber (A) Priscilla Tramontano (CA) Kei Zama
With the Junkion invasion resolved peacefully, Optimus Prime takes a moment to plan the Autobot's next move on earth.
In Shops: May 24, 2017
SRP: $3.99
TRANSFORMERS LOST LIGHT #6
(W) James Roberts (A/CA) Jack Lawrence
You know that sinking feeling you get when you witness the destruction of an entire planet? Rodimus and company are about to feel that. Hardcore.
In Shops: May 31, 2017
SRP: $3.99