Fresh in from PreviewsWorld, we've got the first looks at what's on the way in Transformers books as we head in to the winter.
The Transformers
and
More Than Meets The Eye
dial in towards their 50-issue milestones,
Sins of The Wreckers
kicks off its five issue run, and
Robots In Disguise Animated
rounds out the month. This, plus a big TPB boxset of MTMTE, and the volume 2 collection of
Transformers Vs GI Joe
! Keep reading for the covers and preview blurbs.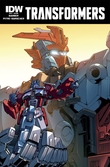 TRANSFORMERS #47
(W) John Barber (A) Sara Pitre-Durocher (CA) Andrew Griffith
CONQUERORS, part 2! OPTIMUS PRIME ventures into the SEA OF RUST, looking for the truth about his role as a PRIME. Instead, he comes face-to-face with the new female combiner, VICTORION, who has some questions of her own!
In Shops: 11/11/2015
SRP: $3.99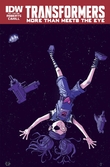 TRANSFORMERS MORE THAN MEETS EYE #47
(W) James Roberts (A) Brendan Cahill (CA) Alex Milne
FRIENDSHIP ISN'T MAGIC! TAILGATE has a choice to make-and if he had any idea what was at stake, he'd think twice before making it. The crew is ripped apart as MORE THAN MEETS THE EYE begins the sprint towards its shocking 50th issue!
In Shops: 11/25/2015
SRP: $3.99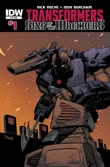 TRANSFORMERS SINS OF WRECKERS #1 (OF 5)
(W/A/CA) Nick Roche
THE WRECKERS RETURN! Somebody's kidnapped PROWL... but does anybody want him back? A lifetime of messing with everybody's lives comes around to haunt him. Fortunately, he's always got a plan. In this case... the one team of brutal, broken heroes... the WRECKERS!
In Shops: 11/18/2015
SRP: $3.99
TRANSFORMERS ROBOTS IN DISGUISE ANIMATED #5
(W) Georgia Ball (A/CA) Priscilla Tramontano
Hot on the heels of completing their biggest mission ever, BUMBLEBEE and his team are hoping for a little downtime. Unfortunately... a sinister new DECEPTICON has other ideas-and it's right back into full-throttle, 100%-adventure down the rip-roaring RID road!
In Shops: 11/4/2015
SRP: $3.99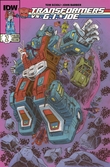 TRANSFORMERS VS GI JOE TP VOL 02
(W) Tom Scioli, John Barber (A/CA) Tom Scioli
The biggest space battle ever grows to universal proportions! Will the G.I. JOE team and the AUTOBOTS make peace-before COBRA and the DECEPTICONS end the war... the bad way?! Collects issues #5-9.
In Shops: 11/25/2015
SRP: $19.99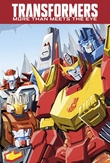 TRANSFORMERS MORE THAN MEETS THE EYE TP BOX SET
(W) James Roberts, John Barber (A) Nick Roche & Various (CA) Marcelo Matere
This box set collects the first five volumes making up the first 22 issues of the series, following the adventures of the crew of the Lost Light as they head on an epic search for the Knights of CYBERTRON.
In Shops: 11/11/2015
SRP: $89.99