Previews World has posted the latest order sheets, giving us not only our first look at the regular comic titles heading to shops in December, but also three collected volumes that'll be coming along in January. Our regular entries include
Lost Light
13 and
Optimus Prime
14, joined by the highly anticipated
Till All Are One Annual 2017
, plus the new miniseries
Transformers vs Visionaries
launches! You can find full solicits and cover preview for most of these titles below.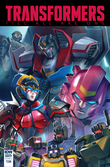 TRANSFORMERS TILL ALL ARE ONE ANNUAL 2017
(W) Mairghread Scott (A/CA) Sara Pitre-Durocher
Elita One, Windblade, and Starscream fight to gain ultimate control of Cybertron! Dark secrets will be revealed in this series finale!
-The shocking finale to the epic Cybertronian saga from Mairghread Scott and Sara Pitre-Durocher!
-A happy ending! For some...
In Shops: Dec 06, 2017
SRP: $7.99

OPTIMUS PRIME #14
(W) John Barber (A) Livio Ramondelli (CA) Kei Zama
On Cybertron, Optimus Prime battles the Dinobots over the first new Cybertronian life to emerge in four million years! But does he stand a chance when the Dinobots' newest member is two miles tall and eats cities?

-Part of IDW's Artist's Edition Cover Month!
-Optimus Prime deals with the fallout of the First Strike event!
In Shops: Dec 13, 2017
SRP: $3.99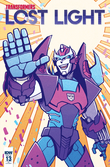 TRANSFORMERS LOST LIGHT #13
(W) James Roberts (A) Alex Milne (CA) Jack Lawrence
CABIN FEVER! Crammed into a dead Decepticon astropod that's ten sizes too small, the displaced crew of the Lost Light face their most serious threat yet: each other. As tensions rise and tempers fray, only one Autobot is arrogant enough to think he can save the day. Enter Rodimus, expert mediator.
-Part of IDW's Artist's Edition Cover Month!
In Shops: Dec 20, 2017
SRP: $3.99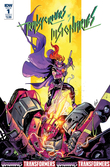 TRANSFORMERS VS THE VISIONARIES #1
(W) Magdalene Visaggio (A/CA) Fico Ossio
Cybertron has been invaded. The Transformers encounter unwelcome guests at the heart of Cybertron-and they may not have their hosts' best interests at heart. Refugees from another world, the Visionaries' startling magical abilities could make them powerful allies... or dangerous enemies.
-Welcome Eisner-nominated writer Magdalene Visaggio (Kim and Kim, Quantum Teens are Go, Secret Empire: Brave New World, Edge of the Venomverse) to the IDW family!
-The Visionaries make their explosive return to comics!
-Magic vs. metal!
In Shops: Dec 27, 2017
SRP: $3.99
TRANSFORMERS AUTOCRACY TRILOGY TP
(W) Chris Metzen, Flint Dille (A/CA) Livio Ramondelli
Before Optimus became a Prime he fought for order. Before Megatron became a conqueror he fought for freedom. In the early days of the war on Cybertron, two leaders-one Autobot, the other Decepticon-start down their own paths towards destiny. Collects the Autocracy, Monstrosity, and Primacy series into one collection.
In Shops: Jan 10, 2018
SRP: $29.99
TRANSFORMERS DRIFT ORIGINS & EMPIRES TP
(W) Shane McCarthy (A) Alex Milne, Guido Guidi, Marcelo Ferreira (CA) Livio Ramondelli
Repentant villain Drift roams the galaxy, waging a solitary war on his former allies, delivering swift justice to any Decepticons that cross his path. But with many Autobots refusing to trust him, and many Decepticons sure he's pulling a scheme, walking the straight and narrow path won't be easy, and Drift-previously known as Deadlock-must repeatedly face the consequences of his past mistakes. Collects Transformers Spotlight: Drift, Transformers: Drift #1-4, and Transformers Drift: Empire of Stone #1-4.
In Shops: Jan 24, 2018
SRP: $24.99
TRANSFORMERS WRECKERS SAGA TP
(W) Nick Roche, James Roberts (A/CA) Nick Roche
Join the toughest crew of Autobots around on a pair of missions where they'll face seemingly insurmountable odds and things are guaranteed to end badly.
First, the Wreckers and their leader, Springer, are sent to investigate Garrus-9, a prison that fell to the Decepticons three years ago, with no communications in or out since.
Then, Prowl has been kidnapped. Worse for him, it seems like no one really cares, thanks to his history of messing with people's lives. Traitors are revealed, secrets come to light, and it may all be more than even the baddest crew of Autobots can handle.
Collects Transformers: Last Stand of the Wreckers #1-5, named the #1 Transformers series by IGN, and Transformers: Sins of the Wreckers #1-5.
In Shops: Jan 10, 2018
SRP: $29.99