Coming this February to your comics retailer of choice, we have several Transformers titles including a pair of collected volumes to fill up your shelves. First up is the
Optimus Prime Annual 2018
featuring Starscream's completely unbiased biographical movie, part 3 of
Transformers Vs Visionaries
, our regular pair of
Optimus Prime
#16 and
Lost Light
#15, plus the
Lost Light
Vol.2 collection and the collected edition of
ROM Vs Transformers: Shining Armor
. You can find cover previews and summaries just below - keep reading!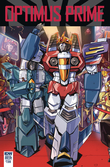 OPTIMUS PRIME ANNUAL 2018
(W) John Barber (A/CA) Priscilla Tramontano
THUNDERCRACKER IN: STARSCREAM: THE MOVIE! The good news: somebody finally gave Thundercracker money to make a film. The bad news: it's Starscream, and he wants a biographical picture to win over the people of Earth. Will Thundercracker stand by his principles or... well, no, he makes the movie.
In Shops: Feb 07, 2018
SRP: $7.99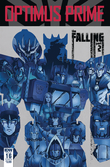 OPTIMUS PRIME #16
(W) John Barber (A) Kei Zama (CA) Casey Coller
The Falling, Part 2: The arrival of Onyx Prime throws Cybertron into chaos-because he hasn't come alone. Onyx's treacherous companion forces Soundwave to finally make a choice: is Optimus Prime a friend... or foe?
In Shops: Feb 14, 2018
SRP: $3.99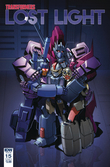 TRANSFORMERS LOST LIGHT #15
(W) James Roberts (A) Brendan Cahill (CA) Jack Lawrence
SECRETS AND LIES! As the Scavengers' journey reaches its ignoble end, the architect of their downfall puts the fate of half the Cybertronian race in their hands. Only one question remains: Are the worst Decepticons prepared to become the ONLY Decepticons?
In Shops: Feb 28, 2018
SRP: $3.99
TRANSFORMERS VS VISIONARIES #3
(W) Magdalene Visaggio (A/CA) Fico Ossio
The clock is ticking! Leoric finds himself exiled from New Prysmos by Virulina, who Merklynn has named the new leader of all the Visionaries. Can Leoric and his loyalists save Cybertron from being totally changed into a new homeworld for his people? Should they?
In Shops: Feb 28, 2018
SRP: $3.99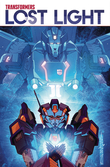 TRANSFORMERS LOST LIGHT TP VOL 02
(W) James Roberts (A) Jack Lawrence, Priscilla Tramontano (CA) Alex Milne
Rodimus and his Autobot crew continue their adventure as they chase the starship Lost Light-and its mutinous new captain! A witty, smart, emotional take on fan-favorite Transformers characters in a sci-fi world unlike any other! Collects issues #7-12.
In Shops: Mar 14, 2018
SRP: $19.99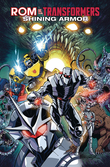 ROM VS TRANSFORMERS SHINNING ARMOR TP
(W) Christos N. Gage, John Barber (A/CA) Alex Milne
Rom and the Transformers star in an all-new series revealing their secret shared history... plus a major new character is introduced!
Hundreds of years ago, Rom discovered Stardrive, the sole survivor of a doomed space probe. Stardrive committed herself to protecting the galaxy from the Dire Wraiths... but when the Decepticon called Starscream makes a deadly deal, Rom and the Transformers are forced onto a collision course... with Stardrive caught between two worlds!
In Shops: Mar 14, 2018
SRP: $17.99