Via Previews World, we've got the newest round of upcoming comic info and preview covers for the Transformers titles coming at us this July.
Transformers: The IDW Collection
reaches the Dark Cybertron event with volume 6, presenting the whole works in a single volume! Also on call for the month of July will be issue 9 of
Optimus Prime
,
Lost Light
issue 8,
Till All Are One
issue 12, and the debut of
Rom vs Transformers: Shining Armor
. Keep reading for solicits and the available cover previews!

ROM VS TRANSFORMERS SHINING ARMOR #1
(W) John Barber, Christos Gage (A/CA) Alex Milne
Meet the universe's only Cybertronian Solstar Knight! Hundreds of years ago, Rom discovered Stardrive, the sole survivor of a doomed space probe. Stardrive committed herself to protecting the galaxy from the Dire Wraiths... but when the Decepticon called Starscream makes a deadly deal, Rom and the Transformers are forced into a collision course... with Stardrive caught between two worlds!
In Shops: Jul 19, 2017
SRP: $3.99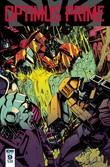 OPTIMUS PRIME #9
(W) John Barber (A/CA) Kei Zama
THE LIFE OF SIDESWIPE! A Junkion machine finally gives long-injured Sideswipe a new lease on life! But when his brother goes missing, Sideswipe and Arcee return to Cybertron-and nothing will be the same between them ever again.
In Shops: Jul 12, 2017
SRP: $3.99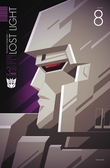 TRANSFORMERS LOST LIGHT #8
(W) James Roberts (A/CA) Jack Lawrence
THE HUNT IS ON! Ever lost something and spent forever looking for it? Try visiting Troja Major, the lost property capital of the universe. Just bear in mind that it's better known by another name: the Howling Town. And the Autobots are about to find out why.
In Shops: Jul 26, 2017
SRP: $3.99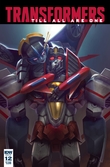 TRANSFORMERS TILL ALL ARE ONE #12
(W) Mairghread Scott (A/CA) Sara Pitre-Durocher
Starscream makes his most desperate move yet in order to protect himself from Elita One's rising power. But for once the master of manipulation's only choice is to make himself helpless to another. Good thing no one's got a grudge against Starscream, right?
In Shops: Jul 19, 2017
SRP: $3.99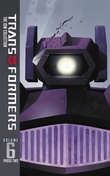 TRANSFORMERS IDW COLLECTION PHASE 2 VOL 06
(W) John Barber, James Roberts, Mairghread Scott (A) Phil Jimenez, Andrew Griffith, Sarah Stone, Brendan Cahill, Atilio Rojo, James Raiz, Livio Ramondelli, Nick Roche, Robert Gill, Alex Milne (CA) Guido Guidi
Presenting IDW's Transformers comics in preferred reading order! The end of everything! Shockwave makes a move millions of years in the planning-an ultimate strategy to remake Cybertron and destroy both the Autobots and Deceptions! Only the combined forces of Optimus Prime, Bumblebee, and Rodimus can save their world-but billions of miles and eons of war leave our heroes divided, in "Dark Cybertron." Plus, Windblade takes the planet by storm-but where did she come from-and what does her secret mean for the future of the Transformers? Collects Dark Cybertron #1 and Finale, More Than Meets The Eye issues #23-27, Robots In Disguise issues #23-27, and Windblade issues #1-4.
In Shops: Sep 20, 2017
SRP: $49.99